- Article Top Advertisement -
Have you ever heard of the butterfly effect? It is that theory, born in the scientific field, according to which even the smallest action or decision ends up producing a big change in the short and long term. In practice, the «butterfly effect» shows how through daily micro-gestures we can transform the present and the future ourselves. An example of how this can be translated into concrete? Take a look at Butterfliesthe new solidarity campaign by Mastercard.
- Article Inline Advertisement 1-
Born from the collaboration with Italian Red Crossthis innovative solidarity campaign places digital payments at the service of a good cause: involves consumers in solidarity campaignstransforming a simple daily gesture – such as using your payment card – into an act in favor of others, regardless of the amount spent. For each contactless transaction, made with debit and credit cards by Italian customers of Mastercard and Maestro, the company will in fact donate a small percentage that will go to feed a fund to be allocated to Italian Red Cross by the end of the year, to provide basic necessities in support of the Ukrainian emergency.
To explain to us what is the great and precious transformation that multinationals such as Mastercard have been implementing in recent years and which lies precisely at the basis of innovative and engaging projects such as Butterfliesis Luca FiumarellaHead of Marketing of Mastercard Italia.
This project takes its cue from simple gestures that many people make in their routine to generate concrete actions from another front. After all, consumer sensitivity has changed and digital payments, even for small amounts, are increasingly on the agenda. Are we facing a significant change?
"We certainly are. Italy is a country where cash has always been used a lot, yet in recent years we have seen an increasing number of people convert to the use of paper, with a constant trend. The real "leap" from cash to paper, however, occurred during the pandemic. There has been a very strong push in this direction mainly for health reasons; for the first time, contactless, card or mobile phone payments – even for very small amounts – were viewed positively by stakeholders, merchants and consumers. Today everyone has a Pos in plain sight, not at the bottom of the drawer. And when you pay by card, they don't look at you sideways. There have also been, in parallel, several actions that have facilitated this process, mainly related to public transport: in large cities, for example, people have the ability to use the card as if it were your own ticket, thus starting to pay even minimal amounts. From the studies we carried out, it emerged, then, that all those who started paying for metro or bus tickets with paper, at the same time began to increase the use of the card also on other small-value purchases. Therefore, it is true that the mental barrier that the card must be used only for large amounts has been broken down. And so yes: the Italians have changed ».
This has made it possible to create important innovative campaigns that look to the social and the environment, as indeed Butterflies. Is this the first project carried out in these specific ways?
«In fact, Mastercard has been working on these issues for many years. Italy, in particular, is one of the most socially active countries e Butterflies it is probably the most "massive" project, because it concerns all the people who will make a payment at a point of sale with their Mastercard. An initiative that we would like to carry out over a fairly long time frame and without limiting ourselves to this year but continuing to invest in the long term, both in communication and in the quantity of donations. The principle we want to apply is that of sharing value, of sharing value: a part of what the company earns is from now on donated to a cause that is dear to everyone. This year we have chosen the Red Cross which, in turn, has identified the Ukrainian emergency as the ideal destination for the funds that will be raised. In particular, 1% of the proceeds on each transaction made by the consumer will be donated to charity. When he is at the point of sale and decides to pay with his Mastercard, rather than in cash or with another circuit, he will automatically also donate 1% of what would have been the profit of Mastercard ».
A mechanism that costs the consumer nothing and which, today, seems to appreciate more than ever …
"Exactly. We have carried out several studies from which it emerged that, for the consumer, it is more interesting to be able to carry out an action through which to obtain a donation and do a good work, albeit indirectly, rather than receiving classic incentives such as competitions, gifts or small rewards ".
There is already an idea of ​​how this solidarity mechanism will continue, with what new project?
"Actually, the campaign Butterflies Mastercard, which at European level was the best ever, will go on until the end of the year, but it will continue to be always present: these are roads from which there is no turning back. And, in any case, it will not be the only one ».
That is to say?
"Butterflies is aimed directly at consumers, but there are other cases in which we try to leverage our DNA – which is the network – to involve important and significant partners. This is the case with the project Priceless Planet aimed at the environment. The principle from which he starts is that now all companies of a certain weight carry on activities for the protection of the environment. However, we are not talking about something that can be approached on a small scale, with local projects, because the planet must be cared for and saved in its entirety. Our goal is therefore to create a huge project to be carried out all together, so that it can have a significant planetary impact ».
How will you work in practice with Priceless Planet?
"We have formed a coalition that has set itself the goal of plant 100 million trees in 5 years which are precisely the minimum amount necessary to have a significant impact on the climate and on the emission of co2. Not only that: trees will not be planted in cities, but in those areas of the world where we know they are needed, where they can have a more significant impact. Many international players have come on board for this ambitious project and also at the Italian level it is enjoying success and interest from important brands and large banks. We think this coalition will grow significantly. And the interesting thing is that the project also provides very precise tracking of what is being done: how many trees are planted and what impact they have on emissions. And there is more: a part of the project is also addressed to the final consumer and will not only rely on donations that arrive from companies, but also on individuals ».
How?
«In terms of education: Mastercard will provide tools, digital tools related to the use of cards. Specifically, the consumer who spends will be able to download the Carbon Calculatoran App that calculates the impact that your purchases have on greenhouse gas emissions, while at the same time receiving suggestions on how to reduce it when you spend ».
Is it an app already downloadable?
«It will soon be possible to do this through one's own banking circuit, since it will be above all large banks that will be able to insert this tool within their own online banking apps. A further tool will also allow you to make donations and plant one or two trees, to compensate for the amount of CO2 produced through your purchases. Just click a button to make a donation ».
Applications that require a strong awareness of our consumption… Isn't there a risk that they could be criticized in some way?
"I think we can no longer ignore the state of things. Highly polluting companies are also making great efforts, often in a self-reported manner. We know, for example, that flying pollutes but we are also trying to have less and less polluting airplanes. I would not worry, because it is well established that it is now necessary to be totally transparent on this front ».
For Mastercard, therefore, a future of great and precious commitments for the social and the environment is envisaged… No other "ambitions"?
«In reality, there is still more that concerns the important issue of Diversity. True Name is a new feature that allows people to be able to choose the name shown on their Mastercard card. An operation that was born from the desire to alleviate a sore point for non-binary and transgender communities, which often have negative experiences while shopping. For many people, the name on the payment card does not reflect their true identity and this can be a source of discomfort. This is not a problem for a few, it affects many people around the world and their suffering is aggravated by the fact that the possibility of changing the name of the holder implies a long and tortuous legal process. We at Mastercard are therefore making an effort to eliminate this problem on credit and debit cards, making it possible to enter the name with which you identify yourself ».
It looks like a very important turning point …
"It is not an easy path, there are precise regulations behind it, but we have already managed to do it with a European bank – the Bunq bank – and now we are proposing it in Italy, where there are already partners very interested in the project that could see the light in the space of 6 months. In this regard, I also noticed a very interesting fact, which emerged from a new research, carried out in 16 countries, which investigated the experiences lived in all aspects of personal, work and socialization life by non-binary and binary LGBTQIA + people: the 5 percent of Generation Z identify as non-binary (2.7% in Italy, ed) and that's a huge number indeed. Real interviews were carried out and it is amazing how badly these guys live, very bad the fact of having to show a name they do not identify with. When they were given the solution, you saw them cry. Because they finally felt understood about something that is of enormous importance to them. "
How important, then, is the role of companies like Mastercard in terms of change and social and environmental awareness?
"Is critical. It has now been realized that the public sector in many cases cannot change things on its own and therefore the private sector is called upon to do its part. Companies must also actively participate in partnerships, promote the union of public and private in common projects. After all, today it is the consumer himself who asks for it: the big brands are the ones who have to lead by example. Recent surveys have shown that 75% of consumers expect a great brand to be "great" also in social and environmental activity which helps to improve the world ».
Is there optimism in the air?
«A great optimism. After difficult years, we are witnessing an overall return to life, but with a different conscience. It seems that we are increasingly abandoning blind, extreme consumerism, we are looking more at the enhancement of different things. This change is perceived above all in young people: it is no longer "cool" to have the most powerful car, but it is cool to have an electric car or a recycled mobile phone. With the pandemic there was a general setback, it is as if we had pulled the handbrake: we stopped to think more and this allowed us to understand what are really important things ».
Source: Vanity Fair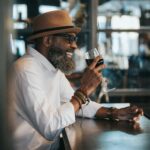 - Article Bottom Advertisement -