Hunter Biden's Net Worth and Federal Investigations
Joe Biden's Second Son – Hunter Biden
The Biden family witnessed a new kind of spotlight on them when Joe Biden decided to run for the the position of the President of United States. While all the Biden children received great media attention, Joe's second son, Hunter Biden was constantly in the news due to his troublesome past.
While the media dug up a lot of information about the president elect's son, the question of Hunter Biden's net worth continued to remain a mystery. Let's take a look at the life and net worth of the former Vice President's 50 year old son.
Early Life
Robert Hunter Biden was born on the 4th of February, 1970 in Delaware. His mother, Neilia Biden and younger sister Naomi passed away in a car accident when Hunter was only 2.
After the tragic incident, Hunter was left with one sibling, an older brother called Beau. When Hunter was 7, Joe Biden remarried and Jill Jacobs became the step mother to the two Hunter children.
Step Siblings
Joe and Jill Biden have a daughter, Ashley Blazer Biden. Ashley and Hunter get along fairly well. Ashley Biden is married to a plastic surgeon, Howard Krein. She is a part of the fashion industry and owner of Livelihood, a clothing brand.
Education
After attending the Catholic school, Archmere Academy, Robert Hunter went on to study at Georgetown university. There he graduated with a bachelor's degree in History. He developed an interest in law and graduated from Yale Law School in 1996.
Career
Hunter landed his first job in MBNA America, a bancorp. Within a short time period, the law graduate became the company's Executive Vice President. He then moved on to the U.S Department of Commerce before becoming a lobbyist and a professional in the field of investment.
Hunter Biden's Troubled Past
The President elect's middle child has for long been a part of different controversies. He is known to have a troubled past, filled with different bad habits and claims of using his father's position to get ahead in his professional life.
Struggle with Alcohol and Substance Abuse
In an interview with New Yorker, he opened up about his struggle with addiction. Hunter described that he started drinking as a teenager and said that the first time he bought cocaine, he did it accidentally. Once introduced to the drug, young Hunter became used to it.
Rehab and Sobriety
As he was struggling with alcohol addiction and substance abuse, his now ex wife convinced him to seek treatment. In 2003, he went to rehab and attended support groups to battle his addiction.
He managed to stay sober for 7 years until his relapse in 2010. Hunter once again went to the same treatment center in Antigua to seek help.
Dishonorable Discharge from Navy Reserves
In 2013, Hunter enlisted himself in Navy Reserves and was assigned a post in the division of Public Affairs. This unfortunately could not last long as the 43 year old was dishonorably discharged due to cocaine use, which he claims was unintentional.
Losing Beau
In 2015, Hunter lost Beau Biden, his elder brother due to brain cancer. This caused Hunter to go back to his habit of substance abuse and he admitted to buying crack from people on streets after the loss.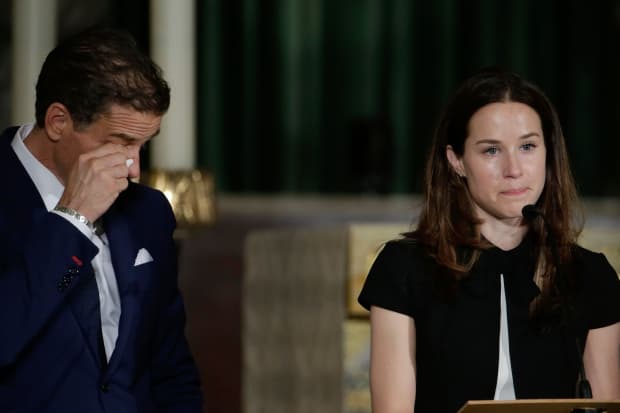 Family Life and Children
Hunter married Kathleen in 1993 and the couple has 3 daughters together, Naomi, Finnegan and Maisy. Hunter's addiction problems caused his relationship with his wife to detoraite. The couple separated in 2016 and got divorced in 2017.
Hunter is also the father of a child from a woman from Arkansas. Although he initially denied being the father, the woman took him to court where a paternity test confirmed that the child is his.
He also became romantically with Beau's widow, Hallie. While Joe and Jill expressed their support of the relationship, the public wasn't as supportive and the couple eventually went their separate ways.
He is currently married to Melissa Cohen. The couple has a young son, born in 2020.
Hunter Biden's Net Worth Explained
In the year 2006, along with James Biden, his uncle, Hunter acquired a stake in Paradigm Global Advisors, a hedge fund group. Politico reported that he managed to make a whooping 1.2 million dollar per year through the company.
Hunter lives with his wife and son in an extravagant mansion in Hollywood Hills. The mansion is worth $2.5 million.
In 2008, Hunter co-founded a venture that goes by the name of Seneca Business Advisors. His earnings through this venture still remain undisclosed.
From 2014 to 2019, Biden's middle child remained on the board of Burisma, a Ukrainian natural gas producer. Hunter reportedly made around $50,000 every month as a board member, totaling to over $3 million.
Currently, he is a director at BHR Partner, which he joined in 2013. It is multi billion dollar enterprise. Although the exact figures of his earnings through this firm remain unknown, it is safe to say that it must be a huge amount.
The spot light on Hunter Biden and his activities is bound to increase, given that his father has successfully been elected to lead the United States of America as President.
Federal Investigations
On the 9th of December, Joe Biden's son stated that he had been informed of being under federal investigation over his tax affairs.
The probe in determining whether or not Hunter's role in Burisma had an effect on the policies of Obama administration, which was then being advised by Joe as Vice President, towards the region has been going on since 2018.
Hunter's sources of income and his tax returns are under scrutiny by the attorney general of Delaware. Investigations were earlier being conducted covertly, so as to not effect the result of the US election 2020. Now that the election has been conducted and the results are out, the matter of Hunter and his international business ventures is being openly addressed.