Catastrophic floods were caused by cyclone Ian hit Florida yesterday (9/28), plunging millions of households into darkness.
A little further from the path of the cyclone, near the Keys archipelago, bad weather conditions led to the shipwreck of a migrant boat. The coast guard is still looking for 20 people, after three were rescued and another three managed to swim to the beach.
With winds of up to 185 kilometers per hour, Ian made landfall along the Cayo Costa coast, in the southwestern part of the state, at 3:05 p.m. local time (10:05 p.m. Greek time), according to the US National Hurricane Center (NHC). It caused "catastrophic" floods, according to the same img.
The extreme event, which had reached category 4 on the five-point Saffir-Simpson scale, was downgraded and is now classified as category 3, but remains catastrophic, always according to the NHC.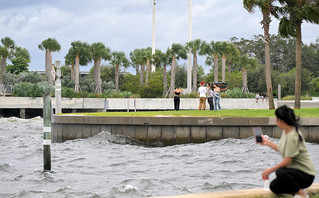 "Very dangerous"
Governor DeSandis said yesterday that Ian is likely to be among the "strongest hurricane ever to hit Florida". "This is a phenomenon that we will be talking about for years," said the Director of the US Weather Service (NWS), Ken Graham, during a press conference.
FEMA Director Diane Criswell said Ian would continue to be "very dangerous" in the "next few days."
Rapid escalation
Cyclone Ian hit Cuba on Tuesday killing two peopleplunging the entire island into darkness and causing extensive material damage.
As the surface temperature of the oceans increases, the frequency of more severe cyclones, with stronger winds and heavier rainfall, increases, but not the total number of such phenomena.
For Gary Luckman, a professor specializing in the atmosphere at North Carolina State University, studies have shown a "possible link" between climate change and the phenomenon known as "rapid escalation," when an apparently weak tropical storm transforms into a Category 3 hurricane, or stronger, within 24 hours, as in the case of Ian. "The consensus remains that in the future we will have fewer storms, but the biggest ones will be even more intense," the scientist told AFP.
Source: News Beast