To prove to the authorities, who no longer granted him his pension, that despite his 102 years he is alive, a Indian he appeared in a carriage, wedding suit and a band at the seat of the local government.
"I am alive!", said Dooley Chad. "I no longer receive an old age pension since March because government records they say i'm dead", he added. "Since then I have tried in vain to prove that I am still alive."
Social worker Naveen Jaihid, who was among dozens of guests at Chad's fake wedding, said he had heard about the case and decided to help the centenarian. "We contacted various government agencies and organized a press conference, to no avail. Then we thought of organizing a wedding procession, to attract attention", explained.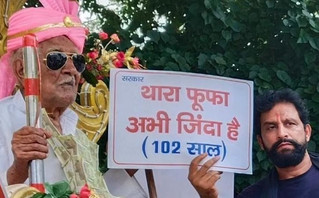 Jaihid said he has received calls from many people who have been in a similar situation after the video went online of "Wedding» by Chad.
Photo img: newindianexpress.com
Source: News Beast