According to insider information, Intel should introduce a new generation of its Intel Core Raptor Lake processors in October this year. And the closer to a full-fledged presentation, the more leaked data appears on the network about the characteristics and capabilities of processors from the upcoming line. For example, yesterday, July 31, the Videocardz news outlet, citing its sources, published photos showing the overclocking of the Intel Core i7-13700K processor. It is likely that this is an engineering sample sent to trusted persons for testing, or the "blue team" has already sent the first batches of chips for testing to journalists.
And if you believe the photos leaked on the network, the Intel Core i7-13700K without the use of liquid nitrogen and other overclocking improvements (no information is indicated about this) on the MSI MEG Z690I motherboard was overclocked to a clock frequency of 6.0 GHz. True, as always with news about overclocking processors that have not yet been released for sale, there are several important clarifications. For example, it should be understood that in order to overclock to such an impressive mark, enthusiasts turned off the so-called small cores (energy efficient cores), since it would be extremely difficult to raise them to such a frequency. Accordingly, overclocking was carried out on large (productive) cores.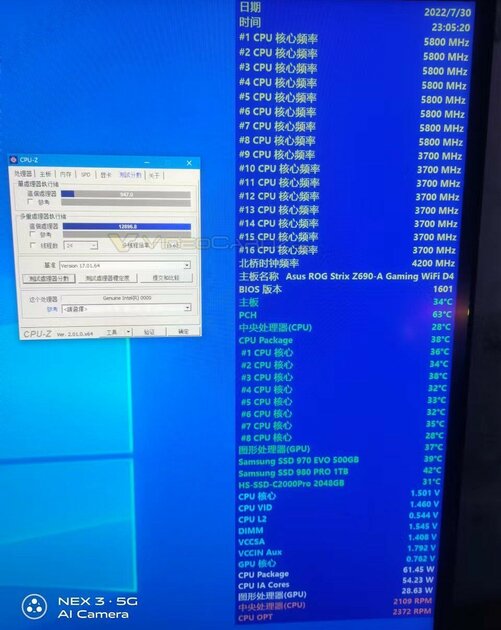 Due to this, in the benchmark in single-threaded mode, enthusiasts managed to demonstrate 983 points – this is more than they managed to get on the flagship Core i9-13900K processor on the same high-performance cores, only at a frequency of 5.5 GHz. It turns out that the Core i7-13700K processor at 6.0 GHz turned out to be 10% faster than the Core i9-13900K at 5.5 GHz – at equal frequencies, most likely, there will be no difference in performance in single-threaded mode at all. This is logical, since the cores of the models are identical. Moreover, the gap from the Core i9-12900K with a frequency of 5.2 GHz is only 16%. This is actually a meager increase in power, especially considering that the core voltage of the Core i7-13700K was raised to 1.421 V, and power consumption at 6.0 GHz will clearly be noticeably higher.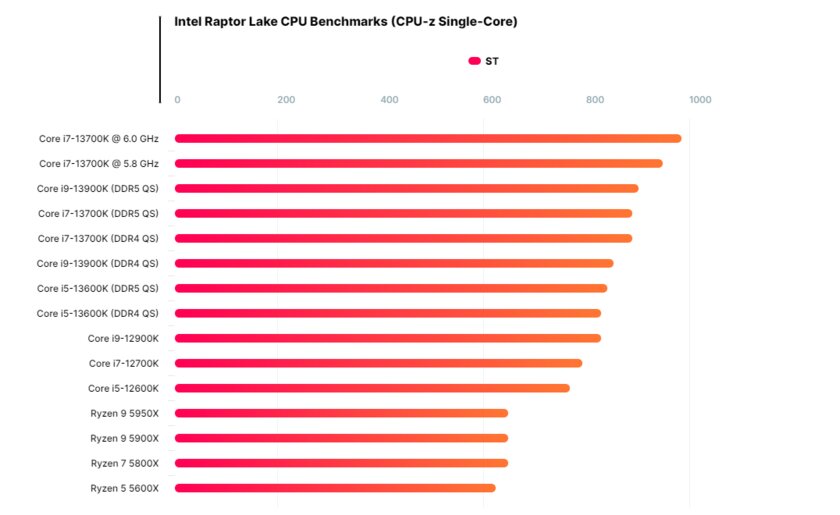 In simple terms, Intel is again trying to play its favorite card – with the transition to a new generation, the architecture, process and the cores themselves do not change. The user will receive a performance upgrade of 10-15% compared to the previous generation due to increased clock speeds, but will pay for this with more power consumption and the need to buy a powerful cooling system.
Source: Trash Box