Intel introduced the Intel Xeon W-3300 processors designed for workstations. The company refers to their advantages as "uncompromising performance, advanced platform capabilities, as well as enterprise-grade security and reliability in a single-processor solution."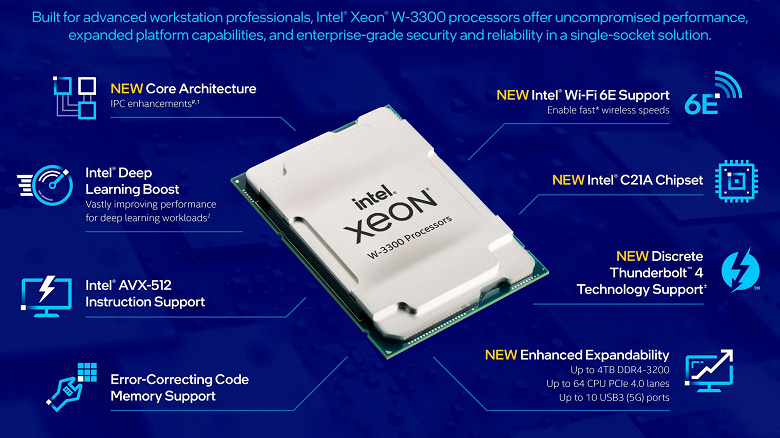 The Intel Xeon W-3300 series includes five models: W-3375, W-3365, W-3345, W-3335 and W-3323. The older model W-3375 has 38 cores. With support for Intel Hyper-Threading Technology, this processor can execute up to 76 threads at once. The base clock is 2.5 GHz, the boost clock is 4.0 GHz. The processor has 64 PCIe Gen 4.0 lanes and supports up to 4TB DDR4-3200 ECC memory. The characteristics of all models in the series and prices are shown in the table.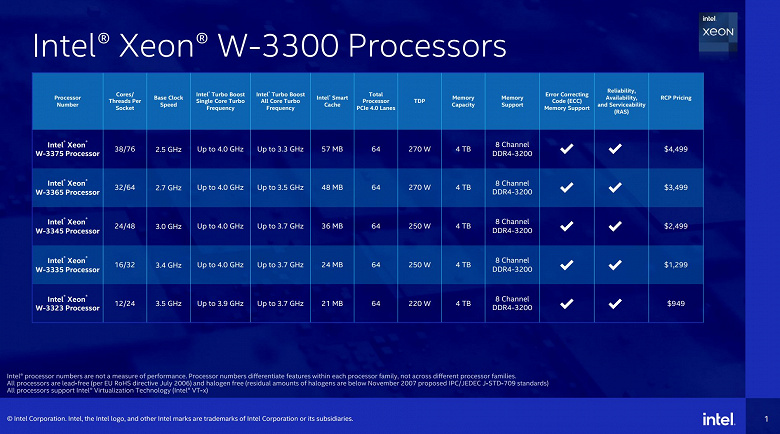 Intel estimates that the new processors deliver up to 31% better memory bandwidth over the previous generation, up to 45% better multi-threaded performance in Cinema 4D, up to 26% in AutoDesk Maya, and up to 20% in Adobe Premiere Pro. The processors support the Intel AVX-512 instruction set extension and the Intel Optane SSD P5800X.