The climate of tension and violence continues in Iran after the death of 22-year-old Mahsha Amini, who was arrested on September 13 in Tehran for not wearing her headscarf properly.
Iran's Judiciary Chief Gholamhossein Mohseni Ezei threatened yesterday (9/25) to show "no mercy" to protesters after 10 days of protests and with 41 dead, the website Mizan Online broadcasted and rebroadcasts APE-MPE.
These protests are the most widespread to have erupted in Iran since December 2019, when crowds of people took to the streets of about 100 cities to protest against the rise in the price of gasoline. The protests had been violently suppressed, with Amnesty International citing more than 300 dead, although Iranian authorities had announced the death of 230 people.
Clashes with security forces have erupted during these demonstrations, with protesters chanting anti-government slogans, according to media reports and activists. For several days now, videos posted on social media have shown scenes of violence in Tehran and other major cities, such as Tabriz. In some of them, the security forces can be seen shooting at the protesters.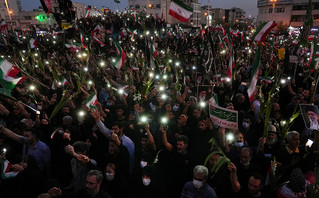 Source: News Beast