With her death Mahsa Aminithe Iranians they complain everyday. The 22-year-old girl died three days after her arrest in Tehran because she wasn't wearing her headscarf properly. Ignoring international appeals not to resort to the use of force, MrIranian authorities are still dealing with iron fist their protesters, which they characterize as "riots" which "harm security and public property". According to her cousin, who lives in Iran, the girl died after one "violent blow to the head" from the infamous moral police on the day of her arrest,
THE 22 year old Iranian of Kurdish origin was in Tehran where she was visiting relatives with her parents and 17 year old brother before starting her university studies in northwestern Iran's West Azerbaijan province when she crossed paths with the morality police on September 13, her 34-year-old cousin Erfan Salih Mortezai told AFP. "Gina's death opened the floodgates of popular anger," her cousin said, using Amini's Kurdish name and referring to the protests her death sparked.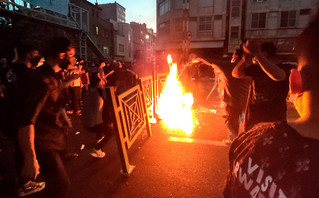 Authorities said Monday they conducted more than 1,200 arrests.
This time "women are leading the way and taking an active part in the demonstrations." "Women participate in the protests courageously and take to the streets day and night. We, the youth, know that if this regime collapses, a better life awaits us," concludes Mortezai.
Source: News Beast