Many are accustomed to the fact that Yandex creates software products – applications and services that can make life easier and more comfortable. But in fact, the company has been in the hardware market for quite some time – it had its own smartphone, now it has a chic line of smart speakers, and now it's time to release its own TVs. And although the novelty does not differ so much from OEM models based on Yandex.TV, the manufacturer has clearly worked hard to create some initial form of its own ecosystem within the smart home. What came of it – in this review.
Characteristics
Display: 50″ Direct LED, 3840×2160 pixels, 60Hz, brightness 300cd/m², contrast ratio 5000:1.
Processor: ARM CA53, four cores up to 1.5GHz.
Built-in memory: 16 GB.
OS: Yandex.TV based on Android TV 9.0.
Speakers: 2x10W, Dolby Audio support.
Dimensions and weight: 1111×643×78 mm, 8.5 kg.
Case design
Immediately after unpacking the TV from the box (an ordinary cardboard with inscriptions about the main advantages of the model with slots for manual transportation on the side faces), it can be stated that the manufacturer tried to make the most practical product – the TV looks strict and thoughtful, but without any decorative elements that attract Attention.
For example, the front panel, if you do not take into account the tiny logo in the lower left corner, looks extremely ascetic – there is a thin frame on top, right and left of the display, and a bar about a centimeter thick is located below. This is good news – the giant logos in the center should be a thing of the past.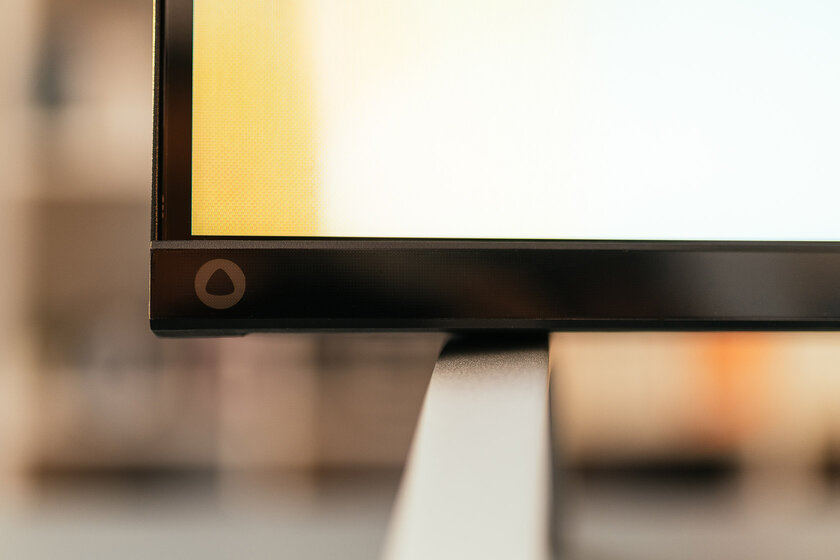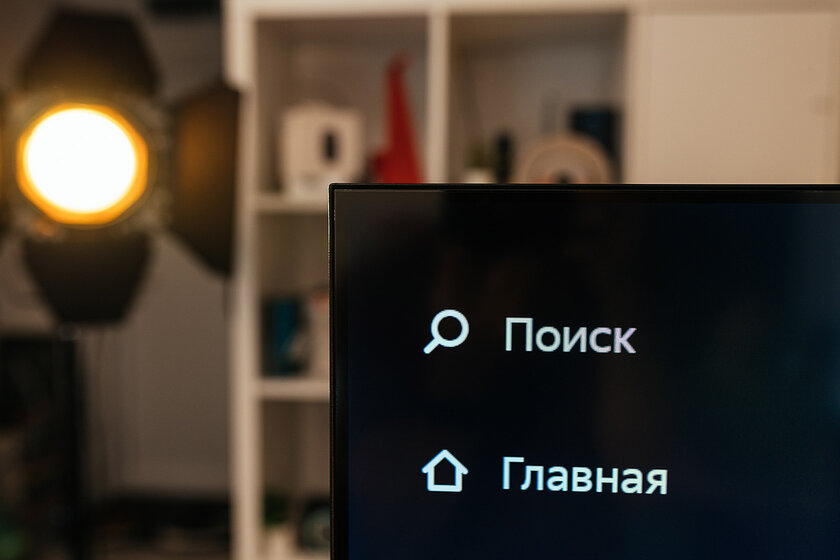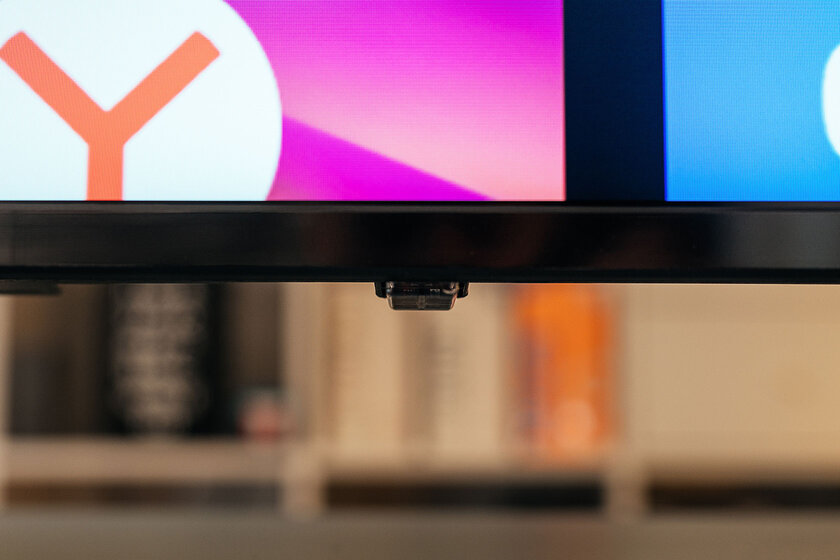 The rear panel is also in no hurry to please with decorative delights, but it is made so soundly that there can be no complaints. Most of the back of the TV is covered by a metal panel with stiffeners – it also smoothly flows into the front frame of the display. Below the sheet of steel is a plastic casing, under which, apparently, there is all the electronics and, of course, ports for connecting the device to signal sources and not only. It looks quite monolithic and is much stronger than plastic models that are crunchy in the hands.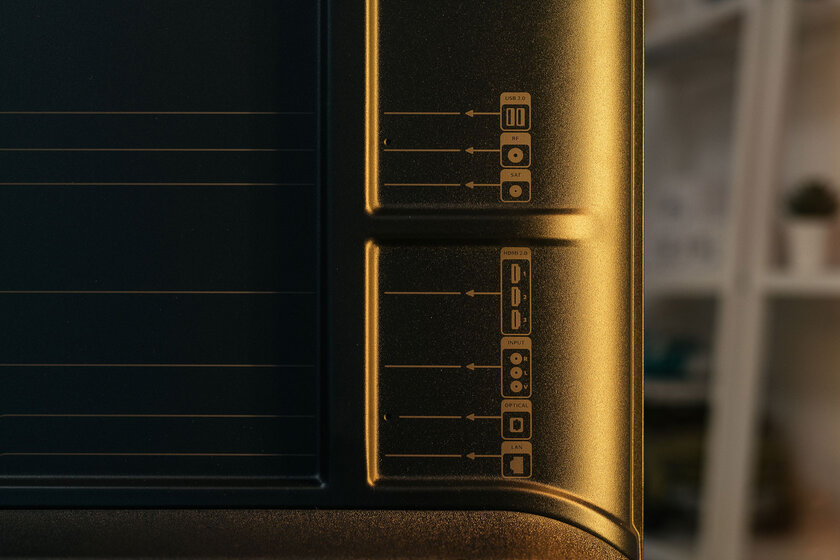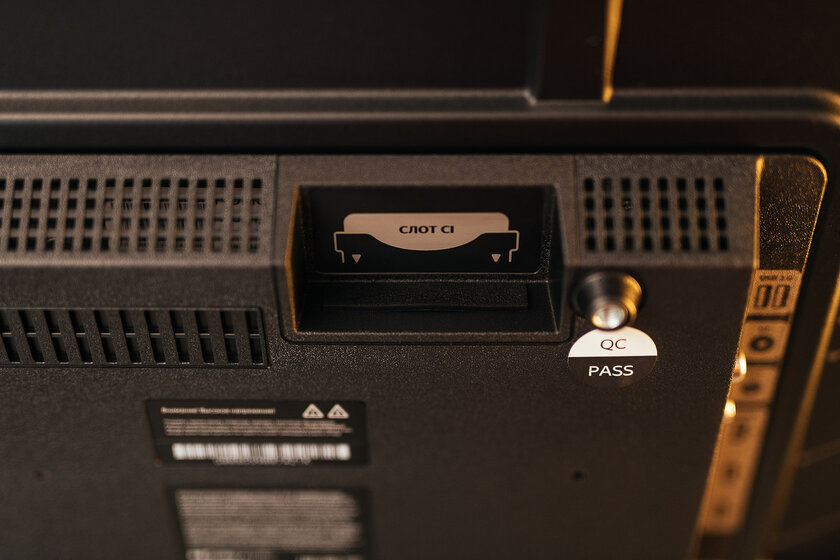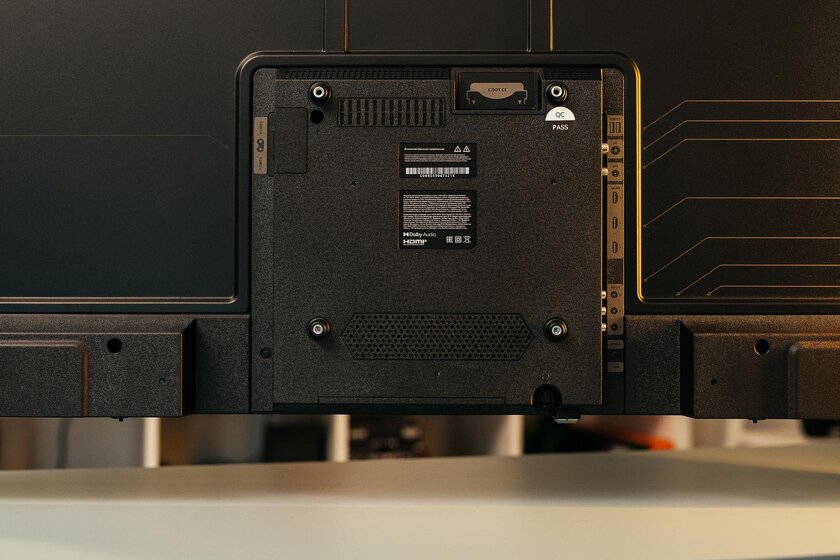 True, I would immediately like to point out some controversial points. The fact is that all ports for connecting signal sources, peripherals and external audio are located quite deep inside. Accordingly, if your TV hangs on a wall mount, then in certain situations it will be extremely problematic to reach the ports. It would be much wiser to place all ports closer to the edges, so that when mounted on a wall, you can easily disconnect or connect cables without having to stick your hand to the ports with difficulty.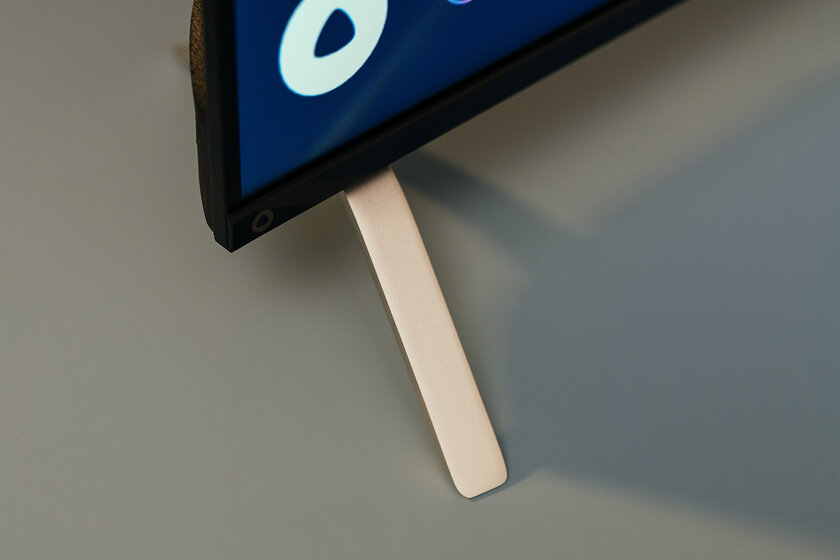 Of course, if the TV is on standard legs, then there will be no problems. The legs, by the way, are made of high-quality anodized aluminum alloy with rubberized pads, plus they are quite thick and look reliable. Thanks to this, the TV stands firmly on a horizontal surface and does not stagger – and more is not required.
Ports, remote and keyboard with mouse
On the back of the TV, as mentioned earlier, there is a dedicated panel made of black plastic, on which all the ports for connecting peripherals and signal sources are located.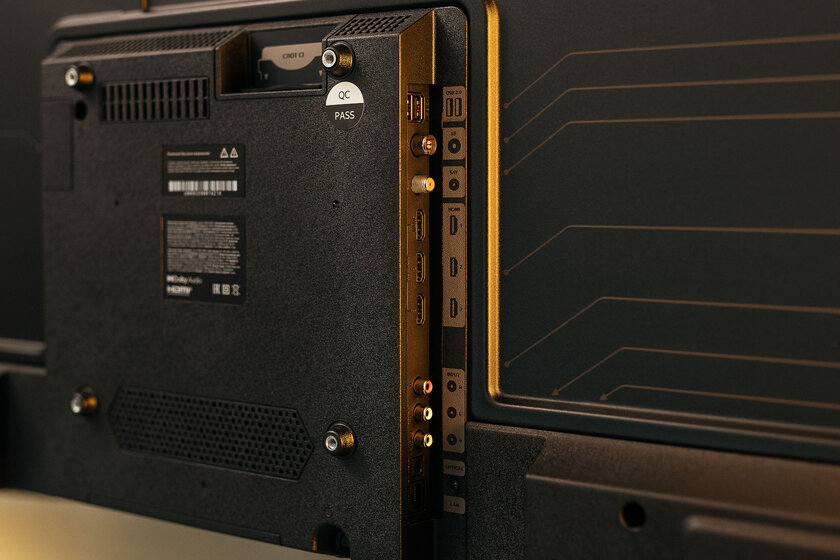 There is literally everything you need:
LAN output for wired internet connection;
digital optical audio output;
traditional "tulip";
three HDMI outputs;
two USB Type-A;
output for analog/digital TV;
access to satellite TV;
slot for CI+ access card.
In addition, the TV boasts a Wi-Fi 802.11b / g / n / ac module with support for 2.4 and 5 GHz frequencies, as well as Bluetooth LE 5.0. Outputs with a margin, there are questions only to paired USB ports, which are located very close to each other – a thick flash drive will completely interfere with using the second USB port.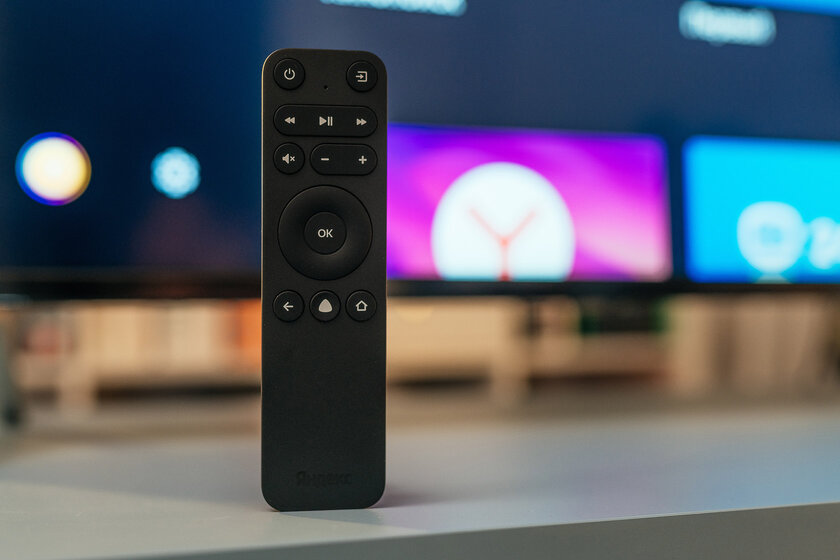 Now a few words about the complete remote control – it is made in the spirit of the entire TV, so you should not expect any decorative frills. The case is made of plastic that is pleasant to the touch, there are not too many buttons (this is not a problem), it fits perfectly in the hand and works until the TV is turned on via the infrared port, and after that via Bluetooth. Of the interesting chips, it is worth highlighting a number of buttons for adjusting the volume and mute the sound (not vertical, but horizontal, you need to get used to it), as well as a button to call the voice assistant (there is a hole for the microphone at the very top of the gadget). In all other respects, this is a standard remote – with everything you need, but not too premium.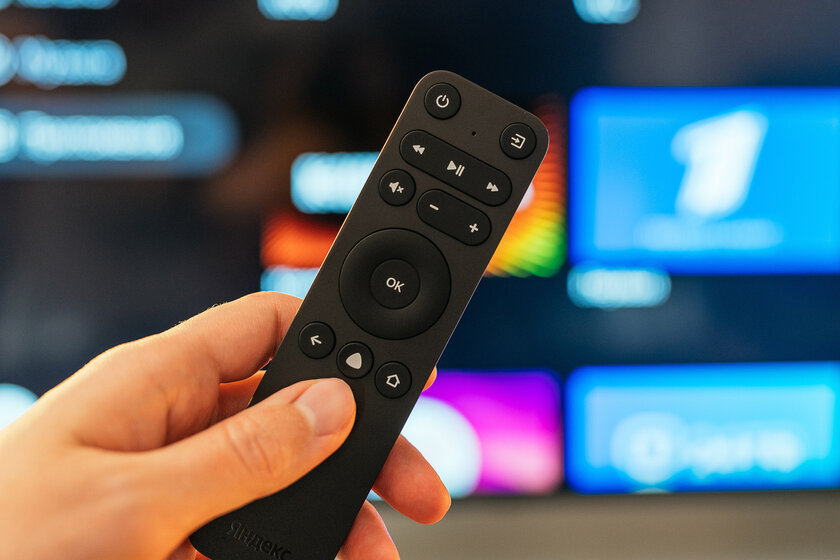 Among the shortcomings of the remote control, I would like to highlight the lack of a gyroscope, so it will not work to emulate a mouse, but you can always connect it separately, and without it, move the cursor in the browser with a crosshair.
It cannot be said that controlling a TV with a mouse is much more convenient than with a remote control, but if there is a need to enter text in a browser, look for something other than by voice or something like that, then you should know that you can connect peripherals from a PC.
Yandex.TV platform and what it can do
A Yandex branded TV based on the Yandex.TV platform works and feels exactly the same as any other TV on this platform. The interface in the main menu is quite convenient and, most importantly, understandable – on the left there is a drop-down column with content categories, in the center there is a conditional showcase with various kinds of films, series and more. If the user needs a specific category (movies, series, TV, cartoons, music, or just a search box), then he just needs to open the side menu and select a category. If the owner of the TV wants to watch something, but does not know what exactly, then the recommender system will help him on the main screen.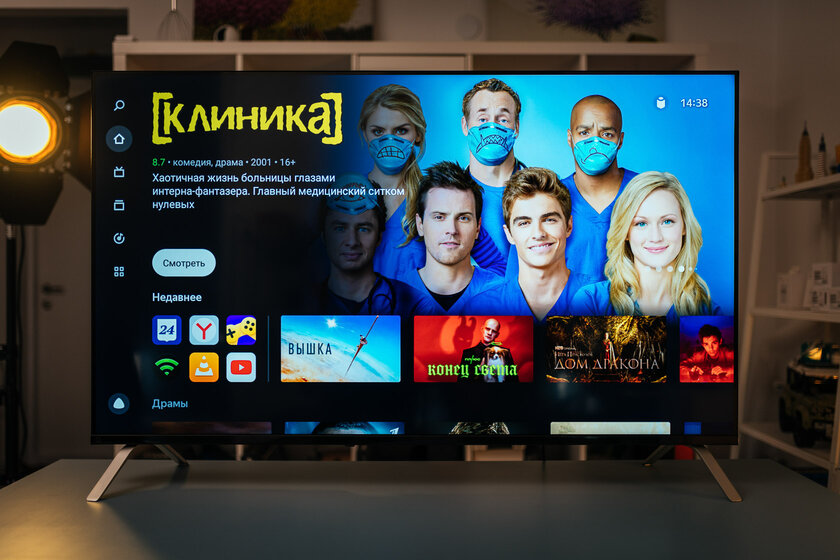 It's smart, algorithm-driven, and creates recommendation sheets of content based on the user's browsing history (and probably more than that). Also on the main screen there is a separate list of recently used programs, which is extremely convenient if you have a lot of them and do not want to constantly scroll through a long list.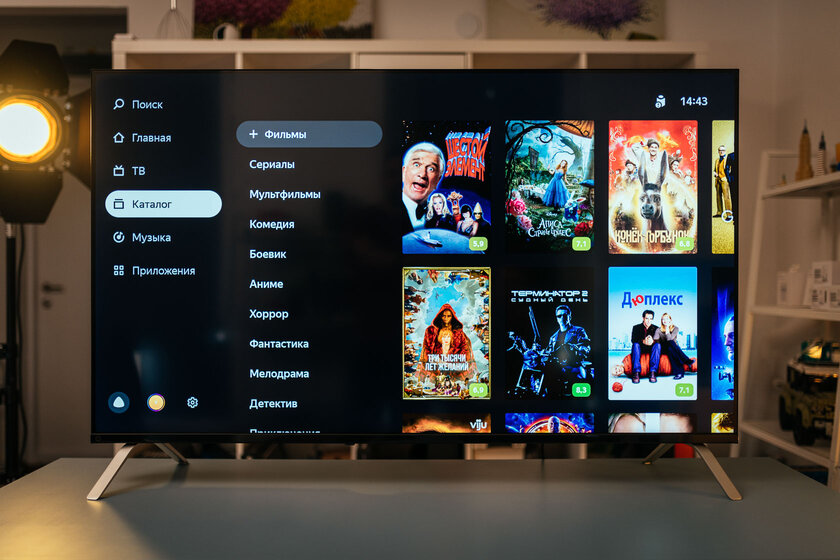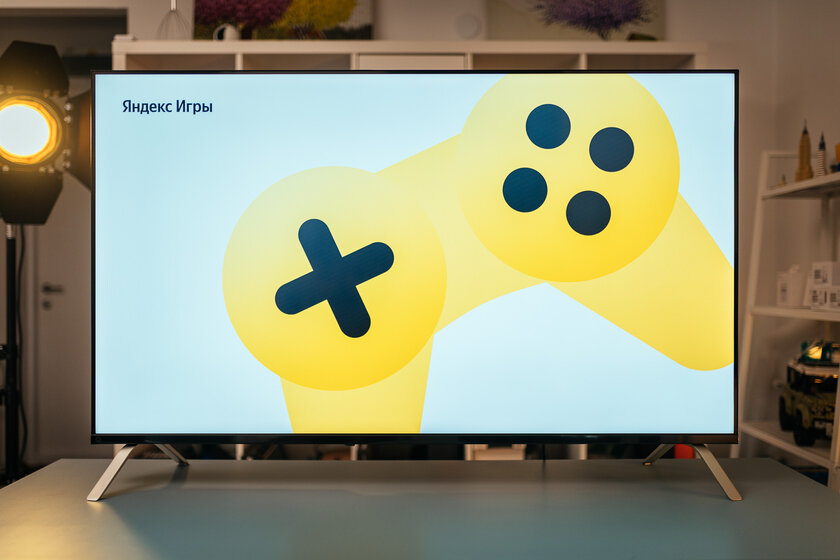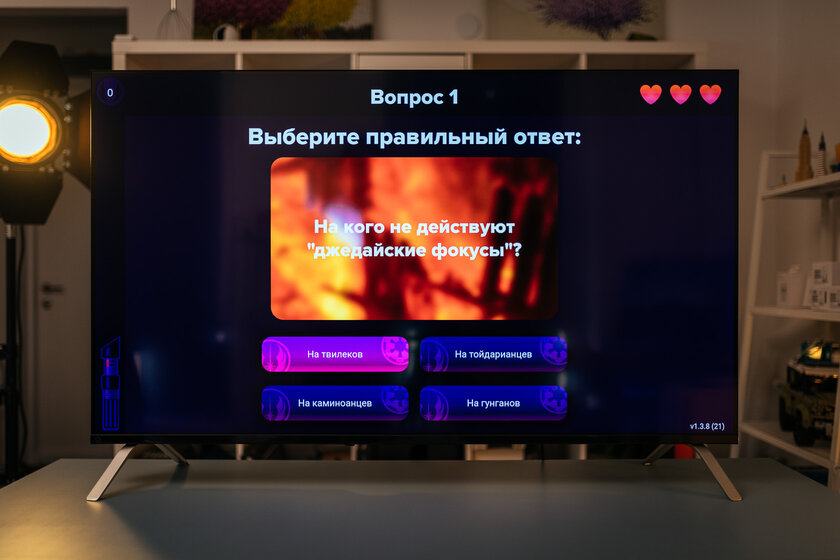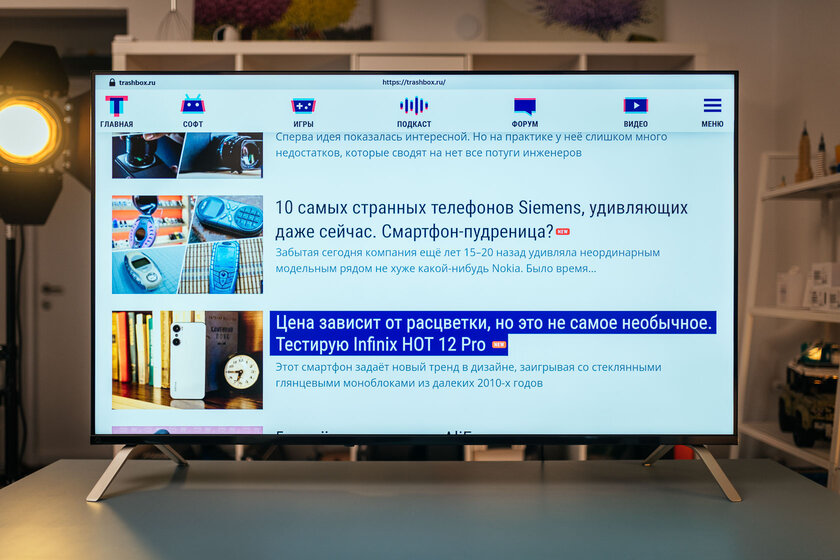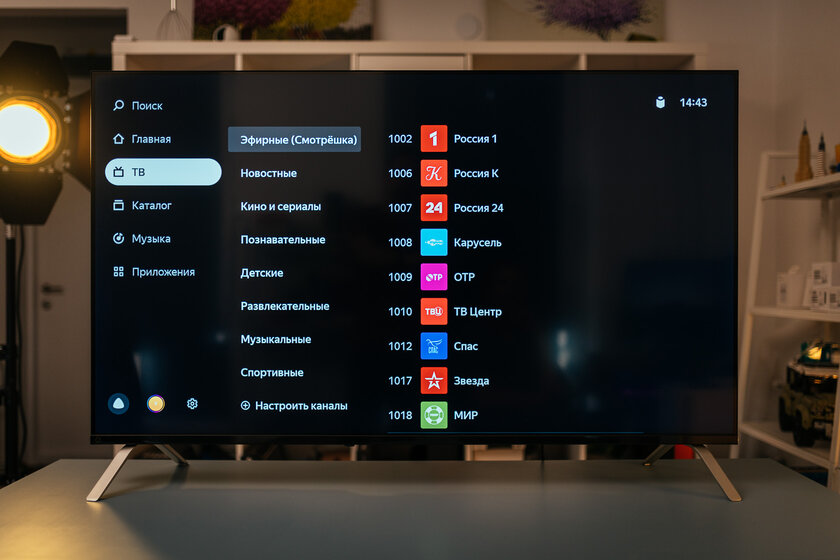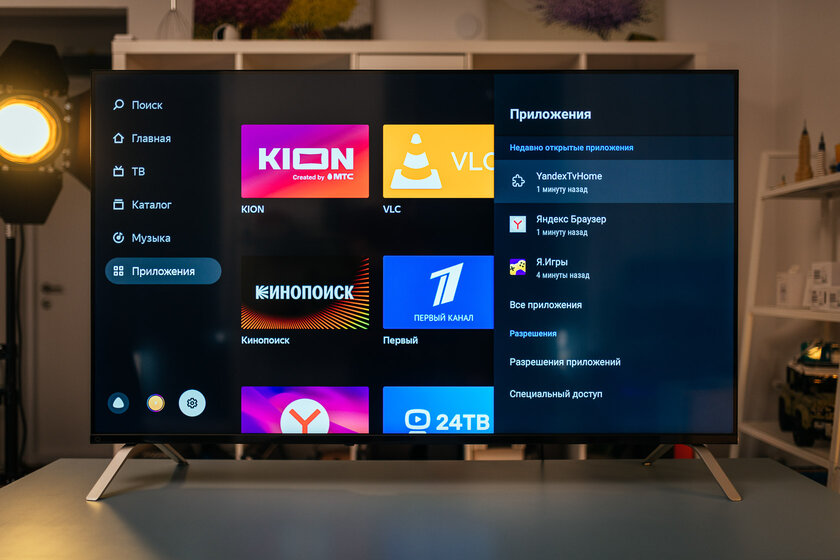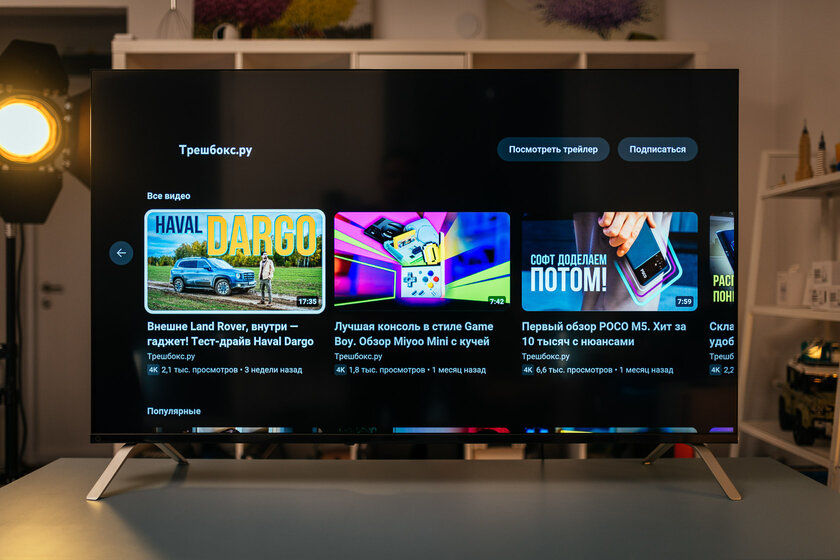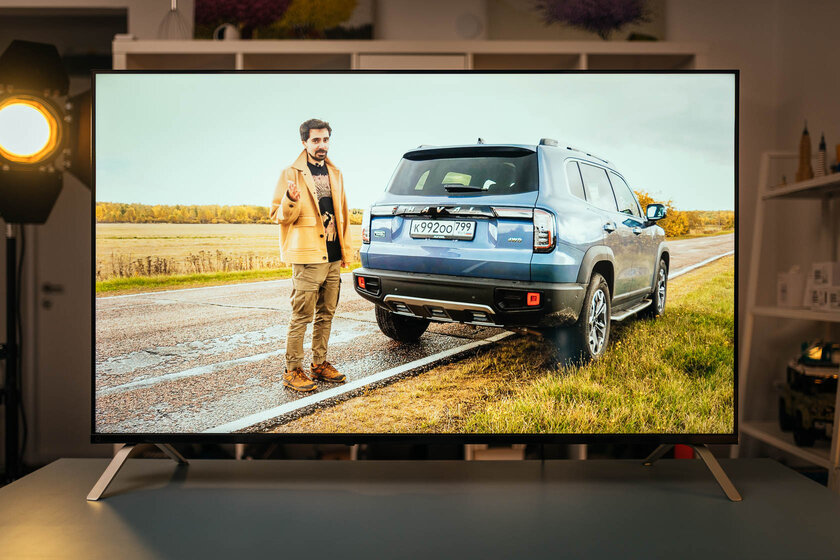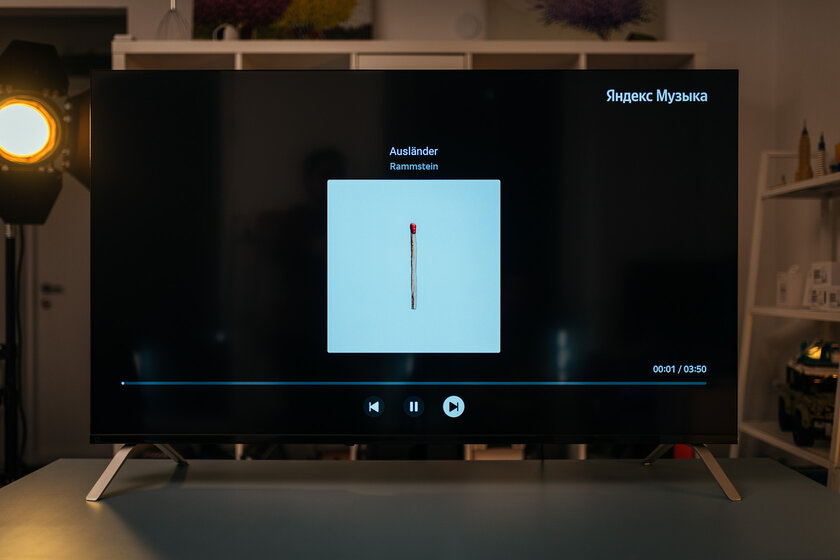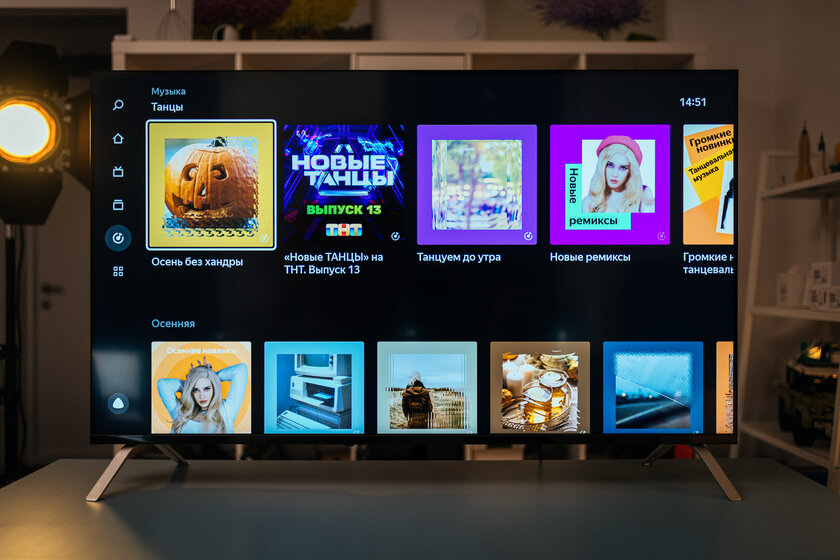 And although the basic set of functions and applications is clearly enough for most users, no one limits the owner in installing third-party software – Android 9 is still taken as the basis for the platform. True, there is no application store here, so you have to install something through APK files, uploaded to flash drive. Downloading software is implemented through a file manager, so if you wish, you can install third-party browsers, media players, and more.
Another point is the version of security updates for 2019. Strange, of course.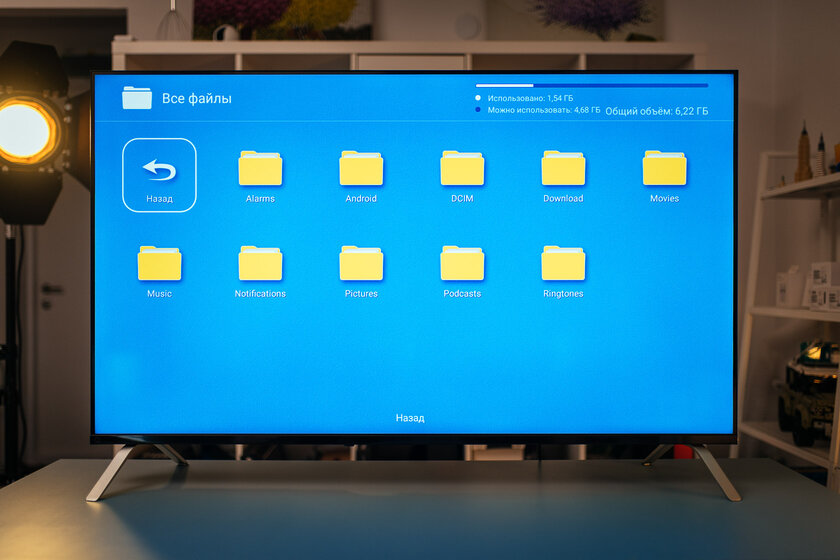 Alice, of course, is only in favor of this TV – when you press the button with the assistant icon on the remote control, the system starts listening to the owner's commands and execute them if it can. For example, Alice can launch a movie or series by its title, switch TV channels, launch applications, and answer user questions.
Moreover, if a user has linked different smart devices to the same Yandex account, they can only be controlled by voice through the TV and Alice in the column.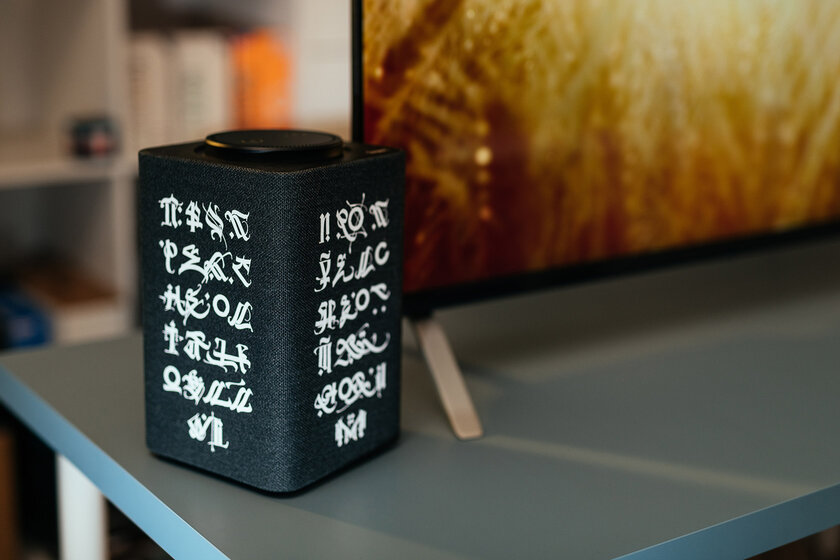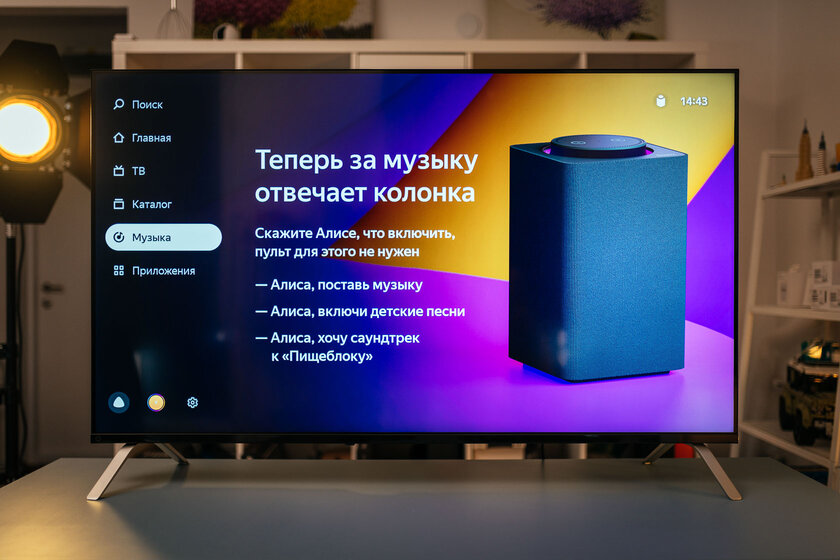 After synchronizing the devices, you no longer need to press the button on the remote control – just tell the column a command, and it will perform the action on the TV. True, the TV will still not be able to open the site – the column considers itself the main one and does not understand that it can do this on the TV where the browser is present.
Movies and series, picture quality
Of course, all sorts of smart features and various software matter, but the TV is still bought in order to watch movies with serials on it, so the picture quality plays a paramount role. The matrix is ​​bright enough to watch content on a bright sunny day, while there were no glare or problems with color reproduction. The picture is standard for a VA-matrix, viewing angles, halftone deformation, everything is classic.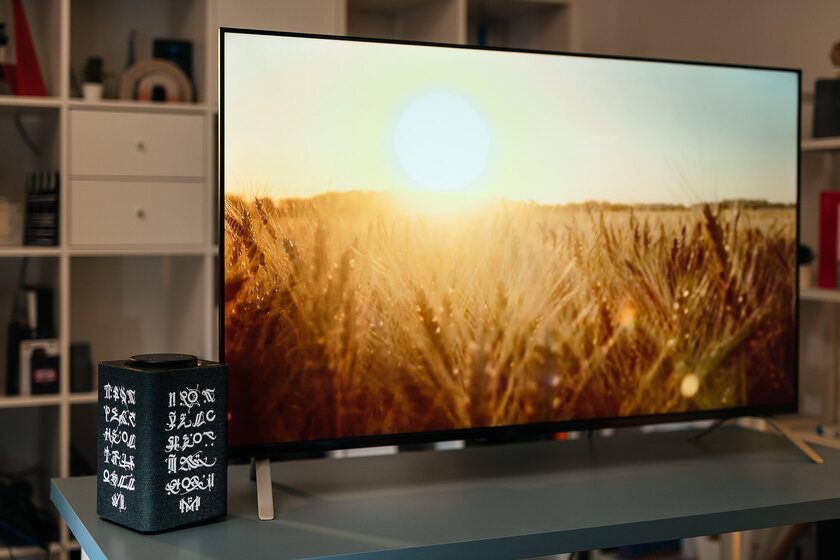 If you watch TV while sitting opposite or at a slight angle of deviation, then you will not notice any problems with the matrix. In addition, there is support for HDR content, which is very nice when watching modern movies or series, and the built-in audio system is enough to absorb content without having to purchase external speakers or a home theater system. Of course, the sound is far from ideal, but the TV will obviously not be bought by music lovers to listen to instrumental music.
Review
The novelty from Yandex attracts with its strict design without unnecessary logos, which many do not like so much, high-quality assembly and decent materials, as well as the ability to install almost any third-party software, control the device with your voice and connect the company's smart speakers. In all other respects, this is a standard middle-class TV on the Yandex.TV platform, which is fundamentally no different from its competitors. Among the shortcomings, it is worth highlighting the slightly inconvenient location of the ports and the standard sores of the matrix.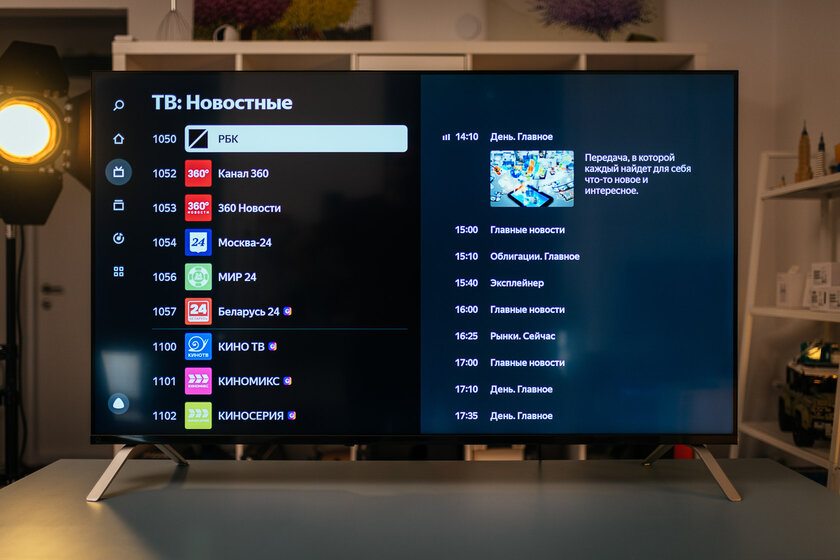 ✅ Benefits
Sturdy solid body.
Support for HDR content.
Wi-Fi operates in two frequency bands.
Convenient and understandable operating system.
It is possible to install third-party software.
❌ Disadvantages
VA
Inconvenient arrangement of ports on the rear panel.
Source: Trash Box