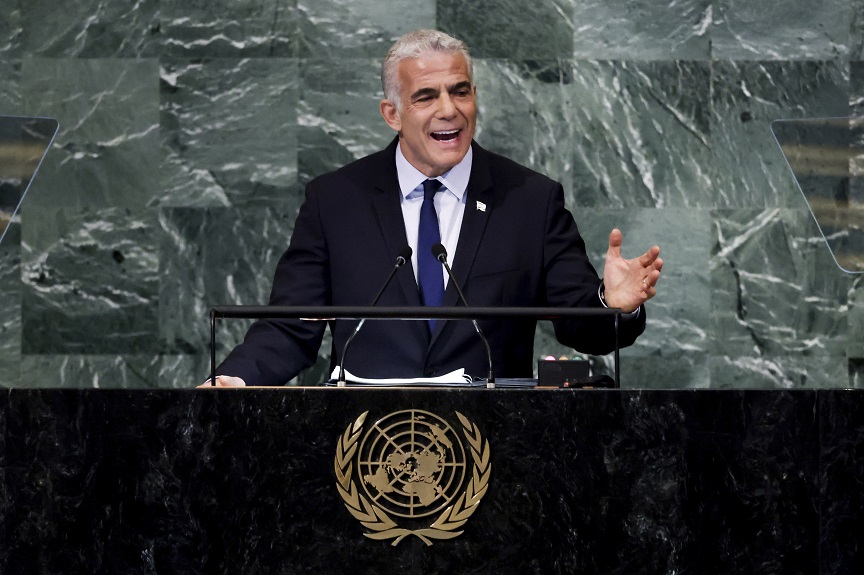 His prime minister and foreign minister Israel, Yair Lapidreferring to the Middle East issue, reiterated that he supports the two-state solution with the establishment of a "peaceful" Palestinian state.
Speaking at its General Assembly UN in New York on the Middle East, Lapid said that "despite the obstacles" the right choice for Israel's security and economy but also "to offer a future to our children" is an agreement with the Palestinians that will be based on "the solution of two states for two peoples".
"Today, the vast majority of Israelis support this vision of the two-state solution, and I am one of them. We have only one condition: that the future Palestinian state will be peaceful."Lapid pointed out.
"Use of force" if Iran acquires nukes
At the same time, he called on the international community to use "force" if Iran develops a nuclear weapon and
In recent months Israel has been engaged in a diplomatic marathon to convince the US and major European countries (Britain, France, Germany) not to revive the 2015 deal on Iran's nuclear program (JCPOA). The administration of former US President Donald Trump withdrew from that deal and reimposed sanctions on Iran in 2018.
For about 10 days, various officials have hinted that the deal may not be revived until at least mid-November, a delay that the Israeli prime minister wants to use to pressure the West to take a tougher stance on Tehran.
"The only way to prevent Iran from getting a nuclear weapon is to put a credible military threat on the table. And only then will it be possible to negotiate a longer-term agreement," Lapid said from the floor of the UN General Assembly. "This must be made clear to Iran, that if its nuclear program goes ahead the world will not react with words but with the use of force," he added.
It should be noted that Lapid's speech at the UN was leaked earlier to Israeli media and was severely criticized by his political opponents, ahead of the November 1 parliamentary elections.
Source: News Beast