Italy: Family doctors in the 'battle' of vaccination – Aim to persuade people over 60 to get vaccinated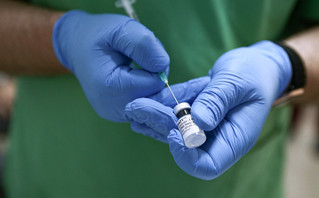 Her family doctors should call or visit citizens over the age of 60 who have not been vaccinated in order to persuade them to do so. Italy as decided by the country's Ministry of Health.
As the latest calculations point out, these individuals amount to 2.4 million. Doctors of the national system also visit, with small mobile units, remote villages (mainly mountainous, areas) to speed up the whole vaccination process.
At the same time, there is an ongoing public debate and reflection on whether teaching staff should be vaccinated against coronavirus.
"I think we can reach compulsory vaccination of teachers and professors, as was the case for health professionals. "Teachers are a high-risk category, because the Delta variant infects, as is well known, mainly young people," said fibrology professor Fabricio Preliasco, who is a member of the committee that advises the local government of Lombardy, according to the Athenian News Agency.
At present, however, the government of Mario Draghi has not advocated for mandatory vaccination of those working in the country's schools. Much will depend on progress on the vaccine front by mid-August.
To date, 50.2% of the Italian population over the age of 12 has received coronavirus protection. In total, 61,543,227 doses have been administered.
The government of Mario Draghi on Tuesday (20/7) is expected to approve new measures, which will provide benefits for citizens who have completed their vaccination cycle. You will need a "green card" and complete vaccination for entry to trains, planes, cultural events and clubs. It remains to be seen whether the "green vaccination card" will eventually be necessary for access to indoor restaurants and cafes.
The secretary of the Northern League, Matteo Salvini, (who is part of the Draghi government) believes that "a coffee does not need a vaccination certificate", while the center-left is in favor of a stricter line. The last word will be, as always, by the Italian technocratic prime minister.