Italy: The accommodation that is "moored" on the edge of a cliff and gives the impression that it will dive into chaos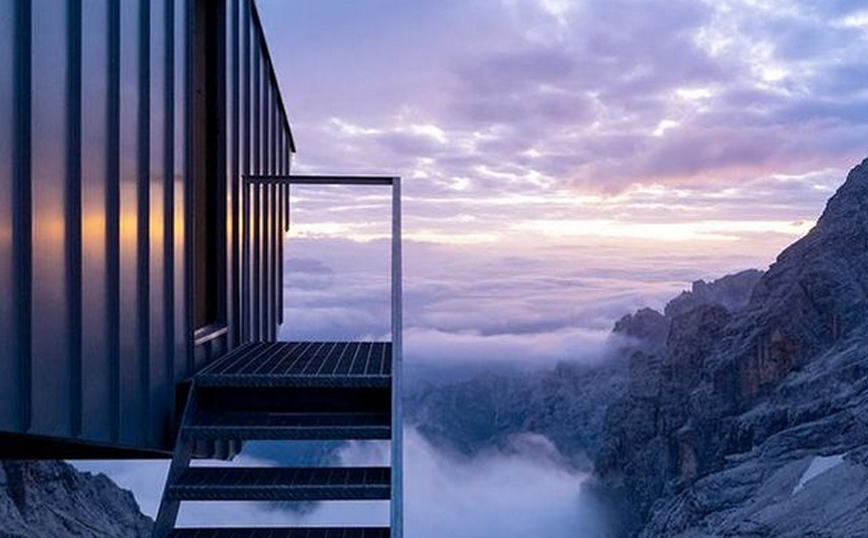 New Fanton Bivouac, a shelter on the edge of the Dolomites, on the Marmarole ridge near Belluno, Italian architectural office DEMOGO. Anchored in an inaccessible mountain range, at an altitude of 2,667 meters above sea level, in a boundless space, the fiberglass body of the lodge leans to the edge of the cliff giving the impression that wherever it will dive into chaos.
Inside the accommodation, the visitor is plagued by two conflicting trends: the desire to explore this vast space and the need to find protection within refuge.
The life inside the accommodation gives the feeling that you have placed yourself between two lenses of one telescope, seeking to frame space and find a connection between man and the environment. Is "a project of proportions between the absolute and the measure, a tiny project that finds its dimensions in the possibility of increasing the perceptual capacity "point out from the Italian architectural office.
The interior is lined with wood, trying to soften the impression of wildlife. Externally it has the shape of a box, hung on the edge of a cliff, giving the impression that it extends into the void. A large window allows you to enjoy the magnetic scenery.
"Measuring yourself, measuring space, losing yourself, losing the dimensions of space, finding your ecosystem, resisting, stretching your body, anchoring, changing perception, expanding outwards, leaning, reacting, accumulating dilations and contractions , allowing yourself to carry it, disappearing in the snow, beaten by the wind, adapting your body to a high altitude, becoming an architecture and ceasing to be something like that, overwhelmed by the greatness of an absolute landscape "say from DEMOGO, trying to describe in words the experience of staying in New Fanton Bivouac.