In anticipation of the presentation of a new line of Apple smartphones, which will take place on September 7, 2022, the pages of technology sites were filled with arguments: what the long-awaited iPhone 14 and iPhone 14 Pro will be like. Fans of the company are enthusiastically discussing potential features of upcoming devices, but for some reason they are silent about the fact that even the most affordable Android devices have had them for a long time. I myself use the iPhone with pleasure, but I can't say that I really expect at least one of the following from the new Apple smartphones. All this is too banal.
The screen of the iPhone 14 Pro may have "holes", not a "unibrow"
The outlines of the iPhone 14 Pro seem very attractive, but we all see exactly the same for more than a year
Photo Source: Wccftech
Apparently, the new generation of Apple smartphones will finally lose the notorious "bangs" that have been discussed since the iPhone X. At least, this is what they say in laudatory materials on the pages of many thematic media. However, it is important to understand a few things. Firstly, the place of the "monobrow" in the new smartphones will be taken by a couple of not-so-attractive holes, which seem to be even more conspicuous. Secondly, in this case we are not talking about the entire iPhone 14 line, but only about models from the upper price segment: iPhone 14 Pro and iPhone 14 Pro Max.
It's hard to say why everyone admires this innovation so much, because in the world of gadgets based on the Android operating system, even neater notches have been used for several years. The first smartphones with punch-hole cutouts for the front cameras appeared back in 2018. Moreover, until today, manufacturers have carried out a number of experiments, placing cutouts on different sides of the screen so that they do not interfere as much as possible. And they appeared not only in expensive gadgets. It would be a revolution to get rid of any such holes, but the technology has not yet reached that point.
The always-on screen in the new iPhones will be a revolution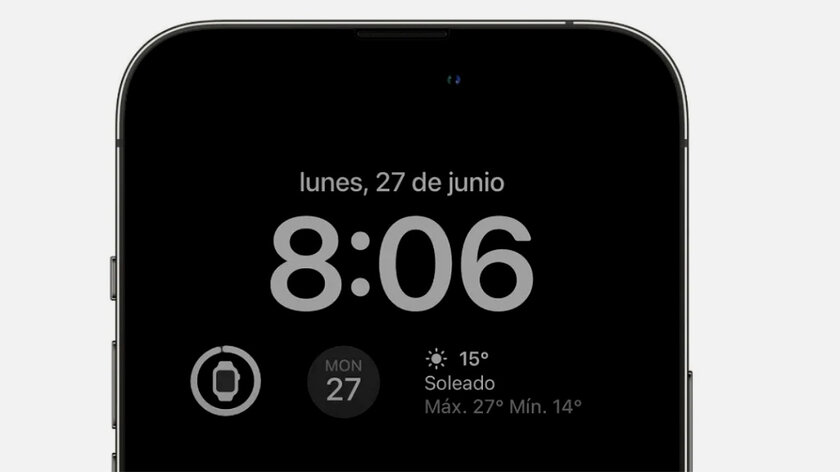 To implement the always-on screen, Apple redesigned the lock section, but this should have been done a couple of years ago.
Photo Source: Crast
Another interesting innovation of the new Apple smartphones should be the always-on screen technology. For the company, it first appeared in the Apple Watch Series 5. Their design used a display with special modifications, which was taught to force the refresh rate to be reduced to 1 Hz. Along with lowering the brightness and simplifying the content as much as possible, the engineers managed to achieve minimal power consumption. It is likely that something similar will be implemented in the new Apple smartphones – at least in the iPhone 14 Pro and iPhone 14 Pro Max.
A potential innovation in the form of an always-on screen is also hinted at by the completely redesigned iOS 16 lock section, which has acquired long-awaited watchOS-inspired widgets. However, it is important to understand that only Apple fans can be surprised by such "innovations" – in the world of Android smartphones, always-on screens have been used for several years. It seems like it would be logical to add something similar to the iPhone X when the company started introducing displays made using OLED technology. Now this innovation looks quite ridiculous.
Many believe that the iPhone 14 camera will be > 12 megapixels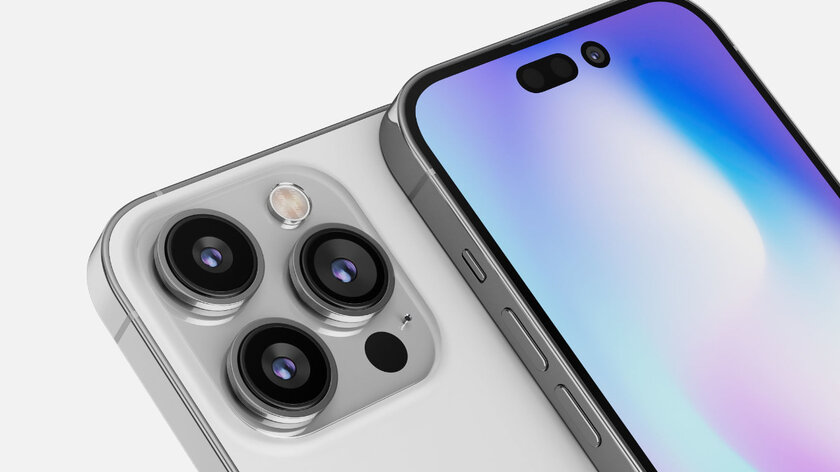 The new resolution should traditionally be received by all cameras at once, but it's definitely impossible to talk about this with 100% certainty
Photo Source: Tom's Guide
Thematic media tenderly reprint rumors that the cameras of new Apple smartphones will receive higher resolution. 12 MP is really not enough in 2022 – especially when it comes to the need to crop images. What's more, the latest iPhones seem to have taken higher-resolution images before, but after capturing the base frame, adjacent pixels were glued together to improve the image. Now this may not happen, as an option, in good lighting. Moreover, all gadgets can simply start to be equipped with even more high-aperture optics.
Yes, it would be great if the iPhone learned how to take pictures with a resolution of 48 megapixels. However, this value does not look particularly serious when compared even with mid-budget gadgets based on the Android operating system. The top devices of competitors have long crossed the mark of 100 megapixels. Yes, such a large image detail is not needed so often, and in this case it is not so easy to get a good picture. However, if we are talking about creative photography, then this option becomes very useful for further editing the material.
The mid-range iPhone 14 may have a large display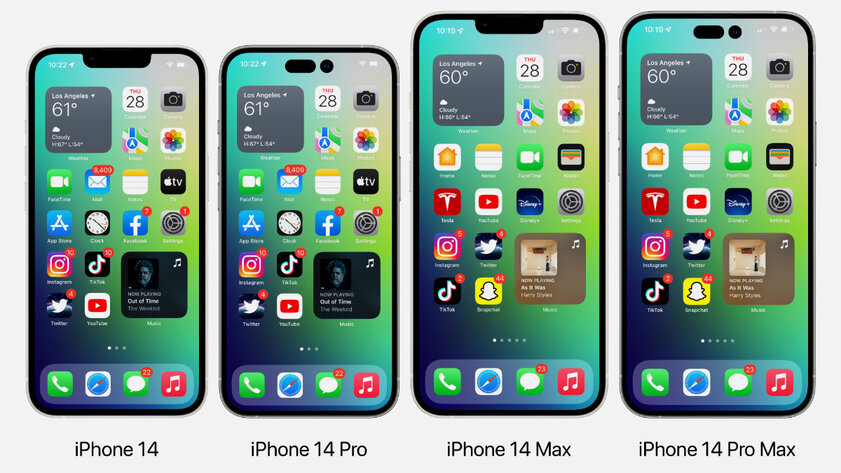 This is how the entire current iPhone 14 line should look like, which Apple will introduce very, very soon
Photo Source: Apple Hub
Apple tried to promote smartphones with the mini prefix for a couple of years, and even earlier – just think – did not want to release gadgets with a large diagonal at all. However, until 2022, the company's marketers finally realized that too small devices are no longer needed by anyone. Calls have long faded into the background, and the main thing for each gadget has become the convenient consumption of a wide variety of content, as well as communication in instant messengers and other social services. That is why rumors about a mid-budget iPhone 14 Max with a display sized like the iPhone 14 Pro Max are an event.
Everyone understands everything: Apple's reluctance to release a relatively inexpensive gadget with a large screen is nothing more than marketing and an attempt to maximize sales of the older model. However, this is another moment that a fan of the Android world is ready to laugh at. Any of them can not the first year in a row choose a gadget of any required size in almost every price category. Therefore, such restrictions, the removal of which is considered some kind of incredible accomplishment, looks like nothing more than a mockery. But the device itself seems very promising and even popular in absentia.
Fresh colors will further motivate you to buy an iPhone 14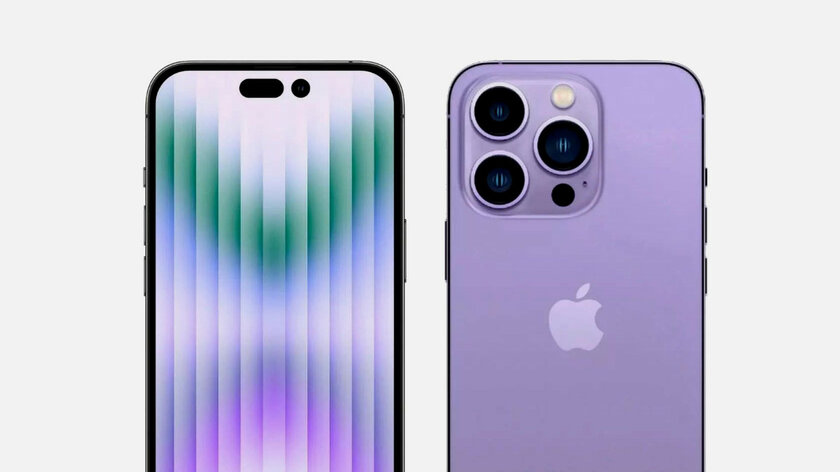 The highlight of the presentation will surely be a new color for the iPhone 14 Pro, and then it will be very difficult to buy it on both the "white" market and the "gray" one.
Photo source: The Economic Times
In the end, another insanely "important" innovation from year to year is the new color schemes of Apple smartphones – especially in the Pro line. Last year it was a Sky Blue device, a year earlier it was Pacific Blue, and even earlier it was Dark Green. All of them were in permanent shortage and in unofficial retail were even sold more expensive than other models. There is even a feeling that Apple created an artificial shortage of models in newfangled colors in order to draw additional attention to the entire line as a whole.
The main color of the iPhone 14 Pro should be the conditional purple, which flashed more than once in the pictures from this article. Apparently, it will also have new outlines, but this does not matter as much as the shade that is noticeable from a distance. Needless to say, how strange it is to look at all this for the adherents of the Android world ?! Hardly. At this point in the text, the phrase should already be spinning in the language: "The mice cried, pricked, but continued to eat the cactus!". This is how Apple fans are often described – he himself is in the ecosystem, so he often heard this about himself. But why do we put up with all this? Honestly I do not know…
Source: Trash Box