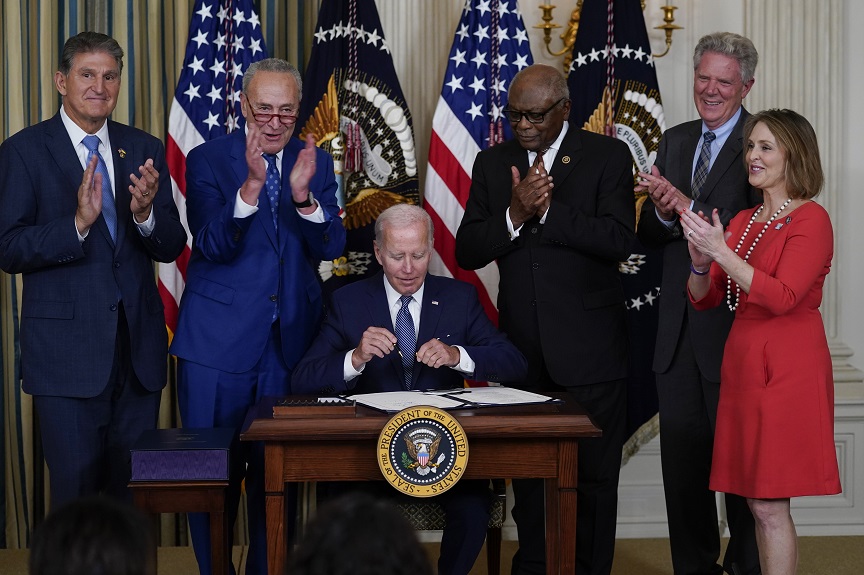 The president of USA, Joe Bidensigned today (17/8) his ambitious investment plan to deal with it climate changethe reduction in the prices of some medicines and establishing a minimum corporate tax rate.
At a White House event, President Biden was flanked by prominent Democrats — including Joe Manchin, whose support was instrumental in getting the so-called Deflation Act passed, as the senator had initially opposed similar proposals.
"Joe, we never had a doubt"President Biden said to the West Virginia senator.
The US president used the occasion to criticize Republicans as he seeks to capitalize on a string of Democratic legislative successes ahead of November's midterm elections.
"In this historic moment, Democrats have sided with the American people and every Republican has sided with special interests."Biden argued, recalling that "every Republican in Congress voted against this bill".
Legislation to combat the consequences of climate change aims to reduce greenhouse gas emissions. It will allow Medicare – the public health insurance system – to negotiate the prices of certain drugs directly with pharmaceutical companies and ensure more competitive prices. He also aspires to ensure that corporations and the wealthiest pay their fair share of taxes. Democrats argue that it will help fight inflation by reducing the federal deficit.
For his part, Senate Republican leader Mitch McConnell claimed the new law would have the opposite effect, saying it adds fuel to the fire at a time when inflation has reached record levels. "Democrats have already looted American households once because of inflation, and their solution now is to loot them a second time."he argued.
Source: News Beast