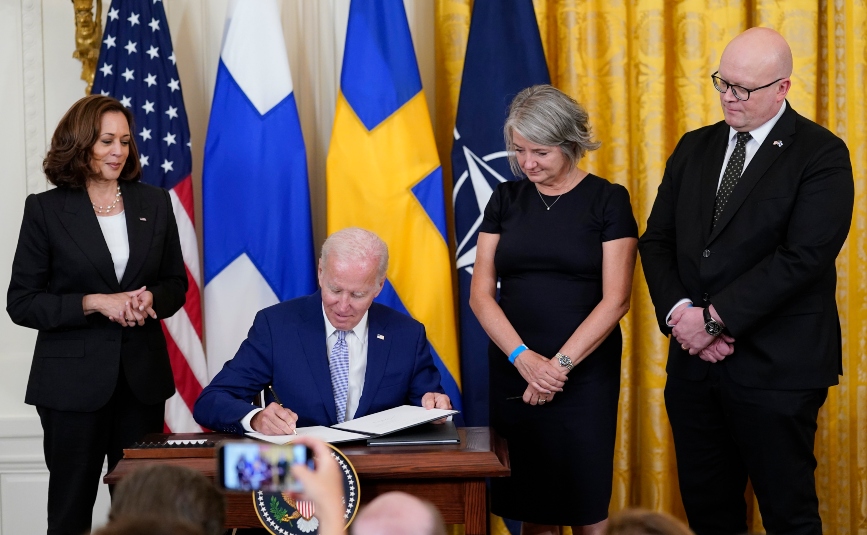 The American president Joe Bidensigned yesterday Tuesday validation from her USA admission of Sweden and Finland to NATOthe expansion of the alliance decided after Russia's invasion of Ukraine.
The two Nordic countries will be "strong, reliable allies with great potential" in the US-led military alliance, Biden assured during the signing ceremony at the White House.
The US Senate ratified it last Wednesday by a large majority (95 votes in favor, two-thirds majority required, 67 votes) the protocols of admission of Finland and Sweden to the Atlantic alliance. They need to be approved by all member states for the two countries to join.
Joe Biden has from the start characterized the restoration of transatlantic relations, badly handled by his predecessor Donald Trump, a priority of his foreign policy. NATO is part of the "security foundations" of the US, he reminded yesterday.
He praised at the same time that the two countries have "strong democratic institutions" and armed forces that will strengthen the North Atlantic Treaty Organization.
According to a White House press release, Biden spoke by phone yesterday with Finnish homology of Sauli Niiniste and the Swedish prime minister Eva Magdalena Anderson and congratulated them on "one more step" in their admissions process.
The admission protocols, as APE-MPE reminds, have been ratified by 23 NATO member states, according to its parliamentary assembly. The most important obstacle to the completion of the process is Turkey, as Ankara primarily accuses Stockholm but also Helsinki of protecting members of the separatist armed Kurdish movement Kurdistan Workers' Party (PKK) and other organizations it characterizes as terrorist.
By ordering the invasion of Ukraine, Russian President Vladimir Putin 'shattered peace and security in Europe' the American president said at the ceremony. "Putin thought he could divide us (…). Instead, he gets exactly what he didn't want."

Source: News Beast