Questions have been raised lately by the fact that North Korean leader Kim Jong Un has lost several pounds. The change in his appearance is obvious and many have wondered if he suffers from any disease.
Almost 20 are kilos lost by Kim Jong Un. However, there does not appear to be a serious health problem, according to a South Korean lawmaker who was briefed by his country's intelligence services on the matter.
Kim Jong Un: What the information says about his weight and health
According to a Bloomberg report, the National Intelligence Service estimates that Kim has recently lost about 20 pounds. MP Kim Byung-kee was briefed by the intelligence services and made statements to reporters on Thursday.
"If there was anything to do with his health, there should be signs that drugs are being taken to the clinic responsible for monitoring Kim's health, but this has not been detected.", he said, adding that Kim still attends "long meetings" and there is nothing unusual about the way he walks.
Its 37-year-old leader North Korea had not appeared in public for quite some time in May and finally appeared in a video in June in which he appeared visibly emaciated.
The state media later played an issue, according to which North Koreans burst into tears when they saw the image of the emaciated Kim, comments that may have been aimed at securing public support at a time when the North Korean leader is trying to revive the country's economy, which is in a bad state, notes Bloomberg.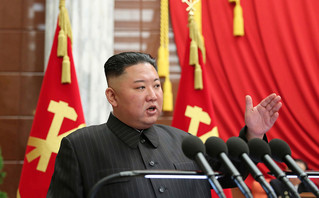 Its weight Kim Jong Un is monitored by intelligence services to obtain information about Pyongyang's authoritarian regime, especially if his family has a history of heart disease. South Korean spies told lawmakers in November that Kim weighed about 140 kilograms, but did not include any weight estimates in the latest update.