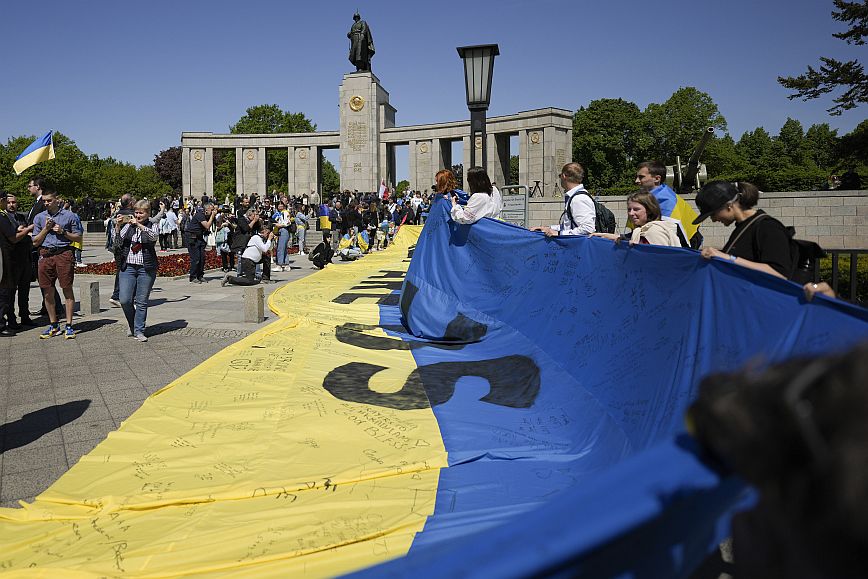 He spoke of a "mistake" on the part of Germany Kyiv Earlier today, German police ordered protesters who had gathered at the Soviet Monument in Berlin to gather the huge Ukrainian flag they had unfolded, in protest of protests. Russian invasion.
"Berlin made a mistake by banning Ukrainian symbols. "It is deeply wrong to equate them with Russian symbols," the head of Ukrainian diplomacy wrote on Twitter. Dmitro Koulempa. "It's an attack on all those who are defending Europe and Germany today against the Russian attack," he added.
Earlier, German police ordered protesters gathered in front of the monument to collect the huge Ukrainian flag. According to a post on Twitter by the Berlin police, "in order to keep the peaceful demonstration in the foreground" for the capitulation of Germany in World War II, the police asked for the flag, about 25 meters long, to be collected.
Fearing unrest, mainly by pro-Russian activists, police had announced on Friday that flags or military symbols would be banned at venues marking the 77th anniversary of the end of the UNHCR. The decision caused a stir, especially in the Ukrainian community. Ukraine's ambassador to Germany, Andriy Melnik, said it was a "scandalous" decision that was a "slap in the face to Ukraine". The Ukrainian diplomat today laid a wreath of flowers in the colors of the Ukrainian flag (blue and yellow) at the Soviet Monument in the heart of Berlin. Despite strong police forces there, some protesters shouted "Melnik is out" while others responded in Ukrainian with the slogan "Slava Ukraine", meaning "Glory to Ukraine".
This monument, near the Brandenburg Gate, is dedicated to the memory of the 80,000 Soviet soldiers killed in the Battle of Berlin, before the capitulation of Nazi Germany on May 8, 1945.
Source: News Beast