If you've ever misplaced the ticket of the parking lot, you will understand the anguish, despair and stress that Guadalupe Quiñones went through, who after losing her ticket and refusing to pay a fine of 10 dollars to have her car returned, decided to make a public protest, which ended up going viral in networks.
The woman chose to stay outside the facilities of a shopping center in Sonora, Mexico until she recovered her car, she even had the intention of sleeping in the middle of the street with the intention of exerting pressure and recovering what belongs to her.
Guadalupe shared her incident on social media. In addition, he published some images in which he can be seen sitting in the parking lot of a commercial plaza located in Sonora, Mexico.
Here I am at Galerías Mall, they haven't let me out with my car because I lost my ticket and I don't want to pay them 10 dollars. I made them a consumption and I showed them the papers of my car and then what is going to happen.

I've already called 911 three times and the patrol came, but they told them there was nothing they could do. Wasn't so much trouble going to end?
Her strategy of denouncing her situation in networks did not receive the help that she expected, therefore, she called the police, but they could not do anything either, because they told her that she had to pay the fine and comply with the regulations established in the place.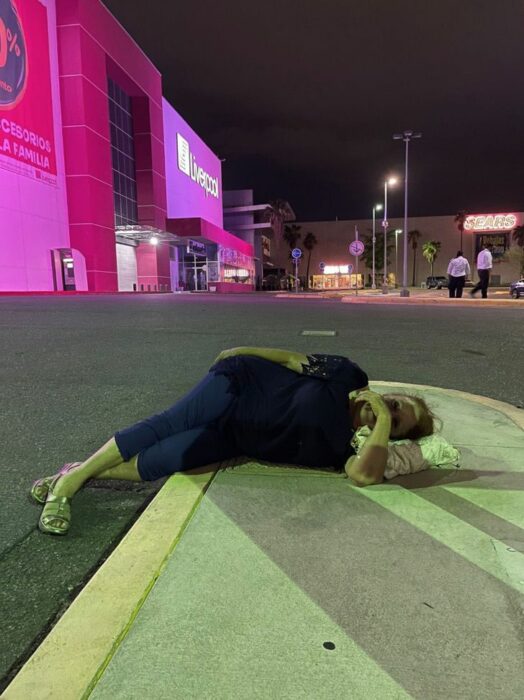 She later shared a second photograph in which she can be seen lying on the asphalt, using her purse as a pillow and trying to get some rest.
The employees of the place realized that Guadalupe had every intention of spending the night in the parking lot, so they spoke with her and let her out with her car. In addition, they decided to let her go without paying the fine that they had previously demanded.
Her peculiar protest went viral and divided the internet, but in the end, she mentioned that she did not want to pay the fine because it seemed an injustice to have to pay to recover something that belongs to her, especially if she had already made a high consumption within the establishment .