- Article Top Advertisement -
Much – a great deal – has been written over the past two decades about the death of the popular married couple John John Kennedy And Carolyn Bessette in a tragic plane crash. The couple who made headlines in life reached myth status after his disappearance. Tragedy is an inherent attribute of the Kennedy family and the "curse" that seems to have followed her members has left two collateral victims: the elegant Carolyn Bessette and her older sister, Lauren Bessette.
The latter was barely mentioned in the media when news of the terrible event broke, but although her memory was relegated to a simple footnote, Lauren was as brilliant as her sister. Maybe more.
- Article Inline Advertisement 1-
A business card with the name of Lauren, Vice President of the Morgan Stanley Financial Institution, was the first clue to the fateful accident that search teams found in the Atlantic and that caused family and friends to start preparing. at worst.
The 34-year-old (14 months older than Carolyn) had an enviable life. The New Yorker who grew up in Greenwich, Connecticut came from a normal, anonymous family, a far cry from the scandalous and luxurious Kennedy family. She had a twin sister, Lisathe only Bessette sister living, and was the daughter of Ann Messinaan administrator of the New York public school system, and an architectural engineer William Bessette; the couple divorced when all three sisters were very young.
Lauren attended Greenwich Public High School, where, according to the magazine Town and Countryjoined a women's community service group, le Signettes, and graduated in 1982. She then graduated in economics and studied Mandarin at Hobart and William Smith Colleges, where an Asian languages ​​and cultures program bears her name. Her faculty advisor, Patrick McGuiredescribed her as a "bright, articulate and self-confident young woman" in an article of the New York Times. She soon began a glittering career in the financial sector as an analyst at Morgan Stanley, a company that offered her the opportunity to earn an MBA from the prestigious Wharton School of Business at the University of Pennsylvania and to live in Hong Kong for four years, working for the branch of the bank that deals with operations on the Asian market
Her friends and colleagues remember her as a person with a 'big heart. She had time for everyone, she had no ego, she had a wonderful sense of humor and an incredible sense of style, "qualities she shared with her sister Carolyn.
While in Hong Kong, he often traveled to Shanghai, taking advantage of weekends to scuba dive or charter the typical Junco boat with friends in the Philippines, and worked on a deal to go public with China Eastern Airlines. "She was fluent in Mandarin, so there was this young woman, very attractive and elegant, who was half the age of all the executives of these Chinese companies who didn't speak English. Her ability to manage the room and get things done was just incredible, "one of her colleagues told the press. Her professionalism quickly earned her promotion to vice president.
In 1988 he moved to the Manhattan office at 1585 Broadway and lived in a fabulous loft on White Street in Tribeca, for which he paid nearly a million dollars. There she strengthened her relationship with her younger sister and her famous husband, with whom she often met for brunch on weekends. Her life in the Big Apple consisted of working hard at Morgan Stanley and "touring East Village's best restaurants with friends, attending ballet, opera or Brooklyn Academy of Music shows," reads. Town and Country. She was also rumored to be dating Bobby ShriverJohn's activist cousin.
368565 001: (MAGAZINES PLEASE CALL) John F. Kennedy, Jr. and his wife Carolyn Bessette Kennedy arrive at the annual John F. Kennedy Library Foundation dinner and Profiles in Courage awards in honor of the former president's 82nd birthday, May 23, 1999 at the Kennedy Library in Boston, MA. July 16, 2000 marks the one-year anniversary of the plane crash off the coast of Martha's Vineyard in Massachusetts that killed John F. Kennedy Jr., his wife Carolyn Bessette Kennedy, and her sister di lei Lauren Bessette. (Photo by Justin Ide / Newsmakers)Justin Ide / Boston Herald
After a year of living in New York, Carolyn and John offered to take her to Martha's Vineyard, an island in Massachusetts, in their small private plane and then to Cope Cod, where the couple would attend the wedding of Rory KennedyJohn's cousin.
After work, Lauren went to the office of George – the magazine that her brother-in-law ran – and, together with John, went to the New Jersey airport, where Carolyn was waiting for them to fly with the Piper Saratoga that made them fall into the ocean.
After a comprehensive rescue operation closely followed by the then president Bill Clintonthe catastrophe that shocked the whole world has been confirmed: the son of the former president John F. Kennedy and the former first lady has met a tragic end like that of his parents. On June 22, Lauren's ashes, along with the couple's, were placed in the Atlantic during an intimate family ceremony.
John was a novice pilot, having obtained his license a year earlier. According to the biographer C. David Heymannthe public trial that never took place – the Kennedy family agreed to pay a sum of nearly $ 15 million – would prove that John John was unable to cope with a night flight and would make it public that he had also been drinking before the trip .
Lauren's close friends say "there's no doubt Lauren could have done whatever she wanted" but her promising future was cut short by the Kennedy's misfortune
Source: Vanity Fair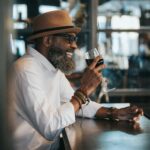 - Article Bottom Advertisement -