The head of Russian diplomacy Sergei Lavrov gave the tone of his meeting with him Anthony Blinken who is in progress in Geneva on the Ukrainian crisis, saying at the beginning of his conversation with his American counterpart that he does not expect any decisive development during today's meeting, as broadcast by APE-MPE.
Sitting down, Anthony Blinken vowed that the response from Washington and its allies would be "solid, swift and fierce" in the event of a Russian invasion of Ukraine. He assured, however, that the United States would continue to seek a diplomatic solution to the crisis.
The meeting of the two men takes place on the shores of Lake Lehman. Sergei Lavrov and Anthony Blinken, who are well known, shook hands at 11.00 local time (12.00 Greek time) before starting their talks.
The meeting is the last act of a diplomatic choreography that unfolded on the basis of Washington's suspicions that Moscow intends to invade Ukraine, which the Kremlin denies, having at the same time amassed a force of 100,000 troops on the Russian-Ukrainian border.
Less than 20 minutes before the start of the meeting, Russia announced that its demands included the withdrawal of foreign NATO troops from Romania and Bulgaria, members of the Atlantic Alliance, as part of a treaty seeking to secede from the Western powers in exchange for the de-escalation of the Ukrainian crisis.
Anthony Blinken arrived in Geneva on a brief tour of Kiev to reassure the Ukrainian leadership of Western support, and Berlin, where he, along with Germany, France and the United Kingdom, gave assurances of the alliance bloc.
"Russia is waiting for written answers from the US"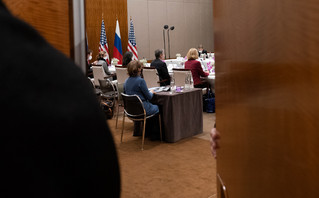 "Russia expects written answers from the United States next week about its security demands," Lavrov said.
"We have agreed that they will provide us with written responses to our proposals next week," he said, adding that he and the US diplomat had agreed in frank talks today that a "reasonable dialogue" was needed to "calm down". the spirits". "Moscow will understand whether the talks on its security demands are on the right track when it receives Washington's written responses," Lavrov said, adding that Russia was not a threat to Ukraine and that "It has never threatened the Ukrainian people."
Asked about the prospect of a summit between Presidents Joe Biden and Vladimir Putin, he said: "Let's not go ahead, President Putin is always ready for contacts with President Biden, but it is clear that these contacts must have been serious. preparation ".