- Article Top Advertisement -
This Friday (19) is celebrated Lesbian Pride Day, a date chosen in memory of the first major demonstration of lesbian women in Brazil, which took place in 1983, in what became known as the "Brazilian Stonewall".
The date aims to give visibility and ask for respect for lesbians.
- Article Inline Advertisement 1-
On August 19, 1983, while the country was still under a military dictatorship, activists from the Grupo Ação Lésbica Feminista (Galf) occupied Ferro's Bar, in downtown São Paulo, to protest the abuse and prejudice they experienced there.
On the occasion, protesters protested against the ban on the sale and distribution of a pamphlet that called attention to the rights of women and, specifically, lesbians.
It is estimated that in Brazil, 2.9 million people are lesbian, gay or bisexual, according to data from the national health survey by the Brazilian Institute of Geography and Statistics (IBGE), carried out in 2019. Of this number, 0.9% are declare lesbians.
A survey by the Instituto Patrícia Galvão estimated that 89% of cases of lesbocide, the murder of lesbian women, are caused by men. And 29% of those crimes are caused by someone living in the same house.
Lesbian women, historically, are targets of stereotype prejudice and misunderstanding, in addition to suffering male hetero fetishes and sexualization of their bodies.
"Until recently, the search for the word 'lesbian' in search engines brought up content, in large numbers, associated with pornography," he told the magazine. CNN Liliane Rocha, lesbian diversity consultant.
Among the most extreme expressions of violence against lesbians there is a huge occurrence of the so-called "corrective" rape, a practice that is motivated by intolerance as a way of "punishing".
It is important to emphasize that black and peripheral lesbian women are even more vulnerable to different forms of violence, says the researcher.
*With information from Bruna Sales and Talita Amaral, from CNN
Source: CNN Brasil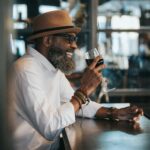 - Article Bottom Advertisement -