Lack of jobs and money can make a person feel depressed and crestfallen. However, it is not a reason to sit idly by, on the contrary, it is a motivation to keep knocking on doors, because at some point one will have to open. At least that's how Ángel Medina, a man from Hermosillo, Sonora, Mexico, thought who recently lost his job.
But this was not the only misfortune that came to Angel's life, as he also lost one of his children. Although he felt the world was falling apart, the 44-year-old decided to go out and look for work and despite the fact that he did not have the money to print his resumes, he was determined to write them by hand.
Ángel got a notebook and a pen to write his resumes and with a bit of embarrassment he went out into the streets to paste the sheets of paper in order to look for a job. On its sheets you could read:
I am looking for work on a ranch, I have experience in cattle management, I also know how to breed, milk, make cheese and dominate foals. My name is Ángel Medina, 44 years old, without bad habits.
This caught the attention of his neighbors, who decided to help him by posting the information on social media. Because of this, his search was successful and he received close to 30 job offers. In the end she chose a man's proposal.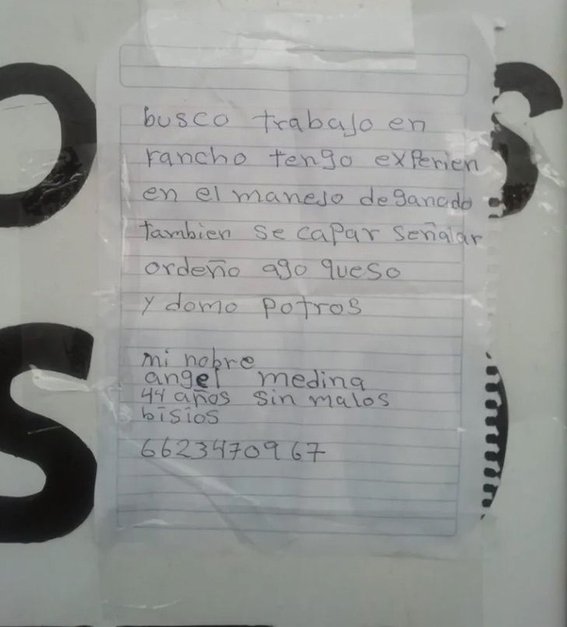 I'm going to work with a man in a palapa that is for San Pedro, I'm going to stay there and take care of the business, and it's fine because the truth was that I was urged to find a job, because my son studies and works, but since he doesn't have a job right now. employment, there it is in the house.
Ángel said that he doesn't want to be given anything as a gift, since he knows how to work from a very young age and is sure that there is always a light at the end of the tunnel, because even though his life has not been easy, good things come to him.