MediaTek has robbed Qualcomm of the title of leading manufacturer of chips for mobile devices. In this, the Taiwanese company was helped by inexpensive 5G solutions that are in great demand among smartphone manufacturers. This is stated in a new report from the research company Counterpoint Research.
According to analysts at Counterpoint Research, global shipments of SoCs for smartphones in the second quarter of 2021 increased by 31% compared to the same period last year. This was facilitated by the growing demand for 5G smartphones. Compared to last year, quarterly shipments of smartphones with support for fifth-generation cellular networks have almost quadrupled.
Global Smartphone Chip Market (Q2 2020 / Q2 2021)
The leader of the world market of mobile chips, as mentioned above, was the Taiwanese company MediaTek last quarter. Its share reached a record 43% thanks to a wide range of low-cost 5G chips and the absence of major supply disruptions. Interestingly, just a year ago, MediaTek owned only 26% of the global market. American chipmaker Qualcomm dropped to second place in the market. Over the year, its share decreased by 4 percentage points – from 28% in the second quarter of 2020 to 24% in the second quarter of 2021. The third place in the market remained for Apple, whose share remained unchanged over the year and still stands at 14% thanks to stable demand for the flagship iPhone 12 series. up to 9%. Samsung, on the other hand, lost part of the market over the past year. Now the South Korean company owns only 7% of the market instead of 12% in 2020. This is due to a change in strategy and outsourcing of low-cost smartphone models to Chinese manufacturers. The share of HiSilicon, Huawei's semiconductor division, has also declined significantly. As a result of increased sanctions by the US government, HiSilicon lost most of the market and now controls only 3% of the market instead of 16% a year earlier.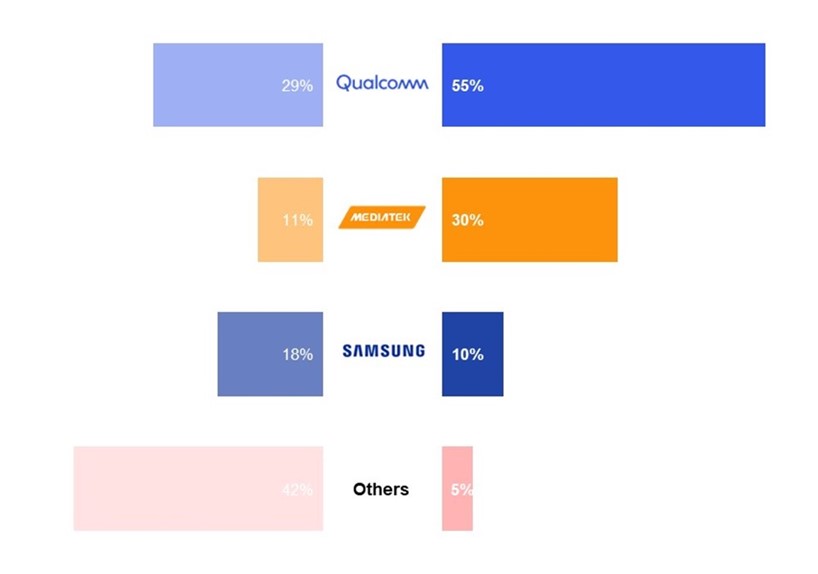 Global 5G Smartphone Chip Market (Q2 2020 / Q2 2021)
But if we talk about the segment of 5G chips, then Qualcomm still holds the lead. In the second quarter of 2021, Qualcomm dominated the 5G market with a 55 percent share. In 2020, Qualcomm's share in this segment was 29%. Analysts point out that Qualcomm could have shipped even more 5G solutions last quarter if the San Diego-based chipmaker had not been affected by the semiconductor crisis and manufacturing problems. But Qualcomm is now actively diversifying its supply and expanding manufacturing capacity with contractors including TSMC, which should help the company regain the market share it lost to MediaTek.