Clashes between protesters and law enforcement took place in front of a camp in Mexicodemanding once again that justice be served in the case of 43 students who disappeared eight years ago.
Shouting "murderers!"some of them protesters threw improvised incendiary devices into the campthree days before the anniversary of the 43 students in Ayotchinapa, following revelations implicating the armed forces in the case.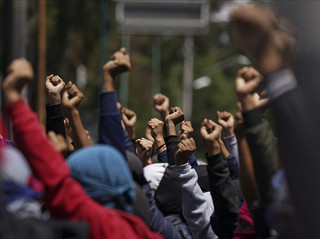 Former Attorney General Jesus Murillo Caram was arrested after the finding was made public in mid-August. He is expected to be tried in a criminal court in the case of the disappearance of the 43 students.
The Mexican judiciary has submitted a request to the Israeli authorities for the extradition of Tomas Ceron, former head of the investigation service for criminal cases during the period of former president Enrique Peña Neto (2018-2018). He is accused of tampering with evidence in the case of the 43.
Source: News Beast