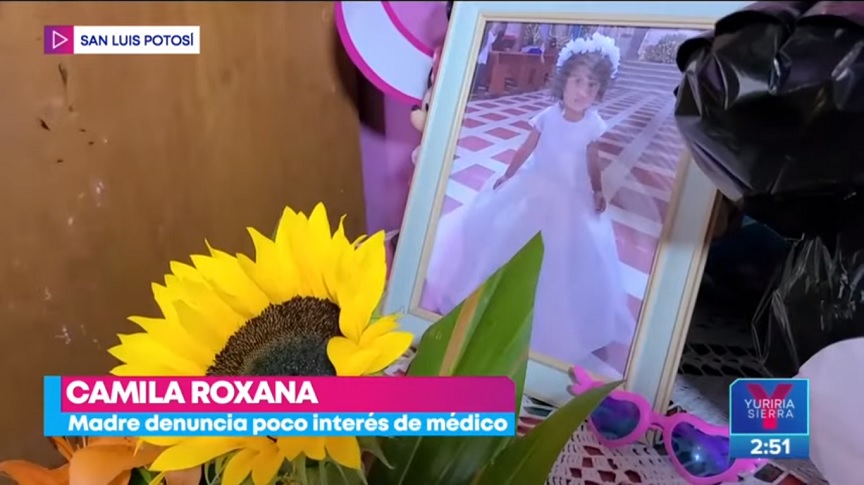 An incredible story has shocked the Mexico. A three-year-old girl who was thought to be dead "woke up" in time funeral of, but then expired while being taken to the hospital.
During her funeral Camila Roxana Martinez Mendozaher mother, Mary Jane Mendozanoticed that the glass that covered it coffin it had blurred over her – proof that the little girl was still alive.
Last week the 3-year-old's mother took her to a hospital in the province of San Luis Potosi because she was sick and had stomach pains.
According to what the mother of the 3-year-old girl told local media, her pediatrician advised her to take her daughter to the hospital because she was suffering from dehydration. The girl was taken to the hospital, where she was treated with wet towels and bandages.
"After an hour they gave her back to me, telling me she was fine. They prescribed two sachets of rehydration solution and 30 drops of paracetamol" said little Camila's mother.
The family followed the instructions but saw no improvement in the girl's health. They then consulted another doctor who gave different medicines, but the little girl kept vomiting.
The family also visited a third doctor but eventually Camila was taken back to the community hospital, where she was admitted last Wednesday night. The 3-year-old was given oxygen but was mistakenly pronounced dead of dehydration shortly after being admitted.
"Ten minutes later, they disconnected her without doing an EKG"said Mendoza. "I felt my daughter's strength, but they took her from me and said, 'Let her rest in peace.'"added the unfortunate mother.
The next day, during her daughter's funeral, Mary Jane noticed that Camilla's glass coffin was fogged up. Those attending her funeral said she was hallucinating, which prevented her from opening the coffin.
However, her mother-in-law noticed that Camila's eyes were moving while family members checked her pulse, confirming that she was alive at 97 beats per minute..
Immediately, an ambulance was called but her condition had worsened. Doctors were unable to prevent her death. Then – for the second time in two days – Camila was found dead.
"What I really want is justice. I don't hold a grudge against all doctors…I'm just asking that the specific doctors, nurses and managers at the hospital in Salinas be changed so that this doesn't happen again."said the mother characteristically.
Source: News Beast