MSU specialists have found a way to improve the photochemical stability of materials for thin-film solar cells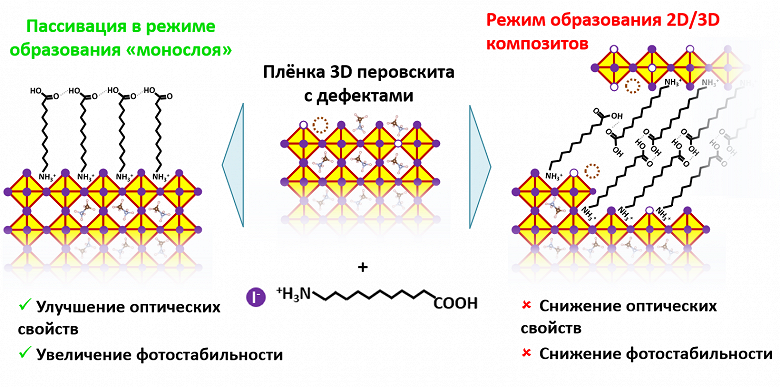 Scientists working at Moscow State University named after M.V. Lomonosov, found a new way to increase the resistance of thin films of hybrid halide perovskites to light and heat. It consists in the "passivation" of defects that act as weak points in the material, from which its destruction begins. By coating the surface with a thin layer of a special substance, materials scientists were able to fill the "molecular holes" and form a barrier that is resistant to external influences. According to the researchers, their work opens up new possibilities for creating more durable thin-film perovskite solar cells.
"The first solar cells using halide perovskites as a light absorbing layer were proposed in 2011. Since then, the record efficiency of such devices has increased from 3.8% to 25.9% in 2021, thus surpassing the efficiency of traditional silicon solar cells," said Alexey Tarasov, Ph.D. MSU materials.
The advantages of perovskite solar cells include the possibility of applying all active layers using simple solution technologies. This can significantly reduce the cost of production of such solar cells. Their main disadvantage is the relatively low resistance to elevated temperatures and prolonged exposure. Improvement in photostability can be achieved by forming a very thin "monomolecular" layer of the passivating agent on the surface of the three-dimensional perovskite. As such, the scientists decided to use protonated aminoudecanoic acid iodide, whose cations not only compensate for the vacancies ("holes") of methylammonium cations on the perovskite surface, but are also firmly linked to each other due to terminal carboxyl groups. To form a layer, it is sufficient to treat the surface of the perovskite film with a dilute alcoholic solution of the specified salt.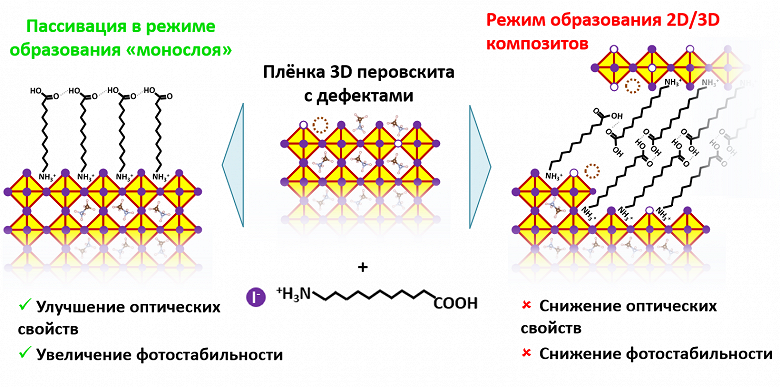 Source: ixbt