There are so many interesting gadgets in the history of Apple that it is even breathtaking. Some of them have propelled the company into a leading position in the industry and helped to avoid bankruptcy. Others have helped her become a leader in a particular industry of modern consumer electronics. Still others are considered a revolution in the minds of contemporary users. In general, there are many options for why specific devices can become truly loved. These are the ones I decided to collect within the framework of one material. To his incredibly great regret, he himself had only the tenth device in his possession, but at one time he really wanted to get possession of the sixth.
To this topic: How Apple changed the world – a report from the Moscow museum of the company
NeXT Computer (1988 год)
Regularly shaped black cube – such a minimalistic design can be called indicative even today
Are you guys crazy about the look of this computer too? Just think, this is 1988! Design is over 30 years old, but it still seems even more than relevant. It's amazing that Apple was able to make truly attractive products, the appearance of which can be called timeless, even at the dawn of its formation. Interestingly, the machine was not produced under the company's brand at all. However, Steve Jobs was responsible for her image, who developed the device as a side project outside of Apple. This gadget – alas – did not enjoy commercial success, but it attracted almost my particular attention in the Moscow museum of the manufacturer, when I visited it for the last time in 2019.
Apple PowerCD (1993 год)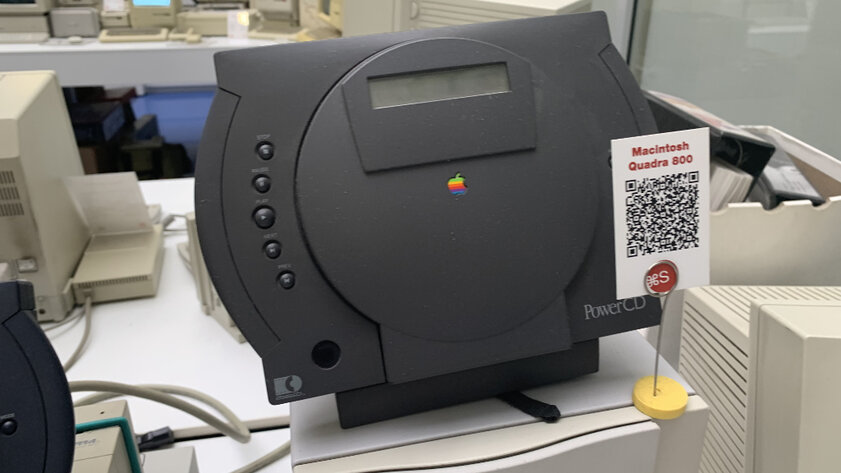 This device could become quite boring and even secondary, but Apple always got attractive looks.
Apple's portfolio includes far more than computers, smartphones, music players, tablets and other gadgets. From under her pen also came out plenty of devices, which are usually called the periphery. For example, since 1993, the company has been releasing this CD player called Apple PowerCD for several years. It connected seamlessly to both Macs and stereos and even TVs. At that time, such devices looked rather primitive. However, Apple ended up with a gadget that I really wanted to see somewhere on the desktop near my work computer or just in the interior of my home or office.
Twentieth Anniversary Macintosh (1997 год)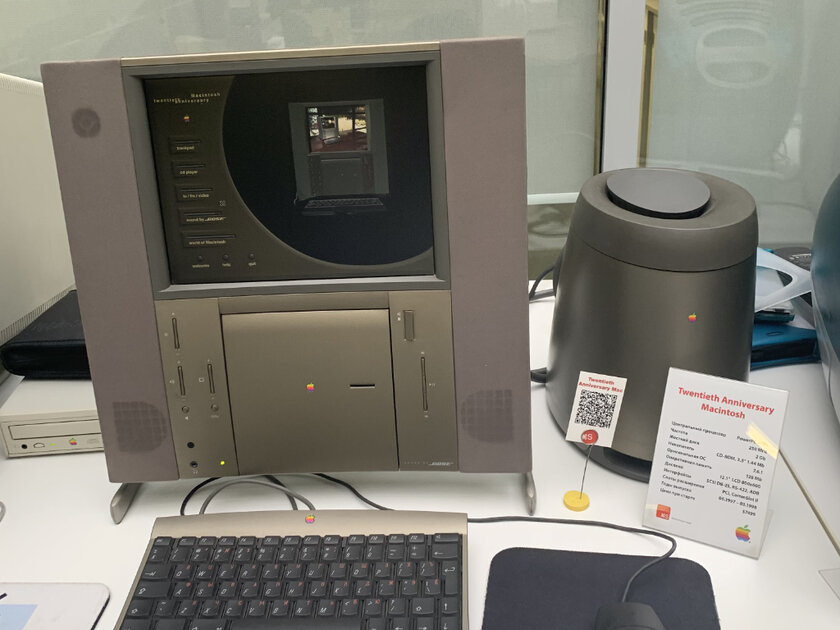 I have never seen such cool devices from any manufacturer again.
I like this Apple device very much precisely because of the approach that the manufacturer took to it – I have never seen anyone decide on something like that. In honor of the 20th anniversary of the release of its first computer, the company released a limited series of the device, which can be safely called the technological monster of the time. It was not just a computer, but also a multimedia entertainment center with a disc player and a high-quality audio system included. For its time, the device could be considered one of the most versatile tools for professional activities and leisure. Yes, it was not really successful commercially or otherwise. But it became a successful muscle play, which to some extent predetermined the future fate of Apple.
iMac G3 (1998)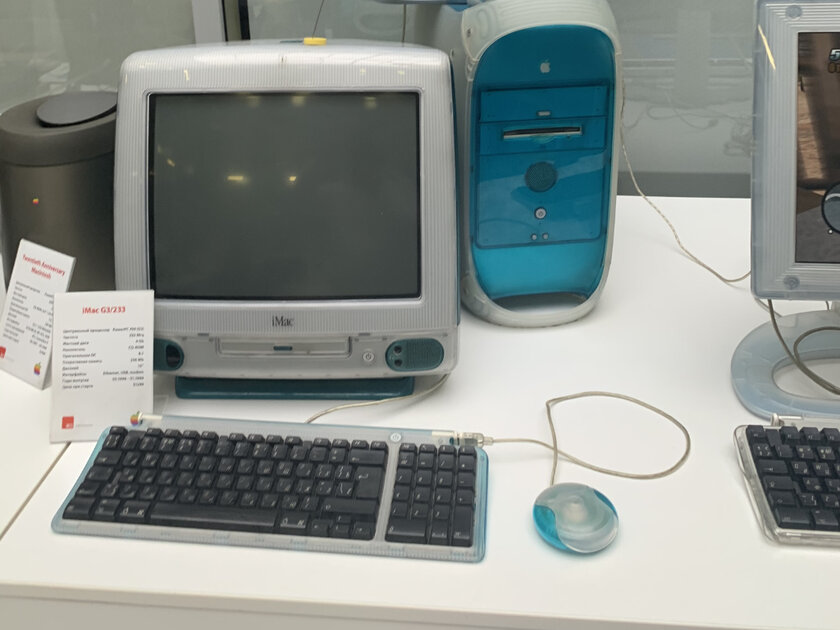 In 1998, this computer surprised with its non-standard approach to design, which really surprised many
If you are fond of technology in general and Apple products in particular, you have definitely leafed through the history of the company. There was a very interesting moment in it, which can be considered a turning point. In 1985, Steve Jobs, the mastermind behind the manufacturer, was kicked out of Apple. He was able to return to the walls of the company only in 1996. The company was on the verge of bankruptcy at the time, and Jobs had to save it. He drastically cut the manufacturer's product range and, together with Jony Ive, launched the iMac G3. Compared to other computers of that time, it stood out for its attractive design with a translucent colored body. The gadget was very successful and attracts attention even today.
iMac G4 (2002)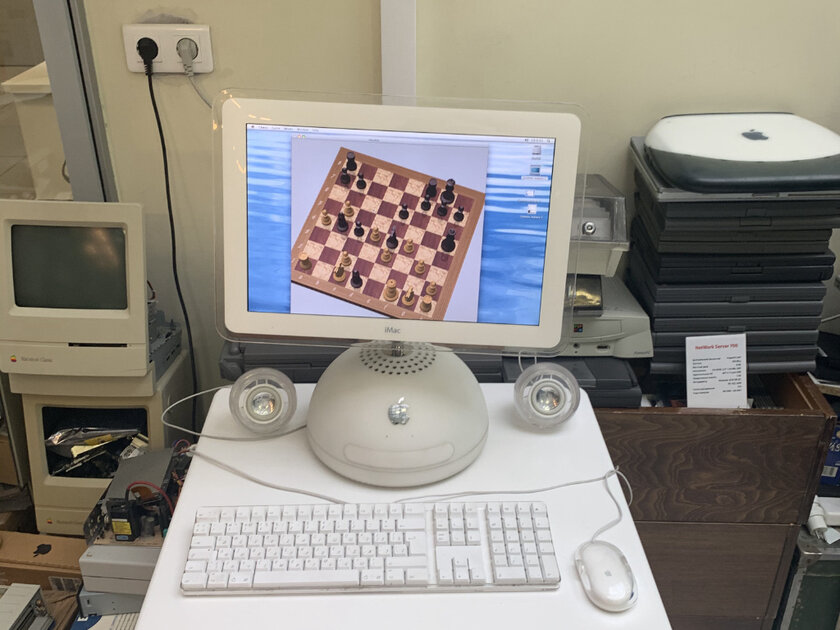 Many people think that the inspiration for this computer was a table lamp, but in reality it was a sunflower.
In addition to the iMac G3, Apple also had another computer that always deserved the closest attention from the public. Speech in this case is about the iMac G4, which was not only very attractive in appearance, but also quite functional. In this device, specifically, I am most attracted by the idea of ​​separating the display and the case with all the necessary filling. The design makes it possible to reduce the potential heating of the components and adjust the position of the screen exactly to the scenario that is used at a given time.
iPod Hi-Fi (2006)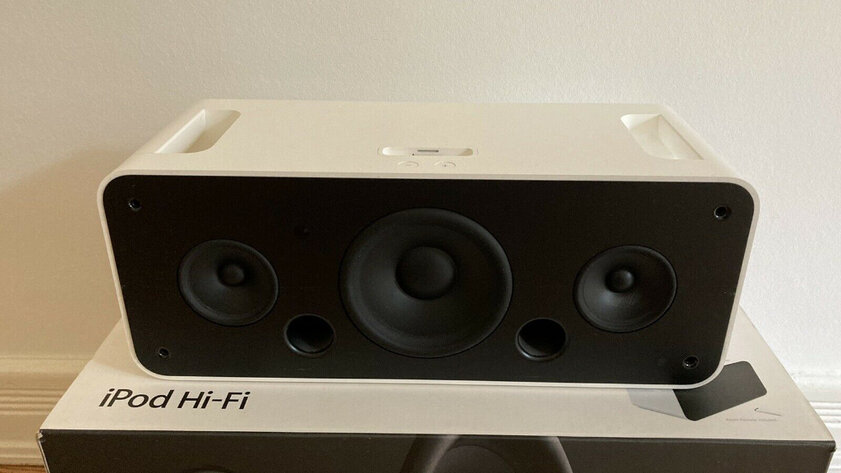 In this case, an iPod was installed in a special dock on the upper part of the case | ShopoTam
Despite the rather loud name, the sound quality of this multimedia system did not differ at all. Moreover, the device in general turned out to be rather poor, so many people frankly scolded Apple for the release of such a device. However, the gadget has become something of an example for other manufacturers. It had a very interesting feature – a special "notch" for installing an iPod on the top of the case. It was adopted by many companies that specialized in musical equipment. The range of such gadgets was very wide, and all of them were intended specifically for the iPod.
iPod Nano 3 (2007)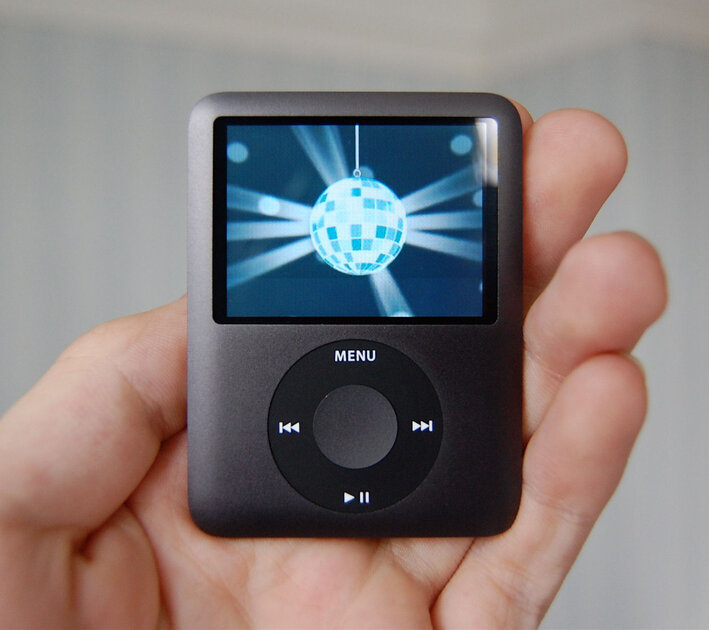 At one time I really wanted to get this gadget, but in the end nothing happened | VintageTech
I am sure that the overwhelming majority of readers from this particular line of Apple players have always liked the sixth revision the most. In size and appearance, it very much resembled modern Apple Watch, so third-party manufacturers even produced special straps for this device that turned the player into a watch. However, I myself have always been crazy about iPod Nano 3. For me, the device was something like the reincarnation of the very first iPod, but in a modern design and a very compact body. Repeatedly and with great pleasure I listened to music on the device, but I never had this in my personal zoo.
iPhone 4 (2010)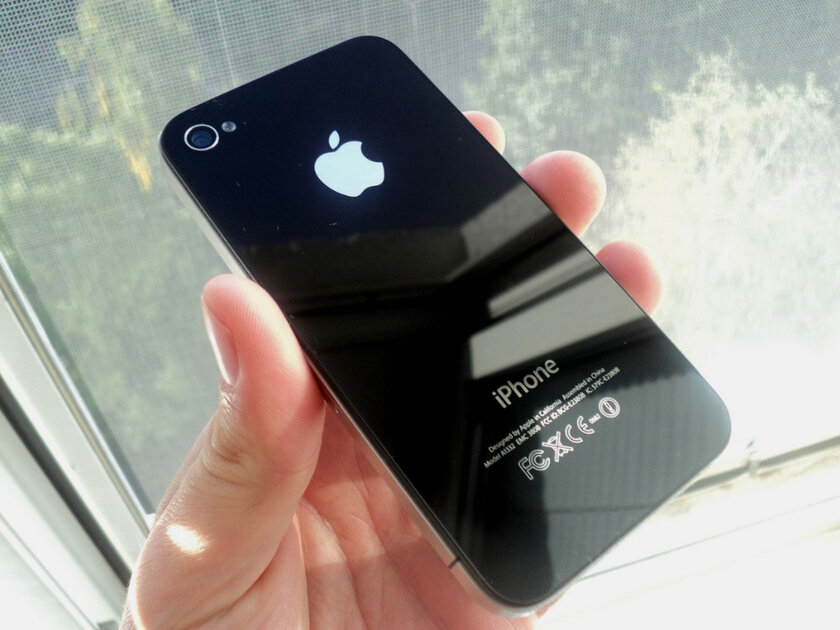 Many agree that this iPhone remains the benchmark even today | VaxPress
iPhone 4 is called the best smartphone of its time in the history of Apple. More than ten years ago, there were simply no such devices on the market. If you don't remember this, google what devices other manufacturers were producing at the time. All of them had one thing in common – they had extremely disgusting cases made of glossy plastic, which very quickly became covered with scratches and simply slipped out of their hands. In contrast to all of them, at the heart of the iPhone 4 was a steel frame that united the glass front and back panels. The device was not only quite technological, but really surprised both externally and tactilely.
MacBook 12 ″ (2015)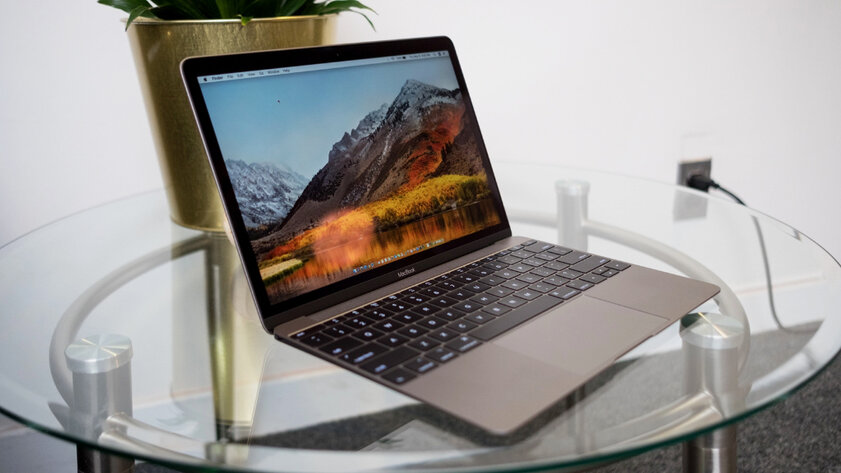 Here It Is – One of the Smallest Laptops Apple Ever Made | Lowendmac
I didn't buy myself a MacBook 12 ″ just because it was based on a processor from the Intel Atom line, which never had enough performance. However, I have always loved the ultra-compact form factor of this work tool, which has always been simply designed to take with you as often as possible. I was sure that Apple will definitely reissue this device based on a chip with ARM architecture. It's a pity, until today nothing has been heard about the company's plans specifically in this direction. I'm sure a machine for every day would be fantastic.
To this topic: 12-inch MacBook on ARM – Apple should release it in 2020
AirPods (2016)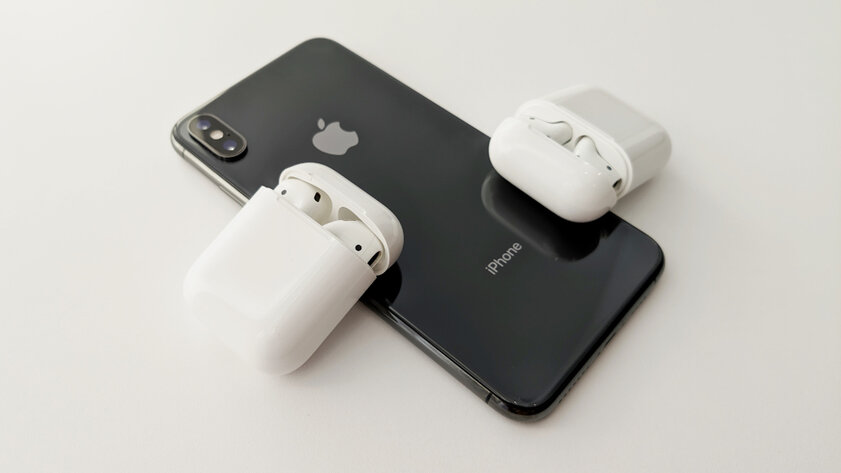 Fully wireless earbuds are the best Apple has ever made
Apple has rethought the look and feel of gadgets more than once. It was she who showed the world the principle of operation of completely wireless headphones, which no one had ever done before. Moreover, the appearance and functional content of the device remains more than relevant even after five years. I was very happy when I got this device and started using it on a regular basis every day. But what can I say, I later switched to the Pro version of the device, but at the moment I'm thinking about returning to the previous form factor – it was very comfortable to sit in my ears. However, this is a completely different story.