It's no secret that in China, local companies are actively working on developing their own processors for desktops, laptops, and even servers. Naturally, local companies are far behind giants like Intel and AMD in this matter, since creating their own architecture and designing a processor is a rather time-consuming task. However, in recent years, Chinese companies have shown significant progress in this direction, which, although it does not allow the Celestial Empire to completely abandon Western technologies at the moment, is a clear sign that China may well achieve the task in the next five to ten years.
Huge market and dependence on the West – why does China need its own processors
Among the reasons why Chinese developers are so eager to create their own processors, it is worth highlighting two main ones. The first is that China has an insanely large domestic market, which has been divided between Intel and AMD for many years. Of course, there are several areas (banking, military, government) that use their own chips, but it is these two companies that take the lion's share of the profits from the consumer electronics segment. And in China, quite expectedly, they want to create their own product that could oust competitors in order to earn billions of dollars a year on it.
The second reason is the desire of the Chinese government to reduce dependence on Western technology. The idea of ​​import substitution in the Celestial Empire has been developing for quite a long time, and after the introduction of numerous sanctions by the United States, work in this direction has noticeably accelerated. One of the most powerful countries in the world, which, again, is quite logical, simply does not want to be on the hook of computer component manufacturers from the United States, since at any moment they can introduce new sanctions that will hit the domestic market, production and not only. Own developments will allow you not to worry about such scenarios.
The world of Chinese processors stands on three whales (in fact, on one)
At the moment, in China, there are three major developers who are engaged in the design and production (at the factories of partner companies) of their own processors. We are talking about Shanghai Zhaoxin Semiconductor (a joint venture between the Taiwanese company VIA Technologies and the Shanghai government), HiSilicon Technologies (a project by Huawei) and Loongson Technology (creating a universal microarchitecture together with the Jiangsu Zhongy Group and the Chinese Academy of Sciences). It is not hard to guess that in all three cases, the Chinese government is involved by investing in projects or promoting them.
Photo of Zhaoxin KaiXian KX-U6780A processor without thermal cover | Tom's Hardware
True, only the project of the Chinese Academy of Sciences can be called a full-fledged attempt at complete import substitution in the country. The fact is that Shanghai Zhaoxin Semiconductor really makes its own processors, but uses the x86 core licensing model for this. This architecture belongs to Intel, so the whole idea of ​​abandoning dependence on Western technologies is lost in this case. At any moment, Intel, under pressure from various factors, may stop licensing the x86 core, which will jeopardize the entire process of developing its own solutions by a Chinese company with an office in Shanghai.
Huawei's HiSilicon Technologies line of processors is no better off – the Chinese electronics giant has already been sanctioned by the United States, but so far (possibly by workarounds) has been successfully designing and manufacturing its own chips. The problem is that although Huawei engineers design their own core topologies for central processors, they license the ARM instruction set. And this command system belongs to ARM Limited from the UK, which, obviously, also prevents a full-fledged departure from the influence of Western technologies. And ARM has been wanting to buy American companies for a long time, which casts doubt on the whole idea of ​​import substitution.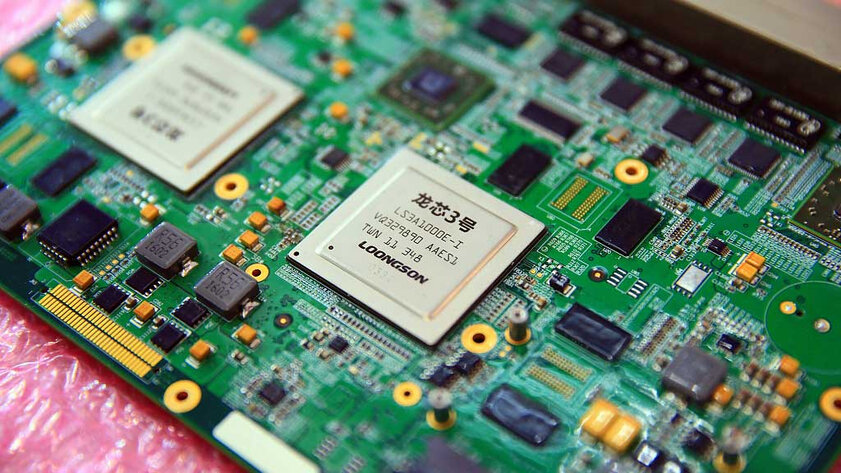 Loongson Technology literally increases productivity from generation to generation | CGTN
Accordingly, the only player in the local Chinese market that potentially has a chance of creating its own processor independent of Western technologies is Loongson Technology, which is "assisted" in the project by employees of the Chinese Academy of Sciences and a whole group of companies Jiangsu Zhongy Group. Together they are developing their own independent microprocessor architecture, which in the foreseeable future will allow replacing Intel and AMD processors, as well as eliminating the need to license Western technologies. To do this, specialists create not only an architecture, but also a set of instructions, and even their own IP cores.
On par with 2019 AMD Ryzen
And although very often video cards or processors developed in China turn out to be developed only on paper, Loongson Technology is a rather striking exception to the rule. In June this year, the company introduced the Loongson Series 5000 processor line, which consists of two models – 3A5000 with 4 computing cores and 3C5000 with 16 computing cores. Both processors are based on LA464 cores based on the LoongArch architecture (the company's own design) and are manufactured using a 12 nm process technology. Unfortunately, it is impossible to directly compare processors with Intel and AMD models (benchmarks are not corny for the Chinese development architecture.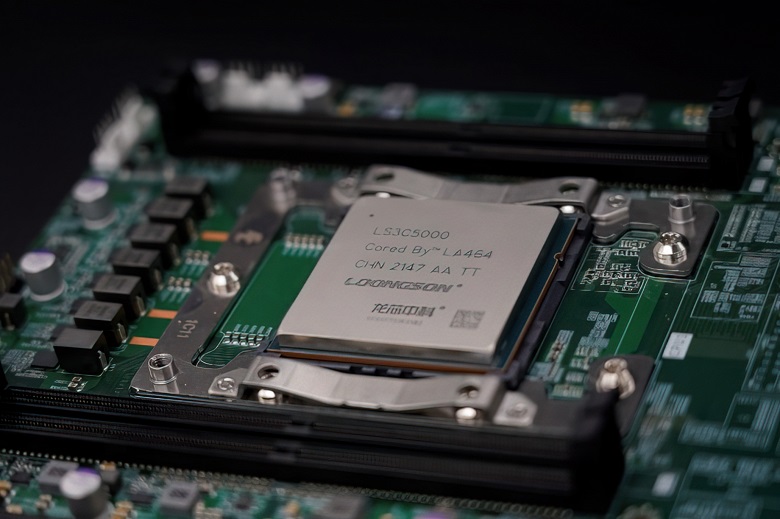 Visually, the 3C5000 looks like ten-year-old AMD processors | Gadget Tendency
In this case, you can rely only on the manufacturer's statements. Loongson Technology at the presentation of the Loongson Series 5000 announced (and showed on slides) that the flagship 3C5000 processor has a floating point performance of 560 Gflops per second. Even if we consider that marketers from China overestimated this figure a little, the performance of the AMD Ryzen 7 3700X, introduced in 2019, for example, is 460 GFlops. This means that Chinese processors have already caught up with AMD developments three years ago in terms of performance.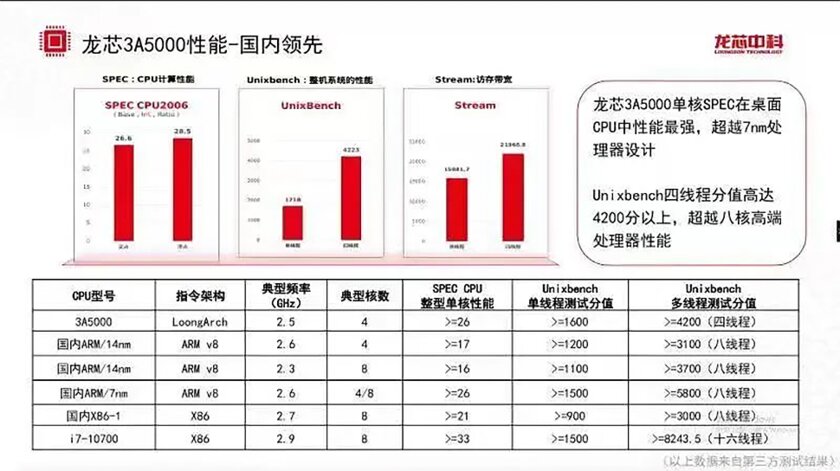 A slide comparing the frequency, number of cores and scores in benchmarks. Loongson 3A5000 performed very well | Gadget Tendency
In addition, Loongson Technology immediately announced the Series 6000 processors – 3C6000 with 16 cores and 3D6000 with 32 cores. They will be based on the latest LA664 architecture and, according to the developers, will be able to compete with the flagship solutions of the AMD Ryzen and EPYC lines based on the Zen 3 architecture in terms of the number of executable instructions per clock. Most likely, the Chinese novelty will compete with the basic versions of EPYC server processors, since the top versions have 96 cores each, and the release of the Series 6000 is scheduled for 2023-2024, but this is already quite serious competition.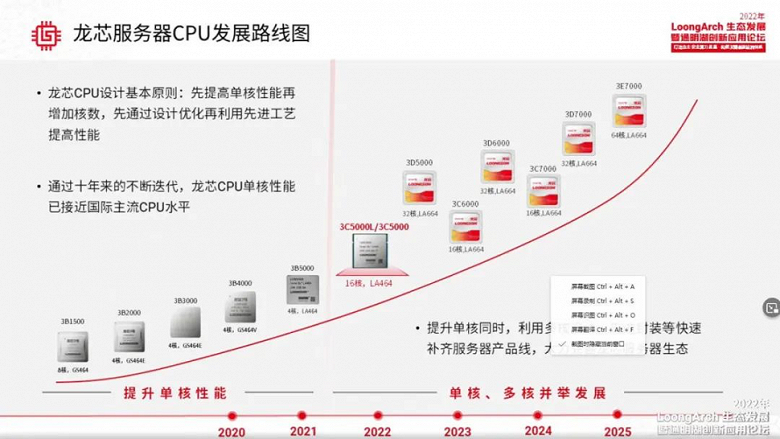 Loongson Technology already has development plans up to 2025 | Gadget Tendency
Also in the Chinese server market, the Zhaoxin KH-40000 processor from Shanghai Zhaoxin Semiconductor is actively promoted. This processor supports DDR4 RAM, PCIe 3.0 bus interface, dual-processor mode (up to 64 cores) and is manufactured using a 16 Nm process technology. And due to the fact that the chip was tested on the Linux platform in the SPEC CPU2006 test, it can be compared with AMD and Intel server solutions. The Chinese processor Zhaoxin KH-40000 at a frequency of 2.7 GHz gains an average of 27.7 points in this test – these are almost AMD EPYC 7601 indicators. 40% depending on the task. This, of course, is an impressive gap, but it is quite possible to work on this.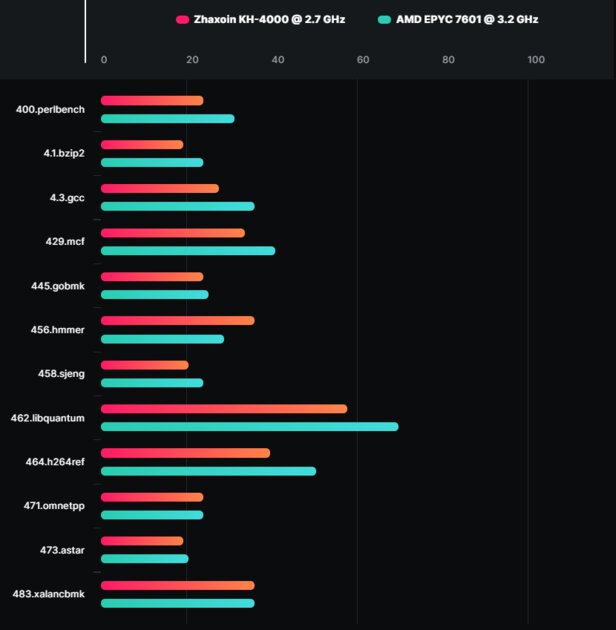 Comparison of Zhaoxin KH-40000 and AMD EPYC 7601 in SPEC CPU2006 benchmark | Habr
Rejection from Intel and AMD is on the horizon, but not too close
Of course, right now, China cannot abandon Intel and AMD processors in one fell swoop. At least due to the fact that for this you will have to literally reassemble hundreds of millions of PCs – in government organizations, banks, enterprises and factories, and even ordinary gamers will have to invest. But already now we can safely say that the Celestial Empire has made an incredible leap in terms of developing its own architecture and processors on it. China's problem is only that it has not yet been possible to produce its own developments without the help of Taiwan, but it's something, and the local authorities will definitely be able to establish production.
Source: Trash Box