A new era in space exploration The launch of its new state-of-the-art telescope is expected to open NASA named James Webb. The telescope is now being prepared to be transported to the launch site, something that is expected to happen in December from NASA's base in French Guiana.
In this context, all the necessary steps are being taken to prepare James Webb for his transfer through the Panama Canal to Kouros. "NASA's James Webb Space Telescope has reached a major milestone in its path to launch, with the completion of the final integration telescope and tests, "said Gregory Robinson, program director at NASA headquarters in Washington.
According to NASA in its announcement, the new space telescope is a truly miraculous technological achievement, which becomes even more important if we take into account the conditions and obstacles encountered during its construction and preparation, including a hurricane, storms, fires. and of course the pandemic. The project involved thousands of scientists, engineers and other professionals from over 14 countries and 29 states, in nine different time zones.
What will the superb James Webb Space Telescope look for?
For decades, images from the Hubble telescope have fascinated us with spectacular cosmic landscapes that have allowed us to better understand some of the farthest points of our solar system and not only. His images have given us a clearer picture of space than was previously possible under the Earth's atmosphere, which can distort light traveling from distant stars and planets.
Now, with the help of the James Webb Telescope, we will be able to look even further into the corners of the universe.
"Webb images will look as great as Hubble images," said Jane Rigby, NASA astrophysicist on James Webb's team.
NASA has announced the first phase of research to be carried out by JWST, which it named "Cycle 1". Thousands of research proposals were submitted to the mission leaders for this first cycle of the telescope, which will last one year. Finally, 286 surveys were selected to be conducted using JWST.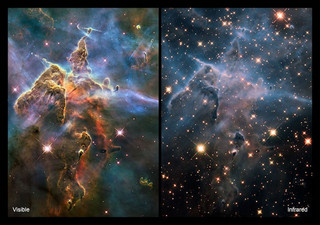 What stands out are the research that will be done to discover new data about the birth process of stars, observations that will reveal the composition of planets and the climatic conditions that prevail on them, observations in comets and other bodies of our solar system.
Its possibilities are so great that it can be used to study the formation and evolution of the Universe. According to its creators, the telescope can see what existed in the Universe just 100 million years after its birth.
* The photos are images from the Hubble telescope that has been in space for years.