New shocking shots leaked from the records of her penitentiary services Russia revealed how the detainees were raped inside in a "torture chamber" in a notorious prison where detainees suffer.
The new video, which was reviewed by MailOnline and is no longer available to everyone on Youtube, records the abuse of at least five detainees who were urinated and raped by other male detainees while apparently being violated with blunt objects.
Campaigners say "deeply disturbing abuse" took place at OTB-1, a hospital prisons in the Saratov region, near the Russian-Kazakh border.
The inmates are said to have been abused in order to force them to make false confessions, then blackmailed into videos to mistreat other detainees or become prison informants.
Gulagu.net, which publishes the material, has been blocked from the Russian internet
Gulagu.net (which is also the source of the photos) has been blocked from the Russian internet and Vladimir Osechkin, the site's founder, is hiding in France. The videos, however, continue to provoke outcry in the homeland.
Several prison officials have been fired while a massive investigation is under way, with 38 senior officials testifying today about the scandal.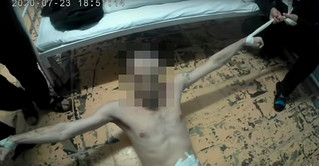 Anton Yefarkin, head of Saratovp's penitentiary service, later revealed that 18 officials had been fired and 11 were facing "the most stringent" disciplinary measures.
"Five criminal cases have been opened in connection with the videos." We are doing everything to solve things and draw the right conclusions, "Yefarkin told regional state television.
"I am sure this will not happen again in the future," he said.
How the material leaked
Osechkin says he received the videos from Sergei Savelyev, a former Belarusian prison inmate, who claims he was asked to file the videos and managed to smuggle some of them out of the country after his release.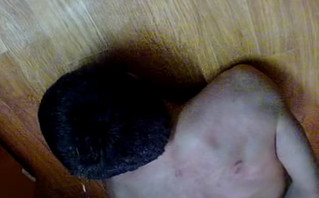 Now he also lives in France where he seeks asylum, Savelyev's material is said to reveal the torture 40 detainees, although activists say the actual death toll is around 200 and could be higher.
The first batch of footage was released last month, with footage of a man screaming in pain as they put him in a mop handle, a male inmate raping another bedridden and a group of inmates urinating on another man .
Tanya Lokshina, of the Observatory for Human Rights, said her organization could not verify the videos, but the footage "gave cause for concern".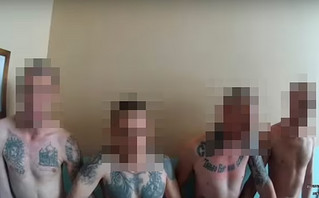 "The problem of torture in Russian prisons is very acute and the government is not doing enough to ensure an effective investigation, the safety of the victims and the complainants and the accountability of the perpetrators," he said.
Meanwhile, six former detainees and a former prison inspector told Reuters about regular beatings by guards, sexual assaults, severe psychological pressure and medical negligence.
The Federal Penitentiary Service (FSIN) said it had fired five senior prison officials, including the director of the prison where the alleged abuse took place and the head of the regional prison service.