After serving its citizens faithfully and successfully for 30 years New Zealand with his spells, the magician Christchurch was forced by the city council to retire.
At 88, Ian Brackenbury Chanel, or simply "Magician," was a city celebrity. Tourists came from afar to see the bearded, disheveled old man talking to the crowd, dressed in his black robe and pointed hat.
The magician did not hesitate to deal with politicians, while he had previously campaigned "so as not to destroy the soul of the city", when it was decided to paint the red telephone booths blue. He cast spells to influence the outcome of major rugby matches and traveled as far as Australia to dance the rain dance in the desert.
"It was a difficult decision to terminate his contract," said Lynn Macleland, vice president of Christchurch City Council. "The city council recognizes its valuable contribution to the cultural life of our city, which will always be part of history," he added.
McLeland explained that the magic no longer corresponds to the image that the largest city on the South Island wants to promote. The new municipal programs will better reflect our diverse communities and the capacity of the city, he added.
Chanel was born in Britain. He was a pilot in the Royal Air Force and a graduate of the University of Leeds, having received two degrees, psychology and sociology. After teaching at Australian universities, he settled in Christchurch in 1974 and began to speak, climbing a ladder in Christchurch Cathedral Square. The city council asked for his arrest, but in the meantime he had become so popular that, ten years later, when he threatened to leave because his spells did not bring the expected result in a rugby match, the municipality asked him to stay.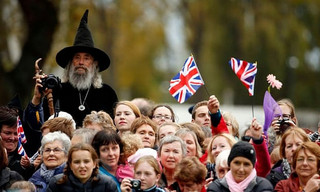 It was a welcome change of attitude after so many years of hostility on the part of the city council, he had stated at the time.
In 1990, then-Prime Minister Mike Moore officially named him "New Zealand Wizard".
Since 1998, Chanel has been paid $ 16,000 a year by the municipality to perform the duties of a magician.
Today, he did not hide his anger for the decision of the municipal council. "It's a bureaucratic gang, with no imagination," he told Stuff. "They are not thinking of ways to promote Christchurch abroad. They do not realize how famous I am in the world. "I am disappointed that they did not use the magician," he added.