The details of the man who attacked with a knife against supermarket customers in Auckland, resulting in injuries to seven of them, following a court order.
It is Ahmed Athil Mohammed Mamsuddin, 32, who fell dead within a minute of the bullets fired by a political policeman, who has been watching him non-stop since July.
Her prime minister New Zealand, Jacinta Ardern, announced in a press release published by her services that the immigration service was trying to deport the perpetrator of Friday's attack from 2018.
He had traveled to New Zealand in 2011 on a student visa and applied for refugee status, according to the head of the New Zealand government. The request was rejected, but he appealed and was finally offered protection in December 2013.
In 2016, the man attracted the attention of the police and the immigration service, as they received "information that led to the conclusion that the refugee status was given on the basis of false allegations," said Ms. Ardern.
He was stripped of his refugee status in 2019, but appealed the decision to deport him.
The Immigration Service had considered detaining the man while his appeal was being heard.
For the Prime Minister of New Zealand, it is "incredibly disappointing" that this was ruled out.
The man was likely to be judged by justice to need "international protection" because of the treatment he would likely face if he returned to Sri Lanka. People in need of international protection cannot be deported from New Zealand.
Three of the people injured in Friday's attack are still being treated in critical condition at an Auckland hospital..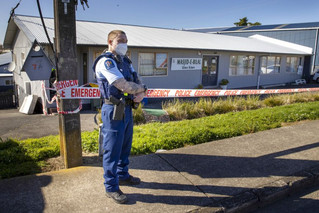 The perpetrator is believed by the prosecuting authorities to have converted to the ideology of the Islamic State (IS). The Prime Minister of New Zealand stressed on Friday that the "hateful" and "horrible" attack "was committed by a person, not a religion, (someone) who had embraced an ideology that no one here supports", and that only he " bears the responsibility ".