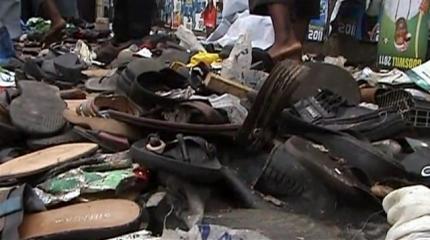 At least 31 people were killed today in the south Nigeria when congestion occurred and were trampled during a food distribution organized by a local church, police said.
The tragedy occurred in the city of Port Harcourt, in the state of Rivers, said Grace Iringe-Coco, a spokeswoman for the local police, citing 31 dead.
Hundreds of people who had gathered to eat at the church early this morning broke down a gate, trampling on it, a police spokeswoman said.
"People were there before and some people got impatient and started pushing and rushing, which led to the trampling. "Police are on the scene and monitoring the situation, while the investigation is ongoing," said Iringe-Coco.
Nigerian media reported that the event was organized by King's Assembly in order to offer food and various supplies to the needy at a polo stadium in the oil city.
In recent years, Nigeria has experienced several tragedies from being trampled on during food-sharing congestion, such as 2021 during a food-distribution program organized by a humanitarian organization in the northern state of Borno, where seven women lost their lives when they were trampled by the crowd.
* file photo
Source: News Beast