Without having completed a week of the test of what Pyongyang assured was a supersonic rocket, North Korea today launched a "missile believed to be ballistic" into the sea, east of the peninsula. The announcement was made by the General Staff of South Korea.
The rocket was fired as the UN Security Council met to discuss last week's test.
It took off at 07:27 (local time 00:27 Greek time), clarified the general staff in Seoul. It fell into the sea, outside the Exclusive Economic Zone (EEZ) of Japan, according to government sources in Tokyo.
The Prime Minister of Japan, Fumio Kishida, confirmed that a missile was fired from North Korea, which "will probably be ballistic".
Hours before the new test, six countries, including the United States and Japan, called on North Korea to refrain from any "destabilizing action" during a closed-door meeting of the UN Security Council on last week's test.
The United States, the United Kingdom, France, Japan, Ireland, and Albania have called on Pyongyang to "refrain from any new destabilizing action (…) and engage in a constructive dialogue with our common goal of fully denuclearizing the Korean Peninsula."
"It's deeply saddening that North Korea "It continues to fire rockets," Kishinda told reporters.
The message that North Korea wanted to send
According to some experts, Pyongyang wanted to send a message by planning yesterday's test to coincide with the UN Security Council meeting.
"The launch had both a political and a military purpose", Sim Bom-chul, a researcher at the Korean Research Institute for National Strategy, told AFP.
"North Korea continues to test (…) to diversify its arsenal, but plans to launch on UN Security Council meeting to maximize political impactHe insisted.
Strengthen the army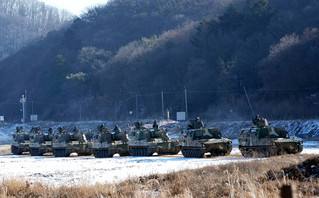 According to Park Won-gon, a professor at Seoul University for Girls, the frequency of tests of North Korean weapons systems suggests that Pyongyang may launch other launches before the next month's Beijing Winter Olympics.
North Korea's participation has been banned by the International Olympic Committee, while it has refused to participate in the Tokyo Summer Olympics, which were delayed by a year in 2021 due to the pandemic.
Since the rise to power of Kim Jong Un ten years ago, Pyongyang has made rapid progress in the field of military technology, at the cost of stifling economic sanctions by the international community.
Despite the country's deteriorating economic situation, Kim said in December that he would work to strengthen the capabilities of the North Korean armed forces.
In 2021, North Korea, a country with a nuclear arsenal, announced that it had successfully tested a new type of ballistic missile. rocket, launching from submarine, new Cruz long-range missile, a weapon fired from a train, as well as an ultrasonic rocket.
Seoul is questioning whether Pyongyang has developed supersonic missiles. He assures that last week's test was not a major breakthrough.
Today's test was recorded while North Korea refuses to respond to US calls to start talks.
Pyongyang-Washington talks at a standstill following the failure in 2019 of its meeting Kim Jong Un and then-US President Donald Trump in Hanoi.
Since Joe Biden took office almost a year ago, Washington has repeatedly stated that it is ready to start negotiations anywhere and without preconditions with North Korea. Pyongyang, however, has so far rejected the offer, accusing the other side of pursuing a "hostile" policy.