Now many are sure that Marvel has made a world-class star out of Robert Downey Jr. However, there is another side to the issue, because in 2008, it was thanks to his charismatic performance in the first Iron Man that the main cinematic universe of our time was able to launch at all. Perhaps it was thanks to the acting talent of Downey Jr., which he demonstrated long before he became the main superhero of the planet Tony Stark, that Marvel was able to rise to today's heights. During his career, Robert has managed to embody many interesting images in the projects of no less eminent directors. At the same time, in almost every one of them, Downey Jr. looks organic and attracts the viewer's eye to himself.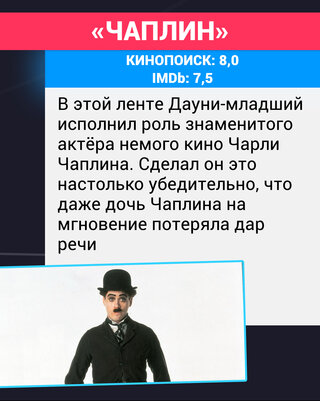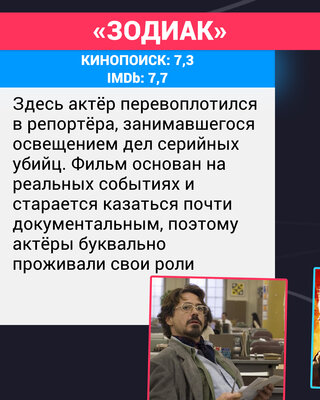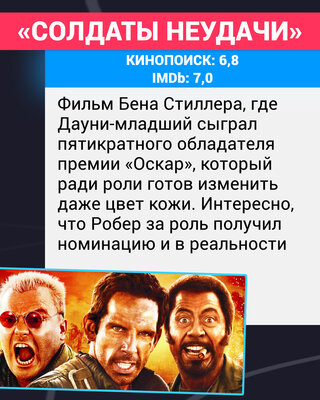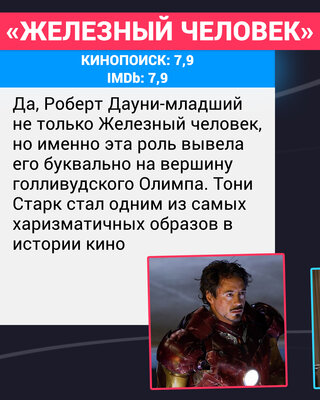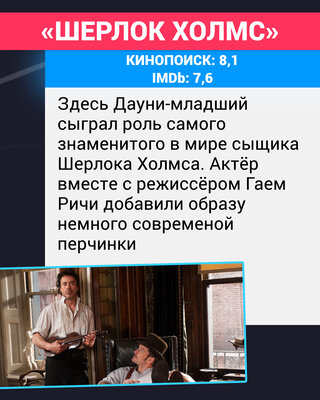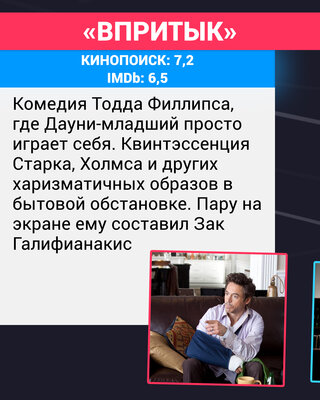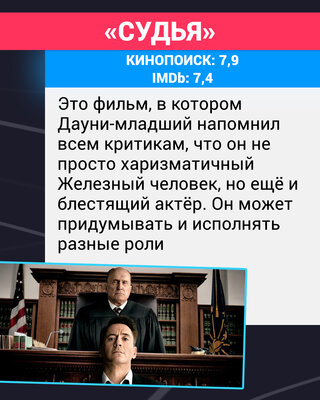 Want to be a techie just by looking at pictures and short notes? Then subscribe to us in VK and Telegram
Air America
Kinopoisk: 7.0.
IMDb: 5.8.
Robert Downey Jr. was originally destined to work in cinema. His father is a screenwriter and director, his mother is an actress. From the age of five he began acting in films. Then theatrical work and roles in various romantic comedies. Breakthrough for Robert was the work in the film "Air America", where he starred with Mel Gibson, who was already a real star at that time. And although at the start, many American critics and viewers threw tomatoes at the tape because, in their opinion, the attitude of the authors to the Vietnam War was disrespectful, the film still entered the libraries of moviegoers around the world as a good comedy-adventure action movie.
Robert was not at a loss against the background of his eminent colleague, moreover, he demonstrated a charismatic game, captivating the audience, and a high level of professionalism, attracting the attention of filmmakers. His hero, young pilot Billy Covington, according to the plot, loses his license and agrees to work for the Air America cargo airline in Laos. And in the yard it was 1969, in the midst of the Vietnam War. The CIA uses Air America for its own purposes, hiding information about covert operations even from government representatives. Meanwhile, Billy's partner Jean Ryack, already an experienced pilot, uses his work for the airline for his own purposes.
"Chaplin" (Chaplin)
Kinopoisk: 8.0.
IMDb: 7.5.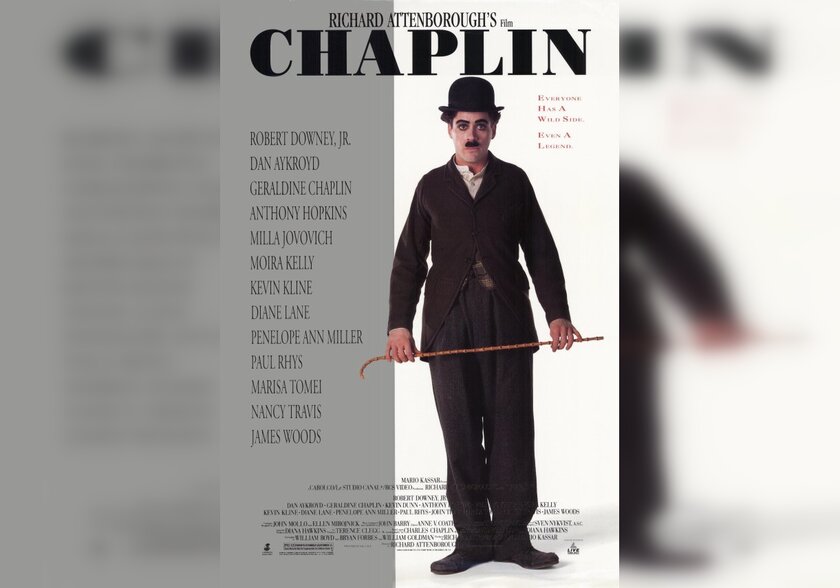 Robert Downey Jr. became a recognizable actor, his career took off sharply. And he was lucky enough to seize the opportunity to consolidate success by playing Charlie Chaplin himself in the film "Chaplin". The studio saw Robin Williams in the role, but director Richard Attenborough ("Young Winston", "Gandhi") insisted on Robert's candidacy. Naturally, the master of biographical tapes was taken at his word and allowed to do his job. Downey Jr. approached the work with all seriousness. He reviewed all the films of Chaplin, learned to play the violin and tennis, and with his left hand. In addition, he hired a personal trainer to help him with his gait and gestures.
As a result, Robert gave such a game that Geraldine Chaplin, who in the film played Charlie Chaplin's mother, but in reality is his daughter from her marriage to Oona Chaplin, said that when she first saw the actor in action in his father's costume, for some time she could not not say a word – so similar to Downey Jr. was on Chaplin. The actor received his first Oscar and Golden Globe nominations in his career and won the British Academy Award for Best Performance. The film itself tells about the life and work of Charlie Chaplin, from a poor childhood in England, the conquest of silent cinema, a forced departure to Switzerland and a triumphant return to Hollywood.
"Zodiac" (Zodiac)
Kinopoisk: 7.3.
IMDb: 7.7.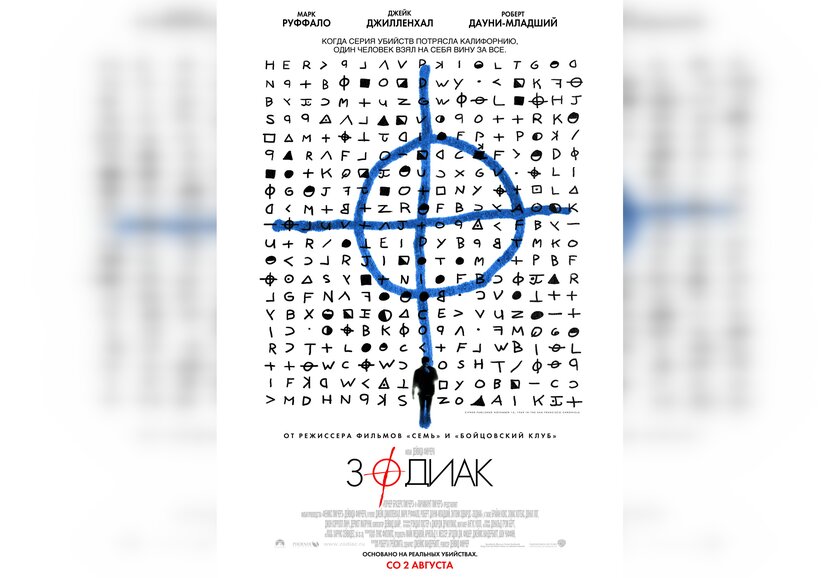 Glory hit the actor too hard in the head. Since 1996, he has done nothing but serve time for incidents committed while intoxicated. This was partly the fault of his father, who from childhood taught Robert to marijuana and other substances. Naturally, no producer or director wanted to deal with Downey Jr. anymore. Only in 2000, after many years of treatment, he was able to get into the series "Ally McBeal" and prove that he was still worth something as an actor, winning the Golden Globe for his role. However, they still didn't want to take him to the cinema, until Mel Gibson (with whom Robert made friends after Air America) paid a deposit for the participation of Downey Jr. in the film The Singing Detective.
Then there was Gothic with Halle Berry, Blurred with Keanu Reeves, but the main film that returned Robert to the list of serious actors was David Fincher's Zodiac. In the biopic about a serial killer who kept all of San Francisco in fear for several years, Downey Jr. played reporter Paul Avery. He perfectly kept on the screen and shone even against the background of Mark Ruffalo, who played the detective, and Jake Gyllenhaal, the leading actor – writer Robert Graysmith. It was Graysmith who eventually got to the bottom of the true identity of the Zodiac, wrote a book that became a bestseller and the basis for the script for this film.
"Soldiers of Misfortune" (Tropic Thunder)
Kinopoisk: 6.8.
IMDb: 7.0.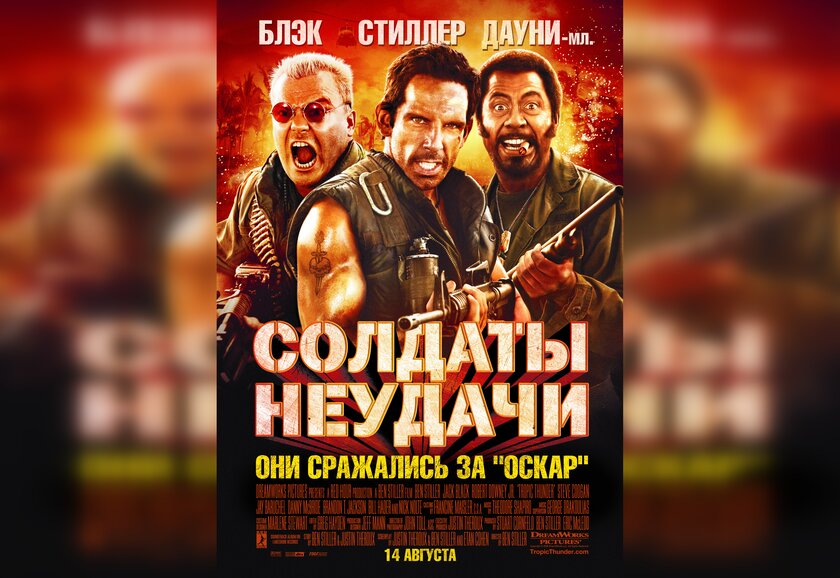 2008 was a turning point for Robert Downey Jr. First, Ben Stiller invited him to one of the main roles in his parody action movie Tropic Soldiers, where Jack Black, Tom Cruise, Matthew McConaughey, Jay Baruchel, Danny McBride and many other eminent actors became his colleagues. However, it was Robert who pulled this film on himself, eventually receiving his second Oscar nomination in his career (the only one from the list). He played an Australian actor named Kirk Lazarus, a five-time Oscar winner who is known as one of the best in the world, though he often goes overboard with his character.
According to the plot, the filming of the film about the Vietnam War is on the verge of collapse. Veteran John Tayback, whose book is based on the script, suggests throwing the actors into a real jungle and filming a couple of scenes in the style of a reality show. One such actor is Kirk Lazarus, who undergoes skin pigmentation surgery to play a black sergeant. Years later, some anti-racism activists try to shame Robert Downey Jr. (when a white actor plays a black one, this is called blackface and is now considered racist). Now, no studio would have dared to shoot this. But then Robert played his part without problems, and he played brilliantly.
"Iron Man" (Iron Man)
Kinopoisk: 7.9.
IMDb: 7.9.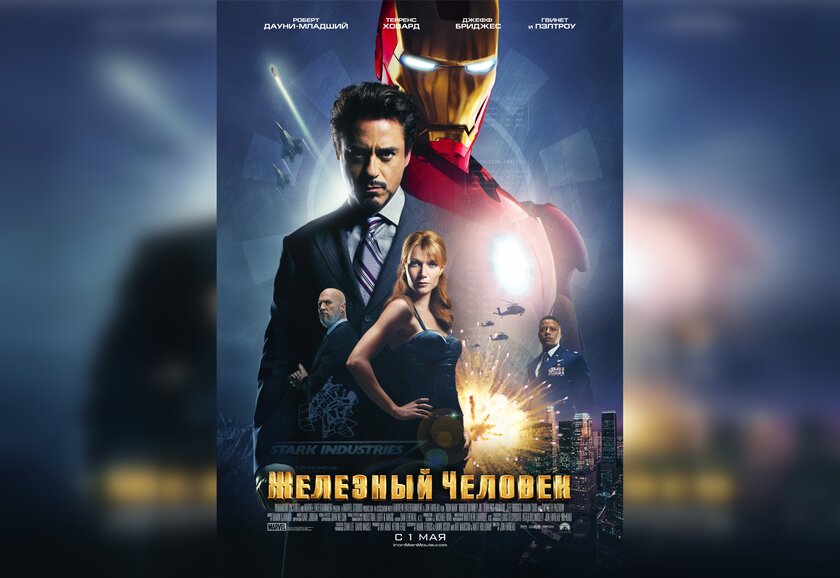 And although in terms of acting and critical acclaim, Tropic Soldiers was more successful for Downey Jr., the main film of 2008 for him was Iron Man, which divided his career into Before and After. Surely you can not mention that the tape launched the Marvel Cinematic Universe. Director Jon Favreau and Robert Downey Jr. created the most recognizable image in modern cinema: billionaire, playboy, philanthropist and Iron Man – Tony Stark. It was the incredible charisma of the actor, revealed in this role to the fullest, that became one of the main keys to the success of both Iron Man and the Avengers series of films.
The significance of Downey Jr. for Marvel can be judged by the fees. For the first film, he received 50 thousand dollars, and for the latter he could name almost any amount and the studio had to agree (for Avengers: Endgame, the actor received from 75 to 100 million dollars). Moreover, for 10 years, the actor has done a great job with his character. Tony Stark went from a carefree and self-absorbed playboy to one of the most respected Avengers, and then the savior of mankind. And, of course, Iron Man brought Robert several Saturn and MTV awards.
"Sherlock Holmes" (Sherlock Holmes)
Kinopoisk: 8.1.
IMDb: 7.6.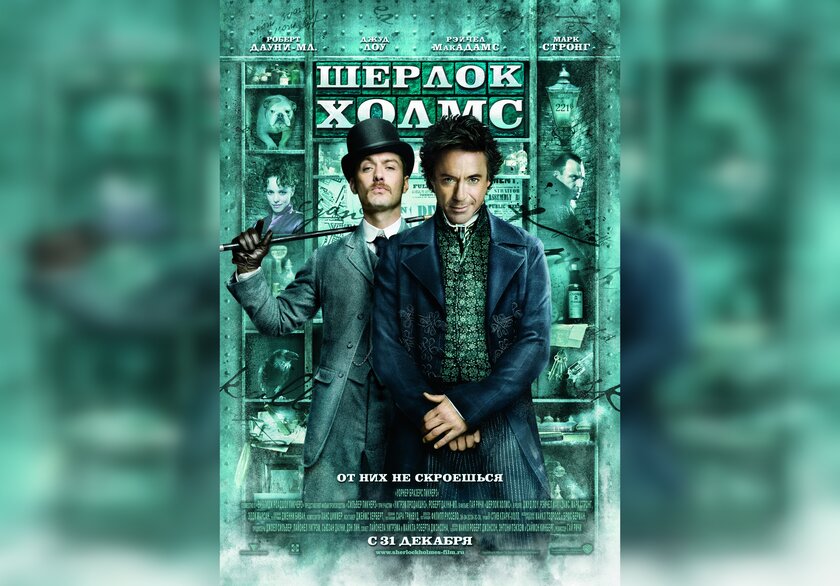 Having become a world-class star, Robert began to receive hundreds of offers from the most famous directors. In 2009, he played in another adaptation of the adventures of Sherlock Holmes from Guy Ritchie. He was again surrounded by stars of the first magnitude (Jude Law, Rachel McAdams, Mark Strong), and once again drew all the attention to himself. Of course, many critics saw echoes of Tony Stark in the game of Downey Jr., but there is one argument against this. Sherlock Holmes is a very complex and multifaceted character, but at the same time he allows the actor to be himself, he seems to absorb the charisma of the person who plays him.
So, Downey Jr.'s Holmes looks like Stark and his other charismatic images, and, for example, Benedict Cumberbatch's Holmes looks like Strange and other aristocratic-arrogant images of the British. Nevertheless, it was for this role that Robert received his Golden Globe in the main nomination for Best Actor (Comedy or Musical). In the story, Holmes, along with his assistant Dr. Watson, are trying to stop Lord Blackwood, who is obsessed with the idea of ​​​​returning the North American colonies to the flag of Britain through massacres. Interestingly, Vasily Livanov (Soviet Sherlock Holmes) could play in this film, but the actor refused Richie's offer for a free cameo.
"Back-to-back" (Due Date)
Kinopoisk: 7.2.
IMDb: 6.5.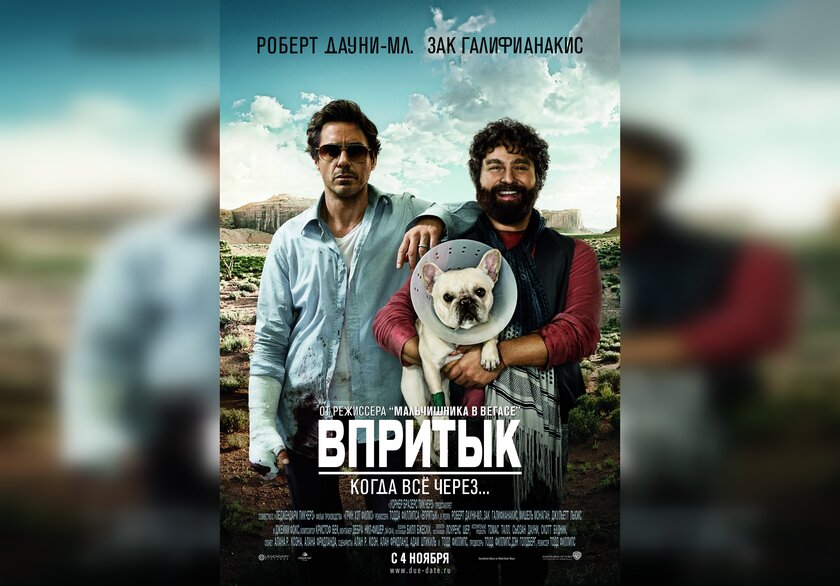 Todd Phillips ("Joker"), who in 2009 shot with the crazy comedy "The Hangover", in 2010 decided to make a slightly less crazy, but slightly more fun film "Back to Head". One of the leading roles was given to Zach Galifianakis from the director's previous tape, and the second – to Robert Downey Jr. And again, many critics thought that the actor was repeating his image of the eccentric Tony Stark, although, in fact, all that Robert did in this film was himself and joked sharp jokes. Not too strong acting? But everyone can understand how huge this person's natural charisma is, that he can chain viewers to the screens for an hour and a half, without particularly bothering about creating an image.
As a result, the comedy grossed $211 million at the box office, becoming the 36th highest-grossing film of 2010. Despite the fact that the plot of the picture is as uncomplicated as everything else. Peter is a successful architect who is also about to become a father. He is finishing work on a project so he can get home before the birth. However, from that moment on, everything goes awry. I drop him off the plane with aspiring actor Ethan. Now they have to overcome about 3.5 thousand kilometers from Atlanta to Los Angeles by car. Also, I can't help but note another pearl of Russian localization, when the slogan Leave your comfort zone ("Get out of the comfort zone") turned into "When everything is through …".
"The Judge"
Kinopoisk: 7.9.
IMDb: 7.4.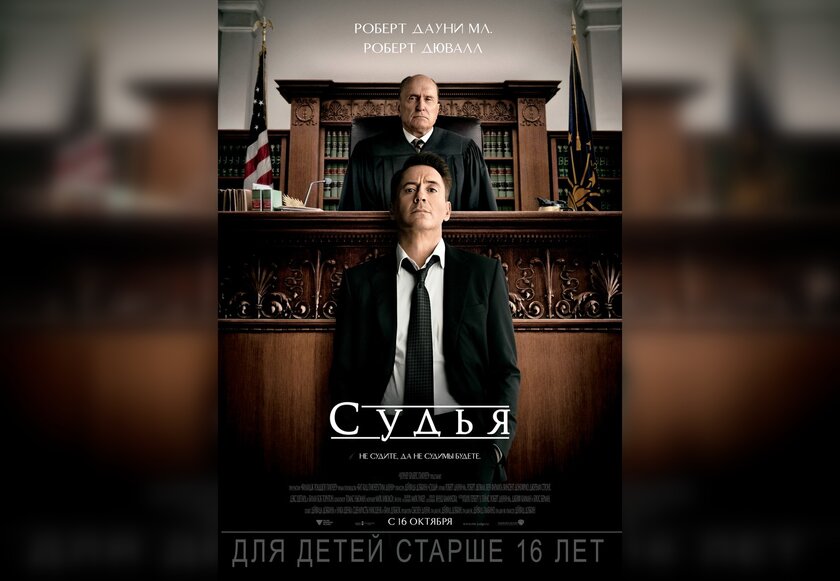 Back in 2010, Robert and his wife Susan founded their own studio, Team Downey, on the wave of success. However, their first project saw the light only in 2014. They became the legal drama "Judge". Here, Robert Downey Jr. showed that he is not only a charismatic person, but also still a great actor who can come up with and act out different images. And although critics have focused almost all their attention on the performer of the role of the protagonist's father, Robert Duvall, the film offers much more in terms of acting. In fact, Vincent D'Onofrio, and Vera Farmiga, and Billy Bob Thornton and many other actors shone on the screen. And Robert Downey Jr. directed the show.
Joseph Palmer is a judge in a small provincial town in Indiana. When his wife dies, his middle son Hank, who has long since left home to pursue a career as a lawyer in Chicago, comes to the funeral. Joseph was against his departure, as was the whole family. Hank, on the other hand, did not forgive his relatives for their obstinacy and practically did not communicate with them all these years. However, attempts to catch up, nostalgic about the past, mourning for his mother and other family matters fade into the background when Joseph is suspected of murder. Hank decides to stick around to deal with his father's case on his own.
Source: Trash Box
I am Derek Black, an author of World Stock Market. I have a degree in creative writing and journalism from the University of Central Florida. I have a passion for writing and informing the public. I strive to be accurate and fair in my reporting, and to provide a voice for those who may not otherwise be heard.