For more instability are prepared airline companies around the world because of Omicron mutation of coronavirus, which -according to analysts- could force them to change programs and destinations at the last minute and rely more on domestic markets where possible.
More specifically, many travelers have already booked trips to Christmas season, which is a high season for airlines, but there are growing concerns in the industry for pauses in future bookings and further delays in the already slow recovery in business travel. The House Fitch Ratings announced that manually revised its forecasts for global passenger traffic for 2021 and 2022, with the emergence of new executives such as Omicron highlighting the possibility that conditions will remain volatile for airlines.
"It simply came to our notice then as if we were back to where we were a year ago and this is not a good prospect for the industry, and not only for it ", said today, Wednesday (1/12) in an internet sector seminar the Dirre Falton, partner in the consulting company MIDAS Aviation.
Omicron Mutation: The first moves by airline – What bookings show
Omicron's impact will vary by country and region due to the way each government manages and the different nature of airlines around the world as well as their business models.
THE Japan Airlines and the ANA Holdings suspended new flights for international flights arriving in Japan by the end of December as the country tightens border controls. THE Cathay Pacific Airways of Hong Kong, which has no domestic market and works only at 10% of its pre-pandemic capacity, said it was too early to assess Omicron's impact on demand. Airlines in countries with large, strong domestic markets, such as the US, China and Russia, are better shielded from the greatest uncertainties of international travel, according to the APE-MPE
UBS analysis shows that US airlines have not yet changed their planned capacity, which in December is at 87% of 2019 levels and is expected to reach 92% of pre-COVID capacity in January.
THE United Airlines The Newark-Cape Town route starts today despite the ban on entry to the United States for non-US citizens of South African descent, while Delta Air Lines announced that the bookings for the Christmas season are strong.
"Last year, each new executive brought a reduction in bookings, but then an increase, as soon as the escalation escalated. "We expect the same pattern to appear," she said Halein Becker, analyst at Cowen and Co. The travel booking website Kayak reported that searches for international travel from the US decreased by only 5% on Sunday – a percentage that is in stark contrast to 26% reduction in UK searches, which had tightened the framework of diagnostic tests for arrivals.
What an analyst says about travel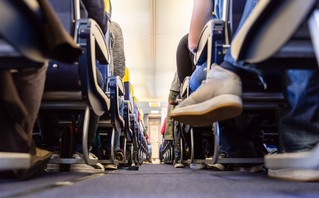 Major European airlines are much more dependent on international travel than their American counterparts, which puts them at increased risk for the Omicron variant.
In Asia, countries such as Australia, Japan, Singapore and Thailand had just begun to carefully lift border restrictions in recent weeks, and passenger numbers continued to be just a fraction of pre-pandemic levels before Omicron was discovered.
John Grant, chief analyst at OAG Travel Data Company, said the measures imposed by Japan and Australia to delay entry to some foreigners because of Omicron are "Sad and frustrating" but the corresponding impact on travel is "Relatively insignificant".
Airlines around the world are appearing more flexible in adapting programs and their destinations during the pandemic and this is expected to continue, he added.