THE Omicron mutation located in South Africa may be the most likely candidate to displace the highly contagious Delta, said the director of the Institute of Communicable Diseases South Africa, in an interview given to Reuters.
The discovery of Omicron caused a worldwide alarm, with many countries to restrict travel from South Africa, fearing that this variant could spread rapidly, even among vaccinated The World Health Organization points out that there is a high risk of an increase in infections.
"Did we think Delta would prevail? This has always been the question, at least as far as transmissibility"Maybe this particular variant will be the one that will displace Delta," said Adrien Pouren, NICD executive director.
If Omicron proves to be more contagious than Delta, it could lead to a sharp rise in infections, which would intensify the pressure on hospitals, the international news agency said.
We will know more in four weeks
Pouren said scientists would know in four weeks whether Omicron was bypassing immunity caused by vaccines or disease and if it causes worse clinical symptoms compared to other variants.
Unpublished accounts of doctors taking on Covid-19 patients in South Africa say Omicron appears to be causing mild symptoms such as dry cough, fever and night sweats, but experts warn that no conclusions should be drawn yet.
Puren said it was too early to say whether Omicron would relocate Delta to South Africa, as scientists have so far only analyzed 87 genomes.
But the fact that the cases began to are growing rapidly, especially in the most populous province of Gauteng, is an indication that this may already be the case.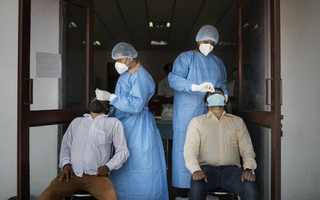 The 4th wave is in progress
Delta caused a third wave of infections in South Africa and in early July the cases exceeded 26.000 daily. Omicron is believed to cause a fourth wave and cases are expected to reach 10.000 until the end of the week, from about 2.270 yesterday, broadcasts APE BPE, citing Reuters.
THE If von Gottberg, a clinical microbiologist at the NICD, said infections appear to be on the rise across the country, but not connected this phenomenon with Omicron still.
"It seems that some of these imports may have started before from the emergence of Omicron. "We also see an increase in flu cases last month, so we have to be really careful with other respiratory infections."
"We are watching the data very, very carefully, but right now I'm not sure that we can connect them with Omicron ", he repeated.