DxOMark got to the OnePlus Nord CE 5G smartphone. This is a novelty that appeared in July and became one of the most affordable 5G devices of the company and one of the cheapest in 2021.
The price of such a smartphone in Europe is 300 euros, offering a 90-Hz screen, 64-megapixel camera and 30-watt charging. Unfortunately, judging by the tests of the source, the camera here is not only far from the best in the class, but also one of the worst in the history of OnePlus devices in the DxOMark database.
The camera was rated 102 points. This is the level of, for example, Samsung Galaxy A52 5G, which is significantly more expensive. And this is a plus for Nord CE. But at the same time it is worse than the first Nord (108 points), not to mention the older models of the company. The even newer Nord 2 at one time scored 116 points, beating even the OnePlus 9.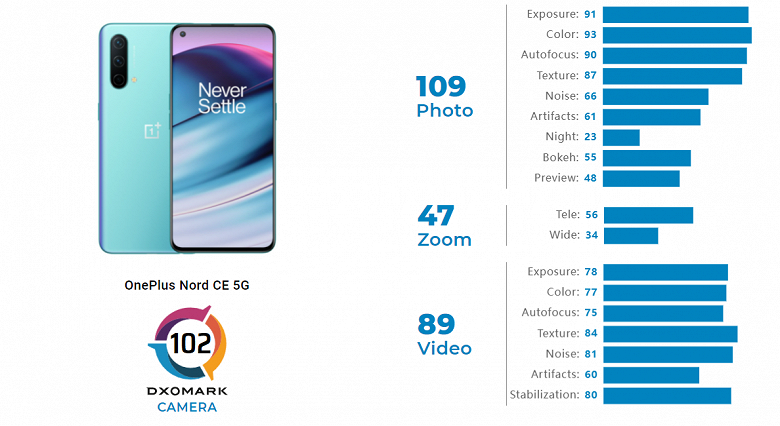 The smartphone received 109 points for the quality of the photo, and 89 points for the video. As a result – 99th place in the overall standings and 9th place in the Advanced class. The source specialists noted poor detail in low light, noise, inaccurate exposure at night, artifacts, and much more.
In general, the result cannot be called a failure, after all, the smartphone costs 300 euros. But, for example, the more affordable Poco X3 NFC shoots even a little better, but costs significantly less. And the result of Xiaomi Redmi Note 10 Pro is already noticeably better.
.