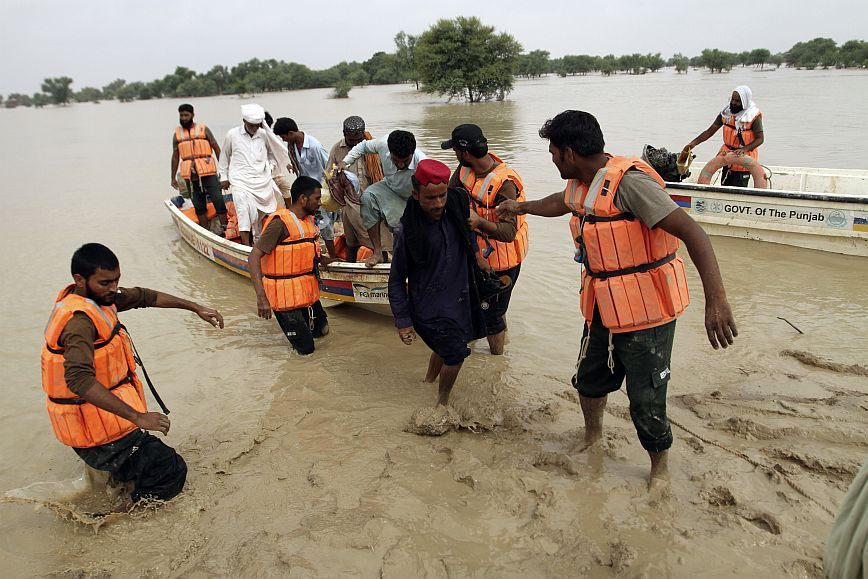 Thousands of people living near rivers swollen by torrential rains in Pakistan were ordered to evacuate today after the floods have already killed around 1,000 people.
Many rivers in the province of Khyber Pakhtunkhwa, characterized by deep valleys between mountain ranges, overflowed due to the monsoons and the waters destroyed dozens of buildings. Among them, and a 150-room hotel, which was demolished by the rushing waters.
"The house we built with hard work has disappeared before our eyes," lamented Junaid Khan, 23, owner of two fish farms in Sarsanda. "We sat on the side of the road and watched our dream house being washed away," he added.
The monsoons, which typically last from June to September, are critical for irrigating crops and replenishing water imgs in the Indian subcontinent. But every year they also cause disasters and tragedies.
More than 33 million people, or one in seven Pakistanis, have been affected by the floods. About a million homes were destroyed or heavily damaged, according to the government.
Today, authorities ordered thousands of residents of Swat district to leave their homes before rivers overflow. "At first, some refused to evacuate the area, but when the water level rose, they accepted," said a fire service spokesman, Bilal Faizi.
Experts estimate that this year's floods are comparable to those of 2010, when 2,000 people died and a fifth of the country was submerged under water.
Shah Faisal, a farmer from Sarsanda, who fled with his wife and daughters, saw his house swallowed by the river. "We escaped death," he said.
Pakistani officials attribute these devastating floods to climate change, stating that their country is unfairly suffering the consequences of irresponsible environmental practices in other parts of the world. The government on Friday declared a state of emergency in the region and mobilized the army to deal with what Climate Change Minister Sherry Rehman described as a "disaster of rare magnitude".
According to the National Disaster Management Authority (NDMA), since the start of the monsoon season in June, floods have destroyed more than 800,000 hectares of crops, 3,100 kilometers of roads and 149 bridges.
In Sukkur, 1,000km south of Swat, crops irrigated by the Indus River are under water and tens of thousands of people have taken to elevated roads and highways to escape.
Source: News Beast