More than 1,500 people died from the floods in Pakistan, while more than 90,000 people were treated for infectious diseases in one day in the south. Diseases have appeared in the flooded areas including malariaof Dengue fever, diarrhea and dermatological diseasesaccording to a report by the provincial government of Sindh in southern Pakistan, released today.
The report confirms 588 cases of malaria with another 10,604 suspected in addition to the 17,977 cases of diarrhea and 20,064 cases of skin diseases announced yesterday, Thursday. A total of 2.3 million patients have been treated since July 1 in mobile and field hospitals set up in the flooded area.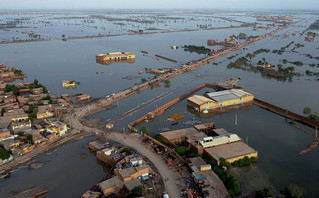 Record monsoon rains in southern and southwestern Pakistan and melting glaciers in northern parts of the country caused the floods which affected nearly 33 million people out of the 220 million inhabitants of this South Asian country, sweeping away homes, destroying crops, bridges, roads and livestock with losses estimated at $30 billion.
The National Disaster Management Authority announced 1,508 dead, among them 536 children and 308 women. Hundreds of thousands displaced they have huge assistance needs in food, shelter, drinking water, toilets and medicines. Many sleep in the open next to elevated highways.
The monsoons with torrential rains, which covered vast areas of Pakistan with water, occur once in 100 years and the phenomenon may have been more intense this time due to climate change, as scientists announced yesterday, Thursday.
Source: News Beast