Less than a month before the end of 2021, IDC analysts have prepared a forecast, which says that shipments of "traditional PCs" this year will grow by 13.5% and will reach 344.7 million units. At the same time, it is expected that instead of the usual seasonal rise in the current quarter, supplies will decline by 3.4%. This will affect supply chain problems and rising logistics costs. In the tablet market, there is a similar trend: shipments for the year as a whole will grow by 4.3%, but in the fourth quarter it is expected to decline by 8.6%.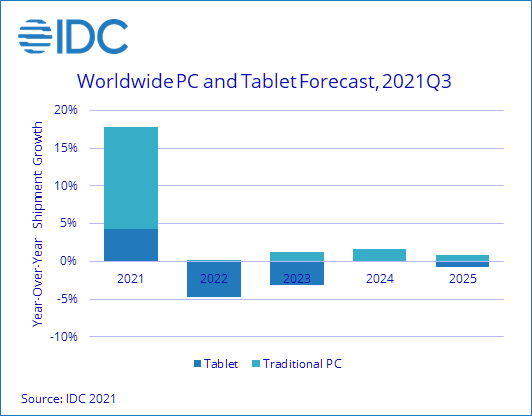 The PC market is expected to slow down in 2022 after two years of solid double-digit growth. Looking at the five-year period ending in 2025, IDC predicts a CAGR of 3.3%. They clarify that most of this growth is in the notebook segment, while tablet sales will decline.

I am Derek Black, an author of World Stock Market. I have a degree in creative writing and journalism from the University of Central Florida. I have a passion for writing and informing the public. I strive to be accurate and fair in my reporting, and to provide a voice for those who may not otherwise be heard.