Almost simultaneously with the specialists of the analytical company IDC, analysts from Canalys summed up the results of the past quarter in the market for ready-made PCs. Unlike the IDC report, the Canalys report includes sales figures in monetary terms.
According to Canalys estimates, 80.1 million PCs were sold in the first quarter of 2022, down 3.0% from the same period in 2021. At the same time, manufacturers' revenues grew by more than 15% and reached $70 billion. Obviously, this is a consequence of rising prices, continuing in the face of high demand and insufficient supply.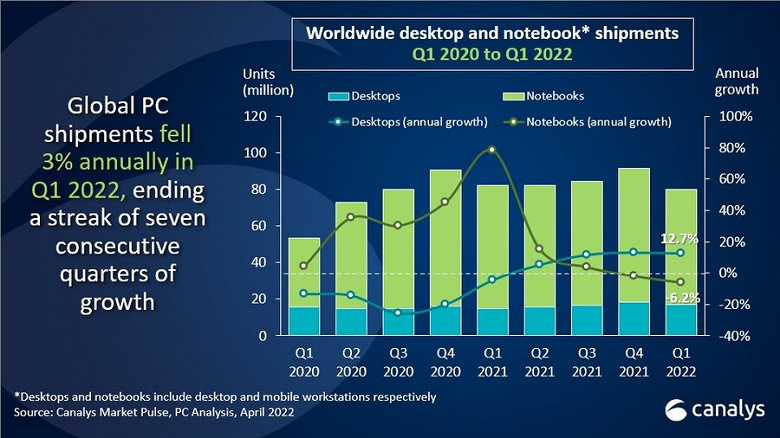 The top five manufacturers, compiled by Canalys experts, do not differ from those given in the IDC report, but the share values ​​are somewhat different. Lenovo is named the market leader. Its share for the year decreased from 24.6% to 22.8%. The share of HP company taking the second place was reduced from 23.3% to 19.8%. In third place is Dell. Its share for the year increased from 15.7% to 17.2%. Apple is in fourth place. A year ago, its share was equal to 8.3%, and according to the results of the last quarter, it is 9.3%. The top five is closed by Asus, whose share increased from 5.4% to 6.9% over the year.
Source: ixbt