The refinery is in full swing, after a large amount of oil spilled on its shores Peru, as reported by the Spanish oil company Repsol, adding that it is expected to last until the end of February. For its part, the government declared a state of "disaster".
Seals, fish and birds are washed ashore dead, covered with oil. Fishing activity throughout the affected area has been suspended.
Repsol reported that hired fishermen to assist in decontamination.
"I used to collect crustaceans here, but now, when I walk on the shore, they are dead", Walter de la Cruz told Reuters. "The fishermen went and sold the seafood we collected. But now, everything stinks of death ".
The coast of Peru in the Pacific Ocean is the main source of seafood for the inhabitants of the country.
According to the authorities, The disaster was sparked by a leak of 6,000 barrels of crude unloading a tanker last week at the Pambia refinery, which is owned by Repsol. The company attributed the incident to the unusually high and violent waves, the tsunami caused by the eruption of an underwater volcano in the Tonga Islands. He has not given an estimate for the amount that fell into the sea, he says that he is still assessing the situation.
OEFA, Peru's environmental protection service, said on Thursday that 1.7 million square meters of land and 1.2 million square meters of ocean have been infected.
In a statement to the Peruvian Supervisory Authority (SMV), Repsol said that refining was proceeding smoothly and that it did not expect the formal investigation to "significantly affect" its subsidiary's position in the sector, nor "our ability to supply Buy". He assured that about 840 people are involved in the decontamination operations.
Peruvian President Pedro Castillo has described the accident as the "biggest ecological disaster" in the Andean country in decades.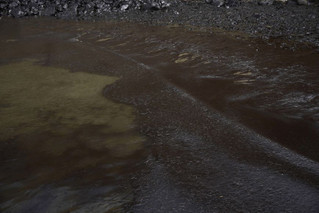 Authorities banned the ship from which the crude was spilled to raise anchor the day before yesterday, Thursday. The Mare Dorium, which sails under the Italian flag, has been "banned from sailing" and will have to pay 150 million soles, or about $ 38 million, to allow it to move, Prime Minister Myrta Vasquez said.
The ship is anchored in the bay of Cayao port, where it will have to remain until the investigation is completed, according to authorities.
According to the Ministry of Environment, in addition to the approximately twenty beaches that were infected, "This terrible situation endangered the flora and fauna in two protected natural areas".
The prediction that the cleaning will be finished by next month does not seem to convince the Peruvian expert Marino Moricaua, who "with the right equipment and if we work properly, the process will take at least two years."