Surprisingly, for quite a long time, the Bestsellers page on Steam was implemented as poorly as possible – without any useful information, with an outdated filter format and a price limit that can only be adjusted with a slider. Apparently, the developers from Valve also turned their attention to this section, since in the next update it will be completely redone in a modern manner. Now users will be able to enjoy the charts of the best-selling and most popular video games at any given time – the page has been made much more informative.
For example, now on the Top Sellers page, you can see a ranking of the hundred titles of the best-selling video games. It is important to clarify that in the upper right corner (right below the search) there is a switch with a drop-down list where you can select a specific region in order to view the top sales in a specific country. But, of course, there is also a global top, so as not to confuse users with division into regions, if they are not entirely interested. Also on the new best-selling video game page is now the ranking position and, most importantly, the change in that position.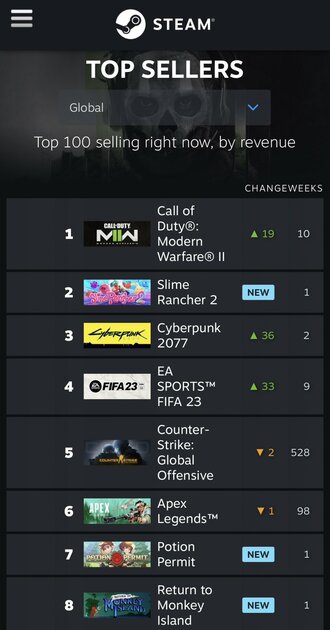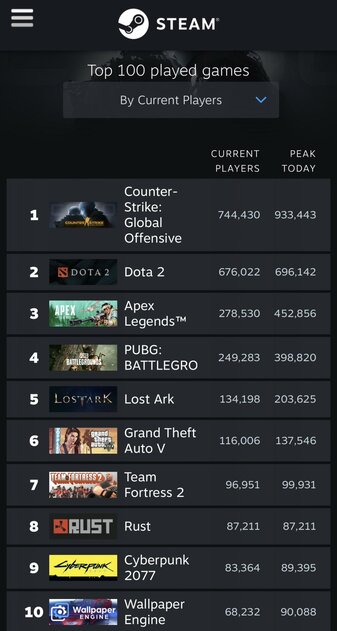 In the mobile application, the interface is the same
Call of Duty: Modern Warfare II is currently the best-selling video game in many countries and globally – pre-orders have started and gamers are naturally buying perhaps the best shooter on the market. Accordingly, in the position change column, it is indicated that Call of Duty: Modern Warfare II rose immediately by 17 positions up. They will also display the "New" badge if the game has just appeared in the top (probably, the position is temporary – it will be changed when more sales statistics are collected), and a rating downgrade mark. If Destiny 2 dropped in the top, then it indicates how many positions exactly.
And most importantly, the page now shows how many weeks the video game has been in the top 100 best-selling video games. This is a great demonstration of the quality of the product – if a project does not leave the sales chart for dozens of weeks, then it is probably worth the money spent or at least attention. But it is worth noting that in the list of the best-selling video games, apparently. In-game purchases are taken into account – because of this, there are shareware games in the rating, which, of course, do not make a profit from the sale of the video game itself, but bring income to the developer with cosmetic items, battle passes and other donations.
Source: Trash Box