The Russian president Vladimir Putin and Indian Prime Minister Narendra Modi expressed their strong commitment to the fight against terrorism in all its forms and manifestations, so as not to turn Afghanistan into "quiet harbor»Of the international terrorism, refers to the joint announcement posted on the Kremlin website.
The two leaders decided to provide immediate humanitarian assistance to the Afghan people, while deciding to expand their cooperation in the military field.
The Taliban occupation of Afghanistan earlier this year has led to a humanitarian crisis in the country, which New Delhi and Moscow say threaten to destabilize the region.
"We are concerned about the developments in Afghanistan"
«The fight against terrorism is also a fight against drug trafficking and organized crimePutin said at the start of the talks, adding that "in this regard, we are concerned about developments in the Afghanistan».
The visit by Putin and several top Russian officials comes amid growing tensions between Russia and the United States, also a key ally of India.
Earlier in the day, Russian Foreign Minister Sergei Lavrov said that the agreement on the supply of anti-aircraft missile systems to India S-400 is being implemented despite US efforts, he said, to undermine the agreement.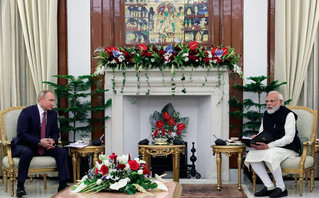 At the beginning of his talks in New Delhi with the Indian Prime Minister Narendra Monti, the Russian President stated that Russia and India are participating in joint military exercises both in the territory of India and in the territory of Russia and intend to develop cooperation in the military field.
The Kremlin announced today after the end of the Putin-Monti talks that Russia and India have signed an agreement on the military-technical cooperation program from 2021 to 2030.
Indian Prime Minister Narendra Modi has stated that ""The relationship between India and Russia is truly a unique and credible model."

I am Derek Black, an author of World Stock Market. I have a degree in creative writing and journalism from the University of Central Florida. I have a passion for writing and informing the public. I strive to be accurate and fair in my reporting, and to provide a voice for those who may not otherwise be heard.