Despite the fact that VR and AR headsets are popular, they have not yet become widespread for a number of reasons: high cost, lack of popular applications and games, and in some cases, data processing requires a connection to a powerful computer. This is the problem that Qualcomm is trying to solve. The company introduced a wireless version of augmented reality glasses. This device is a reference design that manufacturers can apply and adapt to their commercial products.
The Wireless AR Smart Viewer Headset is equipped with a more powerful Snapdragon XR2 chipset than the previous model, as well as Wi-Fi 6 / 6E and Bluetooth wireless connectivity. Potentially, this should reduce the battery life of the device, but Qualcomm says that off-the-shelf versions of the glasses could be designed differently. The reference version of the Smart Viewer glasses was created by Goertek and is currently available to several manufacturers for testing. Like the wired model, this headset connects to a smartphone or computer, providing mixed reality with full head and hand tracking through cameras and projection. Qualcomm uses dual binocular micro OLED displays with Full HD resolution for each eye and a refresh rate of up to 90Hz. At the same time, the viewing angle was reduced from 45 to 40 degrees.
Smart Viewer is 40% thinner than the wired version. The frame of the glasses is 15.6 mm thick, which is thinner than most competitors, in particular, Magic Leap 2. The weight of the novelty is 115 g. The Wireless AR Smart Viewer uses the Snapdragon XR2 chipset, which, compared to the XR1, offers more opportunities to perform tasks using computer vision. Qualcomm promises a latency of up to 3ms between the glasses and a connected smartphone/PC with the Qualcomm FastConnect 6900 chip.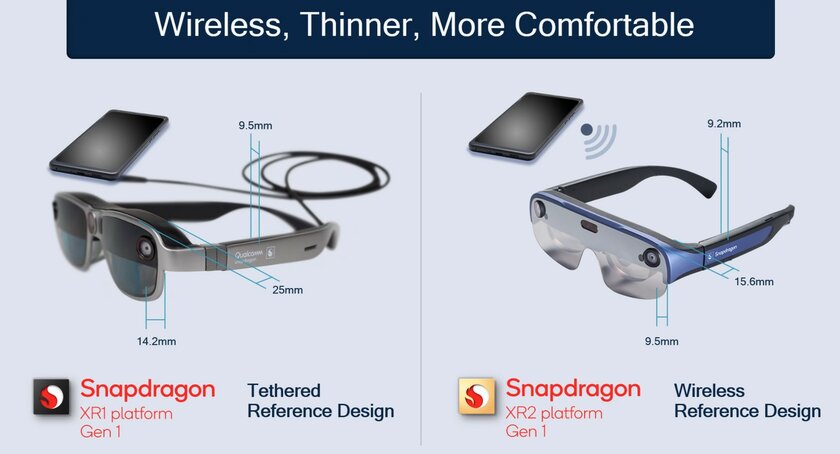 Qualcomm is working with at least four manufacturers, but there is no guarantee that the Smart Viewer glasses in their reference form will receive a commercial version. Qualcomm's earlier designs formed the basis of headsets such as the Nreal Light and Lenovo ThinkReality A3.
Source: Trash Box