The company "London Bridge"—the protocol for handling the Queen's death—was just put in place Queen Elizabeth II passed away on September 8, 2022at the age of 96.
Unknown to many, the meticulous planning of her death began shortly after her accession to the throne 1952 after her father's death. In an article by New York TimesProfessor of British Commonwealth and History, Philip Murphy, said characteristically that "From the moment the Queen became monarch, Whitehall began the process of planning what would happen when she died."
Throughout the years, those involved in planning – including the police, media and government – reportedly met three times a year to discuss and update the London Bridge operation as needed, while Queen Elizabeth herself was involved in planning her funeral.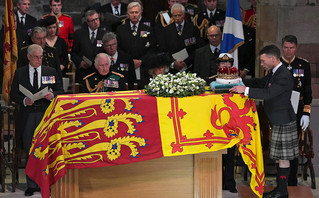 After the Queen's coffin was built, it was guarded and maintained by JH Kenyon Ltd. and then transferred to Leverton & Sons in 1991, when the firm was first used by the Royal Family.
Since Queen Elizabeth II's coffin is lined with lead, it is significantly heavier than an ordinary coffin and eight pallbearers are required to lift and move it instead of the usual six. As stated by Metroher coffin Princess Dianawhich was also lined with lead, weighed a quarter of a ton, i.e. about 250 kilos.
Queen Elizabeth II's coffin is essentially one coffin within a coffin -the inner casket is made of wood and then protected with lead and placed inside an outer casket. It was revealed for the first time to the public three days after her death, while the royal flag of Scotland draped over it, with an arrangement of sweet peas and dahlias -the favorite flowers of the deceased- collected from Balmoral.
After 10 days of mourning, Queen Elizabeth II's body to be moved to St George's Chapel at Windsor Castle, where the parents of Queen Elizabeth II, King George VI and the Queen Mother are also buried. The remains of Princess Margaret, the Queen's sister who died in 2002, are also in the chapel, according to New York Times.
Source: News Beast