The rapper Tekashi 6ix9ine has been involved in different controversies throughout his career, but without a doubt you have to know how to recognize when he also does important things for the people who need him most.
Through social networks, a video was released in which the rapper can be seen delivering a million pesos to a family in Cancun, Mexico. The father of the family could not believe such generosity. However, fans are applauding this incredible act.
During a live broadcast on his social networks, 6ix9ine decided to give a large amount of money to a family living in extreme poverty. In the images it is seen that he is traveling in a truck and explaining that he has a million pesos to give to a family that lives in a cardboard and wood house on the side of the road.
Next, it is observed how he gets out of the vehicle and then enters the humble home, where he was received with great affection, admiration and respect by each of the members of the family. In the video he also explained that the house lacks electricity and water, which is why he decided to help them.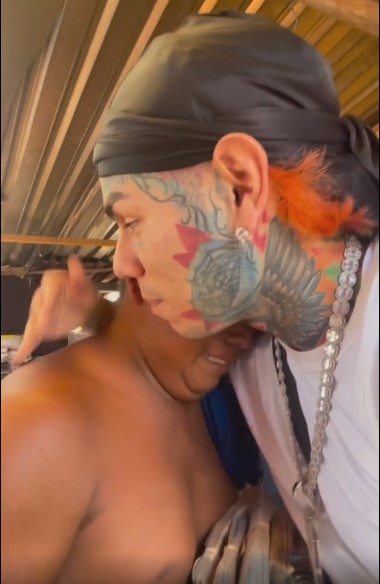 In another of the moments, the rapper posed as a boy named Daniel and tells the father of the family that all the money found in the suitcase is for them. Incredulous, the man received the money and could not contain his tears knowing that it was an amount that he would never have imagined. Given this, the rapper only limited himself to hugging him and mentioning:
I gave a family a million pesos… this family had no water or electricity. Remember yesterday I told you that every week I will try to give away 50k to someone random. This is GINÉ GINÉ and we are going to support each other in this. Join our Twitch giving away 20k every week.
Tekashi was born in New York, the son of a Mexican mother and a Puerto Rican father, who has managed to gain popularity through his music, one or another scandal and very recently for appearing in different parts of the world giving money to vulnerable people.
Source: Okchicas