Gamer-focused Razer has announced four new additions: Razer Kunai Case Fans, Razer Hanbo Liquid Coolers, Razer Katana Power Supplies, and Razer PWM Fan Controller. According to the manufacturer, they "herald Razer's entry into the high-performance PC gaming market." The listed components are said to be "designed to the highest reliability standards." They are all adorned with addressable lighting and are supported by Razer Synapse software.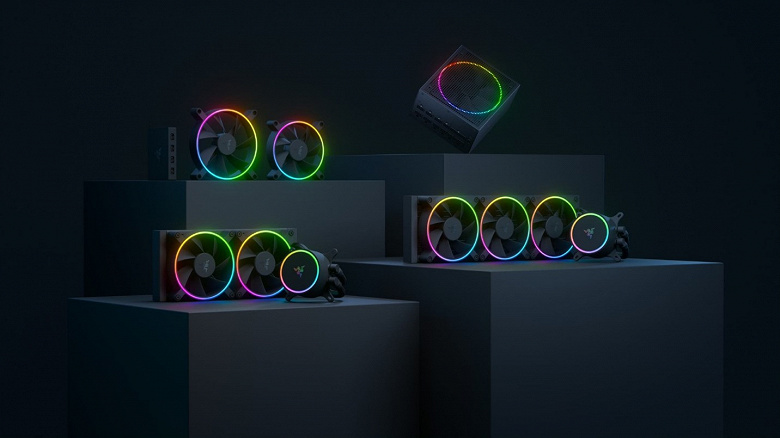 Razer Kunai fans feature hydraulic bearings. The fans are optimized for maximum airflow and minimum noise. The range includes models of standard size 120 and 140 mm.
The Razer Hanbo liquid cooling systems are the fruit of a technology partnership between Razer and Asetek. They are available with 240 and 360 mm radiators. The manufacturer attributes silent operation of the pump and increased reliability to the advantages of these cooling systems. By the way, Razer promised that cooperation with Asetek in the field of LSS will continue.
The Razer Katana ATX PSUs are 90 Plus Platinum certified for high efficiency. Until the load exceeds a certain threshold, the fan in the power supply does not turn on, which ensures almost silent operation of the power supply. In the description of the power supply unit, the presence of fully modular cable systems and the use of high-quality components are noted. The PSUs are available in 750 to 1200W versions, with the 1600W 90 Plus Titanium certified model being the flagship of the line.
Rounding out the list of new products is a fan controller that supports speed control using pulse-width modulation. It is designed to support up to eight Razer Kunai fans. Using Razer Synapse software, you can customize the fans connected to the controller to suit your specific gaming PC configuration.
The Razer Kunai fans and the Razer PWM PC Fan Controller begin shipping in the US this month. The controller costs $ 50, fans start from $ 45. The Razer Hanbo LSS should go on sale in November this year, and the Razer Katana PSU early next. Prices have not yet been announced. In other countries, new items will begin to be delivered before the end of the year.
.