Real estate prices in the metaverses (virtual reality) jumped 879% from September 2019 to March 2022. About it in my blog reported Chainalysis analysts. At the same time, the price tags for real estate for the same period jumped by 39%.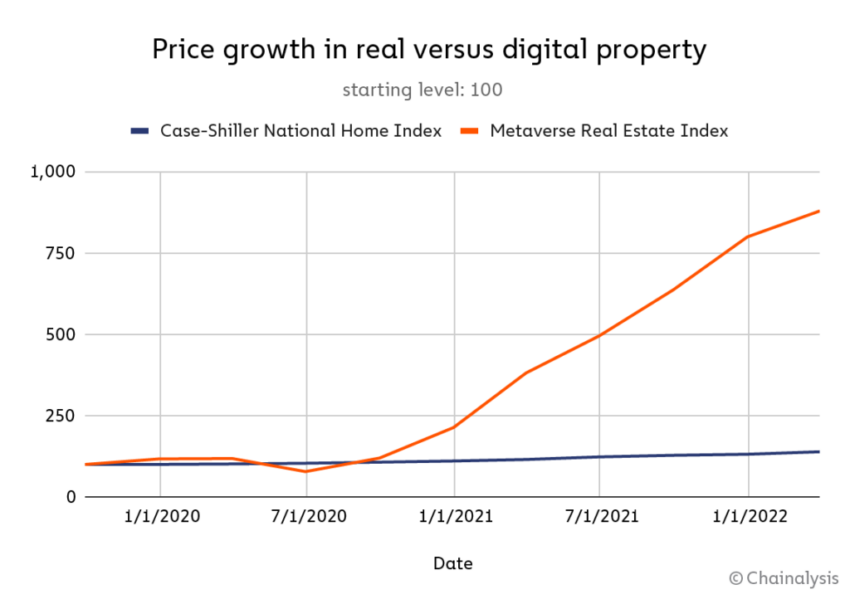 The researchers note that compared to real estate, virtual buildings have a much more extensive monetization variation. For example, users using virtual real estate can earn on:
public integration of media files;

enabling game activity;

holding NFT events or private meetings;

rental.
However, the virtual real estate market also has its drawbacks, which, however, lie not in the market itself, but in the blockchain. For example, the entry threshold for real estate based on the Ethereum blockchain, as a rule, is significantly ahead of analogues on other networks like Solana.
Orange – price tags in the Solana network, blue – price tags in the Ethereum network. Source: chainalysis.com
Such a gap in the entry threshold can be explained by commission costs, Chainalysis believes. If Solana has an average fee of ~$0.00025, then Ethereum has a significantly higher figure and varies from $5 to $50 depending on the network load. However, experts acknowledge that developers of virtual real estate on Ethereum have already begun to look at cheaper alternatives based on the Polygon sidechain.
Despite the hype, almost no one in the metaverse market holds a virtual lot for more than 500 days. The researchers calculated that in 10 out of 11 large projects, land owners retained ownership no longer than a couple of months from the start of the project. According to experts, this behavioral model is similar to flipping (quick resale) of real estate, albeit in a shorter time frame.
Stay in touch! Subscribe to World Stock Market at Telegram.

Source: Cryptocurrency